Alita: Battle Angel Is Overperforming, But How Much Does It Need To Break Even?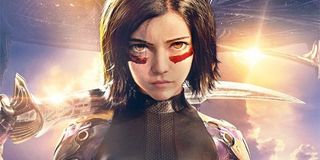 Alita: Battle Angel has overperformed compared to its box office expectations. Originally anticipated to only pull in a little over $20 million this weekend domestically, the movie is now expected to bring in a 3-day total of nearly $28 million – and that's only in North America. But how much does the movie need to make to start pulling in a profit for Fox? We explore below.
In addition to the $27.8 million Alita: Battle Angel has landed this weekend, in the U.S. it's actually a long weekend thanks to the President's Day holiday landing on Monday. Since the weather isn't great out in a lot of parts of the country and people are excited enough to be going to the movies, the expectation is that the 5-day total for Alita: Battle Angel will be at around $41.7 million.
Prior to Sunday's numbers, the flick has made $36.5 million domestically, including its early Valentine's day open ahead of the weekend, according to Box Office Mojo.
The good news doesn't end there. There was always the hope that Alita: Battle Angel would do well overseas and estimates for the international box office now have the flick pinpointed at $136 million in worldwide markets so far.
Deadline reports that Alita: Battle Angel will need to make $500 million or more in order to start being profitable for Fox. That number is factoring in the movie's alleged $200 million budget (shaved down to $170 million with tax credits). It's also factoring in advertising and the fact that studios share movie ticket profits with theaters—and elsewhere in the world the studios rake in a much smaller percentage of the box office intake.
Figuring out revenue versus profit is complicated math even when you have the numbers right in front of you, and we don't. So it's hard to tell if guesstimates will pan out. Still, Alita: Battle Angel should prove to be an interesting case at the box office. From these early numbers, it's certainly not going to be the giant flop the naysayers predicted.
Whether or not it becomes a middling movie or a big win remains to be seen. In all likelihood, if this one does well it will have some tidy domestic numbers and some huge worldwide numbers to thank. We'll be sure to keep you posted the rest of the way. At the end of the day, though, this weekend was expected to be a tight race between Isn't It Romantic, Happy Death Day 2U and Alita: Battle Angel. It doesn't look as if that is the case, as this weekend was full of surprises.
To see how the weekend box office fared domestically this weekend, stay tuned. For now, be sure to check out what will be competing with Alita: Battle Angel in the weeks to come with our full movies release guide. Plus, take a look at what James Cameron had to say about the possibility of the sequel for Alita.
Reality TV fan with a pinch of Disney fairy dust thrown in. Theme park junkie. If you've created a rom-com I've probably watched it.
Your Daily Blend of Entertainment News
Thank you for signing up to CinemaBlend. You will receive a verification email shortly.
There was a problem. Please refresh the page and try again.