Why Isn't There A Harry Potter And The Cursed Child Movie In The Works Yet?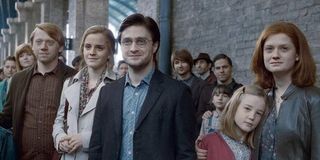 The Wizarding World franchise that J.K. Rowling has continued to develop past the publication of Harry Potter and The Deathly Hallows has, for the most part, focused on enriching the lore of the series' past and present. With the Fantastic Beasts franchise being the main focus, Rowling has crafted additional avenues for the story preceding the era of The Boy Who Lived, which has definitely satisfied a number of fans. However, there are those who would like to see more adventures from Harry's post-Hogwarts years play out on the big screen.
Nowhere is that more prevalent than in the response to the stage play that acts as basically Book 8 in Harry Potter's story, entitled Harry Potter and The Cursed Child. With several stagings currently being carried out worldwide, and two more cities about to start running the show within the next year, ticket sales are only poised to grow bigger for what's still one of the hottest tickets on Broadway. You'd have to think that any film adaptation for this show would also rake in the dough, which leads me to the obvious question: Why hasn't this happened yet?
Harry Potter and The Cursed Child has been running since its West End premiere in July 2016, and was written by award-winning playwright Jack Thorne; being based on an idea from J.K. Rowling herself. Back in April, J.K. Rowling met with Warner Bros. for a meeting which at the time led fans to run rampant with the idea that a movie adaptation could be coming, but it more likely had to do with Fantastic Beasts: The Crimes Of Grindelwald.
If you know anything about Harry Potter and the Cursed Child, you should know it ties far more into Harry Potter and his family than the franchise that is currently churning out new movies. If you aren't up-to-date the show's official synopsis reads as follows:
Right there, on a surface level, Harry Potter and The Cursed Child has a story kernel that audiences have probably been thirsting to see since the epilogue to Harry Potter and The Deathly Hallows: Part 2 flickered onto movie screens back in 2011. Eight years later, you still have fans who would line up at the doors of their local cinemas to watch the mystery that unfolds with Harry Potter and his family and friends 19 years after the Battle of Hogwarts.
So why would Warner Bros and J.K Rowling decide to focus on Newt Scamander's adventures in the Fantastic Beasts prequels? Well, it's the same answer your financial adviser would probably give you when they advise why you should put your 401k money in various funds: diversification. Let's look at the facts: the Harry Potter fandom is still strong and active. While the prequel installments in the Wizarding World saga aren't on the same level of performance as the Harry Potter films, there's still a pretty big market to mine with the planned five-film stretch that Rowling herself is penning. As long as J.K. Rowling's brand and skills remain involved in shaping that series, I'd assume we can count on fans showing up for the foreseeable future.
That's all well and good, but again, why isn't Warner Bros putting together a film adaptation of Harry Potter and The Cursed Child in addition to the other big screen projects? Surely, a major Hollywood studio could focus on multiple irons in one series' fire. If you think of the Wizarding World as Warner Bros' Star Wars franchise and see how well the latter franchise did for Disney when it produced more than one movie in the span of a few months, you may have found the answer.
Which brings us to the final reason that Harry Potter and The Cursed Child is probably not going to be seen on theater screens any time soon: It's still making truckloads of money on the stage. Currently, the play is running in three cities worldwide: London, New York, and Melbourne; two more productions will start in the next year or so, with San Francisco opening its version in October and Hamburg mounting the first non-English performances next spring. With five different theaters running the two-part show, and fans flocking to every new production and booking it to the hilt, there's a huge demand for the live stage show.
Making a movie of Harry Potter and The Cursed Child is kind of like making a movie version of Hamilton at this moment in time: it'd be a good idea, but it'd be a better idea when it's done at a time removed far enough from the stage show's debut that it doesn't cannibalize the grosses for the stage. Just as Lin-Manuel Miranda's In The Heights is being made into a film while Hamilton is still running strong on the stage, the Fantastic Beasts films are the best audiences will get when it comes to bringing Harry Potter back to the silver screen. At least I'd assume until The Cursed Child settles into a more static, less sensational ticket booking phase.
No one can blame fans for wanting Harry Potter and The Cursed Child on the big screen. The chances of seeing Daniel Radcliffe, Emma Watson, and Rupert Grint reprising their famous roles, or even seeing the original West End cast stepping into those shoes once more, is too good to pass up. But in the grand scheme of things, patience is the word fans of any stage play or musical should keep in mind when waiting for the jump to the local box office. After all, it took Phantom of the Opera's musical form years to make it to Hollywood, with Les Miserables seeing years come and go before getting a film adaptation, and Cats closing in on almost four decades by time it drops in theaters this December. So while we're not saying that it'll be impossible for Harry Potter and The Cursed Child to one day become a big budget motion picture spectacular, we'd definitely suggest that because of the prudent factors above, it may not happen tomorrow or even next year.
What you can do is try your luck at buying tickets for Harry Potter and The Cursed Child, as tickets for current and future incarnations are going up at pretty regular paces online. And if you haven't seen it already, Fantastic Beasts: The Crimes of Grindelwald is currently available on Digital HD, with the physical release set for March 12.
Your Daily Blend of Entertainment News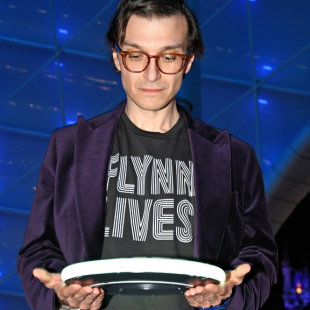 Senior Movies Contributor
CinemaBlend's James Bond (expert). Also versed in Large Scale Aggressors, time travel, and Guillermo del Toro. He fights for The User.