The Oscars Honored Mediocrity When They Had Real Chances To Be Bold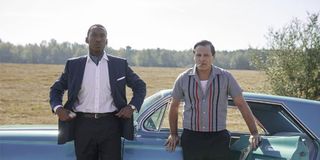 Peter Farrelly's Green Book is not a bad film. It notably features two great performances from two fantastically talented actors, playing two engaging and charismatic characters, and even when it's being rote and obvious it's not really boring (most movies could probably avoid narrative lulls by having their leads engulf an entire pizza folded in half).
What Green Book is also definitely not, however, is a great film – but you wouldn't be able to tell that from results at the Oscars tonight. According to the Academy of Motion Picture Arts and Sciences, there was no better feature released in 2018, as voters supported it in enough numbers for it to win the group's highest honor: Best Picture. It's a decision that was met with immediate controversy, as social media erupted in protest following the reveal from presenter Julia Roberts, but in truth, it was probably a result we all should have seen coming. This is just the latest example of the Academy celebrating and elevating mediocrity when it has the chance to be bold and revolutionary.
The approach that Green Book takes to its story is so tired and overdone that it's a named trope: the white savior narrative, traditionally defined by a Caucasian protagonist guiding a person of color through a tumultuous ordeal while having the opportunity to learn something about themselves and race relations. This is a spot on description of the journey taken by Tony Lip and Dr. Don Shirley in the new Oscar winner, and it's not a movie to deviate from the formula either. It operates the same as any of them, with two hours of basic pabulum that concludes on self-congratulatory terms and shallow lessons.
The reason we should have seen this coming, however, is not only because the Oscars love mediocrity (coughThe King's SpeechcoughThe Artistcough), but because they clearly love rewarding white savior narratives. Arguably the most famous example – and one that has been brought up a lot the last four months – is Bruce Beresford's Driving Miss Daisy winning Best Picture in the year that Spike Lee's Do The Right Thing was eligible (but not nominated). But that's hardly the only example. Movies like Edward Zwick's Glory, John Lee Hancock's The Blind Side, Kevin Costner's Dances With Wolves and more all won major awards from the organization while featuring all the same familiar themes, and now Green Book is just continuing the trend.
What sincerely adds to the frustration here is that 2018 was a year immensely rich with creative and engaging stories about racial identity – the best of which are leagues better than Green Book. Two were also competing in the Best Picture category, as Spike Lee's BlackKklansman is a funny, searing, and sharp stranger-than-fiction tale that packs a remarkable gut punch, and Ryan Coogler's Black Panther is an epic and fascinating border debate wrapped inside of a comic book blockbuster.
But they are far from the only titles that deserved to be nominated ahead of the Peter Farrelly movie. George Tillman Jr.'s The Hate U Give and Carlos López Estrada's Blindspotting, for example, are both intensely powerful films about shooter bias and the police's use of deadly force along racial lines with radically different tonal and stylistic approach. Boots Riley's Sorry To Bother You was one of the most inventive films of the year, taking a fantastical angle examining the influence and significance of race in the darkest sides of capitalism. These are unique, dynamic, intrepid works, and none of those adjectives can be applied to the most recent Best Picture winner.
Going further, putting the subject matter of race aside there are still countless films better deserving of the Oscar recognition, and that obviously includes some (but not all) those that were also nominated for the top prize. Yorgos Lanthimos' The Favourite is a brilliant clash of style and substance with both great humor and surprising depth; Adam McKay's Vice is a remarkably ambitious and creative expose of one of the most mysterious, influential and dangerous figures of the last century; and Alfonso Cuaron's Roma is a beautiful and understated look at what is generally an invisible class of our society. (And let's not ignore that there really should be a direct correlation between Best Director and Best Picture – at the very least in the form of nominations in both categories.)
Compared to all those other titles, Green Book was the obvious "safe" choice: the movie that wasn't going to create any waves because it was built to be non-controversial (obviously discounting the on-going backlash), and Academy members could feel good about themselves voting for it because it's superficially progressive. As a picture-perfect middle-of-the-road choice, it surely also benefited from the democratic system, as any or all ballots for any of the dark horses cancelled each other out, leaving it to lead the vote count. The system in place is one that consistently lets mediocrity hold sway, and this year is just another example.
There's definitely a lot from tonight's Academy Awards that fans can celebrate, from the well-earned victory for Spider-Man: Into The Spider-Verse in the Best Animated Feature category, to Olivia Colman's wonderful and surprising Best Actress win for The Favourite. Unfortunately, the result of the Best Picture race has left a bad taste in our mouths, but at the very least we can be happy about one thing: at least it wasn't Bohemian Rhapsody.
Your Daily Blend of Entertainment News
Assistant Managing Editor
NJ native who calls LA home and lives in a Dreamatorium. A decade-plus CinemaBlend veteran who is endlessly enthusiastic about the career he's dreamt of since seventh grade.
Your Daily Blend of Entertainment News
Thank you for signing up to CinemaBlend. You will receive a verification email shortly.
There was a problem. Please refresh the page and try again.