Did You Spot The MCU Labels In The New Dark Phoenix Trailer? Here's What They Could Mean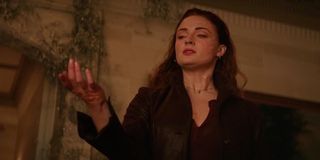 Last night, the second trailer for Dark Phoenix dropped, and there was a lot to take in. One of the preview's biggest moments was at the end, when several of the main characters were imprisoned and de-powered aboard a train that Jean Grey lifts into the air with ease. But before the train is ripped off its tracks, if you look closely, you'll see the armed guards wearing shoulder patches that say MCU, a term quite familiar to comic book movie fans.
This goes without saying, but obviously MCU does not stand for Marvel Cinematic Universe in Dark Phoenix, the seventh of the main X-Men installments. That being said, given how widely that acronym is used, one would imagine its inclusion isn't a coincidence. Director Simon Kinberg and his creative team had to have thrown that in as a subtle gag as their superhero franchise competitors… not that this rivalry is going to last much longer since the X-Men and the Fantastic Four properties will soon be brought to Disney and are expected, but not confirmed yet, to be absorbed into the actual MCU.
As for what MCU does stand for in the X-Men universe, my guess it's Mutant Containment Unit, or something along those lines, since Professor X, Magneto and others are being held captive. Deadpool 2 featured a similar group called the Department of Mutant Containment, which handled security at the Icebox prison. Maybe the MCU is affiliated with the DMC, or maybe this is a separate group altogether that's substituting for the DMC. These timelines are so confusing. In any case, these MCU operatives have apprehended some of Dark Phoenix's main characters (I wonder if they're working for William Stryker), and I don't think they're going to let the mutants watch Iron Man.
Set in 1992, nearly a decade after the events of X-Men: Apocalypse, Dark Phoenix is taking a new stab at adapting the classic Dark Phoenix Saga, which was previously tackled in the derided X-Men: The Last Stand. This time around, Jean Grey loses control of her Phoenix abilities after being hit by a solar flare while she and the other X-Men are on a rescue mission in space. With the Phoenix entity unleashed, the corrupted Jean's reign of terror will result in mass destruction and numerous casualties, one of which has already been spoiled. As if Jean's actions creating a schism between the X-Men and their allies on how to neutralize her, these characters will also have to deal with a mysterious and powerful alien shapeshifter manipulating Jean for her own purposes.
Dark Phoenix opens in theaters on June 7, so keep checking back with CinemaBlend for more updates. For now, look through our 2019 release schedule to find out what other movies are coming out this year.
Connoisseur of Marvel, DC, Star Wars, John Wick, MonsterVerse and Doctor Who lore. He's aware he looks like Harry Potter and Clark Kent.
Your Daily Blend of Entertainment News
Thank you for signing up to CinemaBlend. You will receive a verification email shortly.
There was a problem. Please refresh the page and try again.