Details About John Wick 3's Villain Have Been Revealed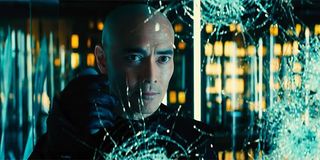 Through the first two chapters of the John Wick franchise, Keanu Reeves' legendary assassin has yet to come across a foe that can take him down, with only a few even providing a challenge to the lethal Baba Yaga. But in John Wick: Chapter 3 – Parabellum, John Wick will find himself outgunned like never before, on the run and with the world's assassins united against him. The main villain in the film is one of those assassins, Mark Dacascos' Zero.
Mark Dacascos has an extensive list of film and television credits like Cradle 2 the Grave, Agents of S.H.I.E.L.D., Mortal Kombat: Legacy and Brotherhood of the Wolf, where he has showcased his stylish martial arts skills. He will bring those skills to bear again in John Wick: Chapter 3 as his character Zero tries to collect the $14 million bounty. Zero represents the biggest threat to Keanu Reeves exhausted hero who just wants to retire and play with his dog.
Zero will be John Wick's greatest adversary, but it sounds like he won't be a villain in quite the same way that the slimy Santino D'Antonio was in John Wick: Chapter 2 or Alfie Allen's Iosef Tarasov was in the first film. Mark Dacascos told Empire Magazine that although rivals, Zero has respect for John Wick. He said:
The brief shots we see of Zero in the trailer for John Wick: Chapter 3 – Parabellum make him look like the Terminator, a stoic killer who never stops, so hearing this adds another interesting level to his character. We know that John Wick commands tremendous respect in the underground crime world and it sounds like Zero not only respects John, but also almost wishes he didn't have to kill him (or try at least) so they could be friends.
I'm sure the fact that Zero is a fan won't make John Wick feel any better when he's trying to kill him, but I guess it is nice to be respected by one's peers.
In the last film we saw that Common's Cassian had respect for Baba Yaga, but when he went after John, it was for revenge for killing Gianna-- whom he was charged with protecting. When Zero goes after John, it seems that it will be absent emotion, a strictly business situation where Zero wants to collect on the $14 million, even if he actually really likes and respects John.
It's an interesting dynamic and I'm curious how much we'll find out about Zero and if he and John Wick have any history. Were they contemporaries who came up in the world of assassins at the same time, each making a name for themselves? Or did Zero come in after, idolizing John Wick and looking to match him?
Mark Dacascos and Keanu Reeves are basically the same age so it may not be a case of the young lion eating the old, but as an assassin who is a John Wick fan, Zero undoubtedly wants to be the one to claim the achievement of taking out Baba Yaga.
John Wick: Chapter 3 – Parabellum opens in theaters on May 17. Check out our 2019 Release Schedule to keep track of all this year's biggest movies.
Nick grew up in Maryland has degrees in Film Studies and Communications. His life goal is to walk the earth, meet people and get into adventures. He's also still looking for The Adventures of Pete and Pete season 3 on DVD if anyone has a lead.
Your Daily Blend of Entertainment News
Thank you for signing up to CinemaBlend. You will receive a verification email shortly.
There was a problem. Please refresh the page and try again.