John Wick: Chapter 3: What We Know So Far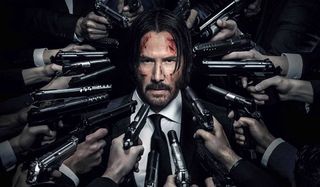 John Wick is still thinkin' he's back. Keanu Reeves landed himself another iconic role in another major action franchise, and he'll soon return for his third round in John Wick: Chapter 3, aka John Wick 3: Parabellum. However you slice it, it sounds rough for John Wick. The not-so-retired hitman has proven himself up to almost any challenge, but this is a big one.
John Wick: Chapter 3 is bringing back several stars from the first two films, and adding a few more. So, now seems like a good time to review what we know so far about the 2019 film. Up first? Taking a look at the amazing trailer!
What Have We Seen From John Wick: Chapter 3?
After months of waiting, we finally got the first trailer for the third installment of this assassin-based franchise, and, well, it looks as badass, tense and stylish as we were hoping it would. It starts with John and his dog running through the rain, trying to get out of New York before the grace period on the bounty for his life begins, then takes us quickly through some of the things he'll have to face, presumably in escaping the city. He does make it out alive, to meet up with Halle Berry's Sofia in some far flung locale. But, this being the type of film where your troubles literally follow until you're dead, that doesn't appear to be the end of the chase. We'll have to wait until the film debuts to see how John manages to get out of this one.
What Does The Title John Wick 3: Parabellum Mean?
When Keanu Reeves was asked by ComingSoon.net if the title was Chapter 3 or Parabellum, the star replied that it was both: John Wick 3: Parabellum. Reeves continued, explaining that "Parabellum" means "Prepare for war. It's part of that famous sentence, 'Si vis pacem, para bellum,' which translates as, 'If you want peace, prepare for war.'" Parabellum also refers to a type of firearm, so both uses of the word seem perfect for this movie. There was some conflicting information on the "real" title, though. The official social media accounts had it labeled only as John Wick: Chapter 3 for a while, but it seems that Reeves' excellent Parabellum answer may have helped turned the tide for the official title.
What Is The John Wick: Chapter 3 Release Date?
John Wick: Chapter 3 is currently scheduled for release in theaters on May 17, 2019, meaning we're only a few days away from it hitting theaters. The first John Wick film opened in the U.S. on October 24, 2014, making $88 million worldwide. John Wick: Chapter 2 opened on February 10, 2017, making $171.5 million worldwide.
John Wick: Chapter 3 definitely has the potential to be the biggest film of the franchise, but it is opening in a hugely competitive month. Early May 2019 has belonged to Avengers: Endgame, which came out on April 26 and dominated the box office like a champ. Detective Pikachu made an impressive run at second place when it debuted on May 10, so John Wick 3 will be going up against both of those when it releases. Aladdin is opening the week after, on May 24, and the month currently ends with Godzilla: King of the Monsters, among other titles. It's going to be very interesting to see how this shakes out. It's a safe bet that Endgame will own the month, but who else will survive?
What Is John Wick: Chapter 3's Rating?
John Wick 3 is going to be Rated R, just like the first two films. While it took a while for the movie to get an official rating from the MPAA, there was no need to wait. This is not Disney, it's not even Marvel or DC. It's John Wick, and the amount of violence alone would get an R. The franchise has also included enough language to make Captain America blush, and even some brief drug use and nudity. And, since John Wick: Chapter 3 is meant to have the highest death count of the franchise to date, there was never really a chance the rating would be less graphic than the previous films' R rating.
What Is The Plot Of John Wick: Chapter 3?
John Wick: Chapter 2 ended with John being declared "excommunicado" from The Continental hotel -- neutral territory for New York City's underworld -- for breaking the central rule of taking a life on Continental grounds. Continental manager Winston (Ian McShane) gave John a one-hour head start, but he's now on the run -- hunted by just about everyone, and cut off from other members, with a $14 million global contract out on his life. In Chapter 3, John Wick uses the service industry to stay alive as he fights his way out of New York City.
Chad Stahelski returns as director after co-directing the first film and taking solo credit for the second film. He told EW Chapter 3 is "a little bit of an origin story," with John Wick connecting with some people from his past (see new characters below for more on that). In September 2017, Stahelski told Collider his vision for the third movie was based on going deeper into the world instead of just making it bigger.
John Wick - Keanu Reeves
We first met retired hitman John Wick when his wife Helen died from a terminal illness, and he was given an adorable beagle puppy named Daisy to help with his grief. When he refused to sell his vintage 1969 Ford Mustang Mach 1 to Russian gangsters, they stole the car and killed sweet Daisy. Hence, John Wick's revenge.
John got a new pit bull puppy at the end of that film, and returned in Chapter 2 to make good on his unbreakable "Marker" promise to Italian crime lord Santino D'Antonio. Santino asked John to kill his sister Gianna, so Santino could take her place on the High Table council of crime lords. Because of the Marker, John was not allowed to refuse. But then Santino double-crossed John and opened a $7 million contract for John's death, pretending it was out of revenge for his sister's murder. John killed Santino in the Continental lounge, breaking the key Continental rule of no blood shed on hotel grounds, thereby launching the $14 million contract of Chapter 3.
By the time Chapter 3 rolls around, Keanu Reeves will have played John Wick across five years. The now 54-year-old actor does not seem to be slowing down, and one of the first official photos showed him riding a horse through the dark New York City streets while escaping assassins.
Sofia - Halle Berry
Oscar winner Halle Berry (Monster's Ball) has been cast as new character Sofia. She's described as an assassin, and the first official photo of her (above) shows her mid-badass walk, surrounded by two dogs of her own. About Sofia, Keanu Reeves told ComingSoon.net:
Keanu Reeves added to EW that his John Wick ends up going to find Sofia to see if she can help him. A photo toward the top of this post shows John and Sofia together in the desert, with her dogs. Sofia has two Belgian Malinois dogs, and the dogs are symbolic of someone she's lost. Apparently, the dogs are her assistants and "work very well tactically," director Chad Stahelski added to EW.
Halle Berry filmed several scenes in Morocco and documented them on social media. She clearly had a great time making the film, and showed off some of her stunt moves. She has plenty of action film experience from playing Storm in the X-Men movies, plus as Jinx in the Bond movie Die Another Day, but still managed to injure herself while prepping for the movie. She also recently joined the Kingsman franchise in Kingsman: The Golden Circle, and we can't wait to see what she brings to the franchise.
Winston - Ian McShane
Deadwood star Ian McShane plays Winston, owner and manager of the Continental Hotel in New York, which caters to the criminal underworld. He has been in all three movies so far. The second movie ended with Winston sending for John to tell him he was excommunicado for killing on Continental grounds -- and also let him know the High Table doubled the contract out on him from $7 million to $14 million. But Winston is as close to an ally as John has; he gave John a one-hour head start and also gave him a Marker for future use. One of the first John Wick 3 photos showed Winston with The Bowery King (see below), pairing those heavyweights together.
The Bowery King - Laurence Fishburne
Laurence Fishburne reunited with his The Matrix trilogy co-star Keanu Reeves in the second John Wick movie. Fishburne plays NYC underground crime lord The Bowery King, who helped the injured John Wick when he was desperate. We know The Bowery King will return in the third movie -- and also connect with Winston. This will be the first time we see the characters together, although they must've already met in this shared universe. Both The Bowery King and (especially) Winston have the potential to be allies of John's, although they are first and foremost pragmatists. There's only so far The Bowery King would be willing to stick his neck out, since he only helped John in Chapter 2 out of their shared interest against Santino.
Charon - Lance Reddick
The Wire and Lost alum Lance Reddick plays Charon, another character to appear in all three John Wick films so far. Charon is the enigmatic concierge at Winston's Continental Hotel, serving the New York criminal underworld. There's no word right now if he'll end up somehow helping John out in this film, but Reddick should be fun to watch either way.
Ares - Ruby Rose
Orange Is the New Black star -- and new Batwoman -- Ruby Rose joined the John Wick team in Chapter 2 as mute assassin Ares. She worked as Santino's personal security, and fought John Wick in a knife fight. He beat her, but apparently didn't kill her, since she signed that she'd be seeing him. Santino is now dead, and Ares should be one of the many assassins out to kill John Wick and collect that money.
The Director - Anjelica Huston
Anjelica Huston is no stranger to movies about hitmen -- she won an Oscar for Prizzi's Honor -- but she's a newcomer to the John Wick family. In Chapter 3, she plays a member of the High Table called The Director. Director Chad Stahelski teased to EW that she's "someone who was responsible for [Wick's] upbringing and his protection, in keeping with the previous plot tease that this will be something of an origin story. We see in the new trailer that John gets a chance to confer with The Director at some point, so maybe she'll be willing to help him out.
The Adjudicator - Asia Kate Dillon
Billions and Orange Is the New Black star Asia Kate Dillon also plays a new member of the High Table. By definition, an adjudicator judges or arbitrates a formal dispute. It sounds like The Adjudicator must have had a role in doubling and globalizing the contract put out on John Wick at the end of the second film. Other than that, it's not clear what The Adjudicator will do in Chapter 3. Maybe appeal John's judgment? Santino had used a Marker to get John to kill his sister, then put a contract out for John in seeming revenge for doing just that. Would the High Table amend its verdict on John Wick if they knew more of the context, or would that not matter?
The Administrator - Robin Lord Taylor
Gotham's Robin Lord Taylor has a small role in John Wick: Chapter 3 as The Administrator. He may be connected to The High Table, as with other similarly described characters. Taylor told /FILM he filmed just one day on John Wick 3, on the first day of principal photography. He plays "definitely an important person in that world." He's known for playing The Penguin but said he took this John Wick 3 character "in a physical dimension that was different for me so I'm very excited for people to see it." He added that "It's very iconic;" whatever that means.
Zero - Mark Dacascos
Actor, martial artist, and former Dancing With the Stars celeb Mark Dacascos plays an assassin named Zero. At this point, that's all we know about the Cradle 2 the Grave and Maximum Impact star's character. But Zero is reportedly one of the main assassins in the film.
Tick Tock Man - Jason Mantzoukas
Jason Mantzoukas is best known for comedies -- including roles on Parks and Recreation, The Good Place, and Brooklyn Nine-Nine. This time, he's playing an assassin named Tick Tock Man. As usual, that's all we know. But based on Mantzoukas' strengths, it would be surprising if he wasn't given some kind of a comedic angle.
What Other New Actors Are Joining John Wick: Chapter 3?
Three Kings and Wonder Woman star Said Taghmaoui confirmed his involvement on social media, sharing photos with Keanu Reeves and the desert in Morocco, where Halle Berry was also filming. We don't know anything about his character, though. Lost and The Wolverine actor Hiroyuki Sanada was reported early on as playing the main villain, but then conflicting reports disputed that main role.
Since this movie is going to be jam-packed with global assassins trying to take down John Wick for that $14M payday, it's no surprise to hear many assassin actors have been cast -- including Yayan Ruhian, Cecep Arif Rahman, Tiger Hu Chen, Boban Marjanovic, and (reportedly) Vladimir and Vlado Mihailov, Danish Bhatt, and Candace M. Smith. Sadly, one assassin character who won't return is Common's Cassian; he was expected to return after Chapter 2, but the actor revealed he won't be involved.
Will John Wick: Chapter 3 Be The Last Film?
Will there be a John Wick 4? Director Chad Stahelski told EW he would happily make a fourth John Wick film if the audience enjoys John Wick 3 and wants more. It would probably depend, in part, on how John Wick: Chapter 3 ends. If John Wick lives, it sounds like Keanu Reeves is more than willing to return to the role and keep this up. Also, obviously, box office receipts may come into play. But, even if Reeves' John Wick rides off into the sunset with his dog -- or that horse -- there's still the TV series in the works.
In January 2018, Starz ordered a series called The Continental, set in the criminal hotel safe haven. In this case, though, EW reports the series is meant to be set in Los Angeles, instead of New York. Keanu Reeves is said to have agreed to reprise his role for a cameo. Writer-producer Chris Collins was set to write the series and serve as showrunner, with Chad Stahelski directing the pilot. As of November 2018, we have no premiere date, but stay tuned.
We just have a few days now until John Wick: Chapter 3 - Parabellum hits theaters, so be sure to keep your eyes on this guide for any major updates!
Your Daily Blend of Entertainment News
Gina grew up in Massachusetts and California in her own version of The Parent Trap. She went to three different middle schools, four high schools, and three universities -- including half a year in Perth, Western Australia. She currently lives in a small town in Maine, the kind Stephen King regularly sets terrible things in, so this may be the last you hear from her.
Your Daily Blend of Entertainment News
Thank you for signing up to CinemaBlend. You will receive a verification email shortly.
There was a problem. Please refresh the page and try again.