12 Movie Animals That Will Own 2019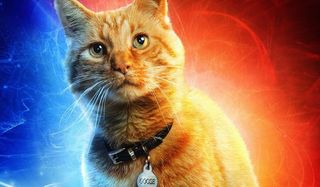 This year is going to the dogs. And cats. And cats that are most likely aliens. And lions, tigers, elephants, dragons, and other awe-to-awwww-inspiring creatures. Shazam! may only give nods to Tawky Tawny, but many of the most anticipated movies of 2019 will feature animals as main characters. This list is kinda deceptive in that there are way more than 12 movie animals ready to own 2019. A few of these movies have a dozen animals to watch just on their own! But here are 12 movies headed to theaters this year with animals who will steal every scene.
Captain Marvel's Goose
The second Samuel L. Jackson's Nick Fury met Goose the cat at the end of the Captain Marvel trailer, Goose became the true star of the movie. Goose got his/her own poster, and you can pre-order Goose shirts and other Goose merchandise ahead of Captain Marvel's premiere on March 8. (Orange tabby cats are usually male but Captain Marvel's cat in the comics was apparently female, so who knows.) In Marvel Comics, Carol Danvers' cat is called Chewie, and she's not actually a cat, she's a Flerken. Flerkens are aliens that have pocket dimensions inside their mouths. Because of course!
I can't wait to see how Captain Marvel handles the reveal of Goose (now a Top Gun reference instead of a Star Wars reference) as an alien and not just an adorable ginger kitty cat. But obviously Carol Danvers' pet should stick around as the MCU's latest sidekick.
John Wick 3's Dogs
John Wick is upping the dog count for Chapter 3 - Parabellum. Keanu Reeves' action franchise started with a beagle puppy named Daisy. Her murder was one thing to set off the chain of events giving us this third film. In Chapter 2, John Wick adopted a pitbull, and the trailer for Chapter 3 starts with John and his new dog running at night in the rain. (Nothing had better happen to that dog.)
Chapter 3 adds Halle Berry's Sofia as someone with whom John Wick has a history. She also has her own two Belgian Malinois dogs. Those two dogs are also symbolic of someone she has lost, like John Wick's puppy had been a gift from his late wife. But Sofia's two dogs are also her assistants, who work well tactically. Director Chad Stahelski also said some of the most impressive takes in the movie are with Keanu Reeves, Berry, and the dogs all together in the same sequence. Berry even had to become a dog trailer herself to get the role just right. I'm looking forward to seeing the dogs, and their human companions, when John Wick: Chapter 3 - Parabellum opens in theaters May 17.
Pet Sematary's Church
It's not Church's fault he's undead and angry. The 2019 adaptation of Stephen King's novel follows the Creed family in rural Maine. It's not really a spoiler to say that the family's cat Winston "Church" Churchill dies and is resurrected. That's not the only thing that you can expect from the movie, but it's clear Church is back with a vengeance. He also looks more authentic in his pissed-off demeanor than the British shorthair cat of the original 1989 film. Just look at him giving you the full action villain stare from the photo above. Pity the fools who cross his path in Pet Sematary, which opens April 5.
How To Train Your Dragon 3's Toothless
Prepare to get misty-eyed over Toothless and Hiccup in the final film of the How to Train Your Dragon trilogy. In this film, Toothless meets another Night Fury, as a potential new girlfriend. Early reviews for How to Train Your Dragon: The Hidden World have been very positive, and Hiccup voice actor Jay Baruchel warned that the film will leave fans sad but satisfied. It's going to be hard to say goodbye to this world, especially to Toothless. I just hope he gets the happy ending he deserves. Fans will find out when The Hidden World hits theaters on February 22.
Godzilla (And Fellow Titans)
A true clash of the titans is coming with Godzilla: King of the Monsters. The movie has many impressive human stars -- including Kyle Chandler, Vera Farmiga, Ken Watanabe, Zhang Ziyi, Sally Hawkins, Bradley Whitford, Charles Dance, and Millie Bobby Brown -- but I'm here for the creature feature. In the movie, Godzilla collides with Mothra, Rodan, and his ultimate nemesis, the three-headed King Ghidorah. It should be an epic showdown. The titans have all gotten their own stunning individual character posters (complete with biblical quotes). I don't really care what the people do in the movie, but they will also be part of the Godzilla sequel, which hits theaters May 31 and will be followed by Godzilla vs. Kong in 2020.
Detective Pikachu (And Fellow Pokémon)
Ryan Reynolds is voicing Detective Pikachu, who looks adorable but comes with Reynolds' trademark sass (and some gas issues). What is a Pikachu? They're described as yellow rodent-like creatures, so they should qualify on the animal front. But Pikachu won't be the only Pokemon character in the movie. The most recent TV spot gave us a first look at a live-action Snubbull. More animals from the video game are also featured in the trailer. It should be fun to see them brought to life in this live-action adaptation, which arrives in theaters May 10.
The Secret Life Of Pets 2 Cast
The Secret Life of Pets was a $875.5 million hit, so it's no surprise to see the pets are back. Illumination has been sharing mini character trailers, including one just focused on Max the terrier visiting a vet who specializes in behavioral disorders. This sequel brings back most of the original voice actors, but with a few changes. Patton Oswalt is now voicing Max instead of Louis C.K. Also, Harrison Ford -- yes, Indiana Jones/Han Solo -- is joining the cast in his first ever voice role. Other new characters will be voiced by Nick Kroll, Tiffany Haddish, and Pete Holmes. The Secret Life of Pets 2 will be ready to take your family's money on June 7.
Aladdin's Abu, Iago, And Rajah
There's still a lot of mystery about how the 2019 live-action Aladdin will look -- beyond speculation about Will Smiths' Genie. However, it has been reported that the animal characters Abu, Iago, and Rajah from the original animated film will be appearing in some fashion. We already know how Abu will look, thanks to a photo from Entertainment Weekly. What about wise-cracking Iago? Marwan Kenzari is playing the live-action Jafar, and original Iago voice actor Gilbert Gottfried reportedly said he'd be up for voicing Iago again in the new film, but it's not clear how Disney plans to handle it. I'm very curious to see how Aladdin portrays the live-action animal characters when the film opens in theaters on May 24.
Dumbo
I can't even look at Dumbo without thinking of "Baby Mine" and then I'm just a mess. So I'm half-excited half-dreading the new live-action Dumbo. Seeing an animated elephant in distress is upsetting enough. This version does seem to be letting itself fly, so to speak, as opposed to sticking close to the original animated Disney film. Of this year's big Disney remakes -- Aladdin, Dumbo, The Lion King -- Dumbo does seem to be the most ambitious in that way. The live-action version stars Colin Farrell, Michael Keaton, Danny DeVito, and Eva Green, but the real star is sweet Dumbo, who has already stared into our souls through those Dumbo posters. The movie arrives in theaters March 29.
The Lion King Cast
The ciiiiiircle of liiiiife has brought The Lion King back to us. The 2019 movie isn't really a live-action remake since there aren't any humans in it. Instead, it will be dominated by computer-generated animals. Either way, there's an awesome voice cast and baby Simba already looks adorable. Sure, the first teaser suggests it could be very close to a shot-for-shot remake, but I'm willing to keep an open mind. Plus, this cast! Donald Glover as Simba, Chiwetel Ejiofor as Scar, Beyonce as Nala, James Earl Jones back as Mufasa, and Seth Rogen and Billy Eichner as Pumbaa and Timon. The kings and queens of the jungle will arrive on screen July 19.
Toy Story 4's Animal Toys
The Toy Story movies may star human toys Woody (Tom Hanks) and Buzz (Tim Allen), but there are plenty of lovable animal toys to watch as well. There's Slinky Dog, Hamm the piggy bank, Rex the dinosaur, Bullseye the toy horse, and the new guys Ducky and Bunny, voiced by Keegan-Michael Key and Jordan Peele. The first trailer focused on new character Forky freaking out over being a toy, but the next teaser featured Ducky and Bunny riffing Key & Peele style at a carnival.
Toy Story 4 is going to be a massive hit when it's released in theaters June 21. And based on what Tom Hanks and Tim Allen have teased, it's going to leave us sobbing. That makes me think something may happen to one of our favorite characters. Just don't take out Slinky Dog the way they did in that fake John Wick poster!
Frozen 2's Sven
It has been six years since we first met reindeer Sven in Disney's 2013 massive hit Frozen. There are plenty of other characters in the Frozen universe, but I'm hoping Sven gets a showcase in Frozen 2, which is scheduled to finally arrive in theaters on November 22. Between the first film and this sequel there have been short films and video games and so much merchandise. But the official sequel should bring back Sven, his human buddy Kristoff (Jonathan Groff), Queen Elsa (Idina Menzel), Princess Anna (Kristen Bell), their snowman friend Olaf (Josh Gad), and new characters voiced by Evan Rachel Wood and Sterling K. Brown.
But Wait, There's More
We could add Chewbacca or possibly Porgs from Star Wars: Episode IX, if you want to keep this list going. Chewie may not appreciate being called a movie animal, but what is a Pikachu, anyway? And maybe Rocket Raccoon would qualify as a movie animal to watch in 2019 if he ends up having a major role in Avengers: Endgame. He did survive the Infinity War snap, but he's a no-show in the first trailer. Also, Disneynature's Penguins would qualify, so you should keep it in mind for its pre-Earth Day release on April 17.
Long story short, if you're a fan of movie animals, 2019 is going to be man's best friend that way. Don't forget to bookmark our entire 2019 movie schedule for many more options.
Your Daily Blend of Entertainment News
Gina grew up in Massachusetts and California in her own version of The Parent Trap. She went to three different middle schools, four high schools, and three universities -- including half a year in Perth, Western Australia. She currently lives in a small town in Maine, the kind Stephen King regularly sets terrible things in, so this may be the last you hear from her.