This Rotten Week: Predicting The Beach Bum and Dumbo Reviews!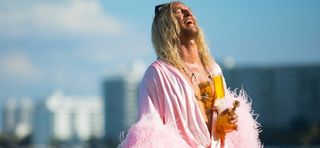 Two movies hit the big screen and they couldn't be any more dissimilar if they tried. In one we get a drug-addled writer buzzing his way through the Florida Keys. And in the other it's a beloved elephant who uses his ears to fly (which kind of sounds like something a drug-addled writer would come up with. Maybe these flicks aren't all that different). Get ready for The Beach Bum and Dumbo.
Just remember, I'm not reviewing these movies but rather predicting where they'll end up on the Tomatometer. Let's take a look at This Rotten Week has to offer.
If there was ever a movie that seems written specifically with Matthew McConaughey in mind, it's this one. In fact, I get the sense that if the dude had passed the movie might never have been made.
Harmony Korine has written and directed a bunch of films, though the only one to really hit wide release was 2012's Springer Breakers (66%). It is easily his most well-received and well-publicized film. The other stuff is mostly, well, weird (or just depressing like Kids).
Beach Bum appears to take some of its look and feel from Springer Breakers, embracing the neon Florida haze while following around Moondog in his attempt to, well, be Moondog. McConaughey looks every bit in his element, playing what seems to be a mashup of Jimmy Buffett and Hunter S. Thompson.
Early reviews are basically split down the middle with the Tomatometer sitting at 55% through 20 looks. I suspect it only drops as the week goes on considering the positive reviews all found a few things they didn't like with the film. I see that trend continuing and it ends in the rotten territory almost for sure.
It's now been 78 years since the original Dumbo hit the screens so I suppose, at least as far as Hollywood is concerned, we are way, way, way overdue for the remake. Now we get it in the form of a live action film about the titular elephant whose ears are so flappy they generate the requisite thrust to get him airborne.
Director Tim Burton has had an up and down critical run over the last decade or so. Sure there was the adaptation of Miss Peregrine's Home for Peculiar Children (65%) and the animated Frankenweenie (85%). But he also helmed Dark Shadows (36%) and Alice in Wonderland (51%) so it hasn't been all great.
This latest looks like a visually pleasing, if vanilla retelling of the classic tale. And I suspect that tone will actually help it with critics. This isn't a remake that needs to take a lot of chances, or distinguish itself from the original. Just hitting the right notes will be fine. I think critics take to it positively.
We only had one movie hit the big screen in wide release last week. Us (Predicted: 99% Actual: 95%) represents another knock-it-out-of-the-park critical win for Jordan Peele in a worthy successor to his award-winning Get Out. Peele has done it again, embracing the horror genre while adding additional layers of commentary about our society as a whole. Getting the prediction in the zone was rather easy. It was sitting at 100% early last week and picked up only a few negative reviews along the way.
Next time around we've got The Best of Enemies, Shazam and Pet Sematary. It's gonna be a Rotten Week!
Doug began writing for CinemaBlend back when Terminator: The Sarah Connor Chronicles actually existed. Since then he's been writing This Rotten Week, predicting RottenTomatoes scores for movies you don't even remember for the better part of a decade. He can be found re-watching The Office for the infinity time.
Your Daily Blend of Entertainment News
Thank you for signing up to CinemaBlend. You will receive a verification email shortly.
There was a problem. Please refresh the page and try again.