Horror Directors Who Later Made Superhero Movies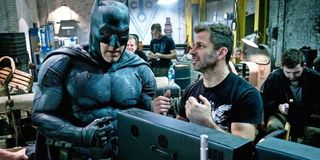 What is it about horror directors that draws them to make comic book adaptations? While it may feel like Aquaman and Shazam! are the start of a new trend in hiring horror talent for superhero stories, history shows that there are quite a few directors who have moved between both worlds. And in some cases, there's pretty prolific films on both sides of the aisle, stemming from those who decided to walk the line between screams and dreams. Some might surprise you, while others are pretty standard; but all made their mark in these twin worlds of fantasy. So without further ado, let's go down the list, shall we?
Richard Donner
Arguably the most classic example of the worlds of comics and horror crossing over, director Richard Donner's resume spans work from varied genres, with two big films sticking out. The Omen from 1976 and 1978's Superman: The Movie were Donner's big, back to back contributions to horror and heroes, and taking them both into account, the filmmaker kind of made the same film twice - telling a story of a family taking in and raising an incredibly powerful being. The big difference is that Damien doesn't leap tall buildings in a single bound, and Superman doesn't flip out when approaching a house of worship. But the same steady hand guided both stories, and while Donner didn't get to do everything he'd set out to with his Superman films, his work still remains as the gold standard for the character.
James Gunn
Everyone knows James Gunn's work from Guardians of the Galaxy as his major calling card in the industry today, and having made two films of comedy, music, and heart, he's just been brought back to do a third one. But before it was all about Star-Lord's famous Walkman and awesome mixes, Gunn had a different film that shocked the world into paying attention to him, and it was called Slither. A creature feature of the highest order, it was the film that brought Gunn together with the likes of Michael Rooker and Nathan Fillion, enabling him to cast them in later projects - including both Guardians movies. Of course, it also showed how well he worked with disgusting monsters that threaten a ragtag group of heroes.
James Wan
Back when films like Saw and Dead Silence were director James Wan's bread and butter, if you had asked anyone if he'd be their first choice to direct an Aquaman movie you'd probably get a lot of laughter. But that's exactly what happened, as the man who was crafting a whole cinematic universe of scares with The Conjuring films was brought in on the King Tide to send Jason Momoa's titular hero shooting up the box office charts. Now, with Aquaman 2 obviously in the water, we just might be seeing the same hands that put reverse bear traps and creepy puppets into our nightmares spinning tales of superpowered heroism again in the near future.
David F. Sandberg
Speaking of The Conjuring, it's only taken three years and three movies for the talented David F. Sandberg to go from horror newbie to superhero newbie, and with the results have been impressive. Back in 2016 we saw Sandberg adapt his short film Lights Out into a blockbuster horror hit, which eventually sent him to not only rehabilitate the Annabelle franchise with its sequel Annabelle: Creation, but eventually landed him in the position to call the shots on the aforementioned Shazam! Judging by the reaction we've seeen to that film so far, from both critics and fans alike, it sounds like Sandberg is going to fit into this long legacy of filmmakers just fine.
Guillermo del Toro
Yes, even Guillermo del Toro directed a superhero feature. While some modern comic book movie fans might not remember the Blade franchise, 2002's Blade II was brought into the world by the steady hands of del Toro himself - doing a wonderful job actually mixing to two genres. What's even better about this particular example of a horror and comic enhanced resume is the fact that Guillermo del Toro never stopped making horror films, and didn't stop at one superhero film either. From Chronos to Pan's Labyrinth, he's always been scaring the pants off of audience, and the man also found time to sneak in two Hellboy movies onto his dance card.
Sam Raimi
Debuting with a film like The Evil Dead immediately helped Sam Raimi establish himself in the horror world, and eventually direct his career to create a foundation based on the genre of screams. But eventually those howls turned to fantasies, as 1990's Darkman saw Raimi break into superhero storytelling with pretty fantastic results (while still including a few jumps). That being said, it's still not the man's greatest achievement in the realm, as a little over a decade later the director brought the world our first ever Spider-Man movie, and then two sequels. It was a film that really changed big screen comic book movies forever, and one could argue that the landscape wouldn't be what it is today without it.
Scott Derrickson
Scott Derrickson is a man who has made one hell of a living off of the horror genre, later making the successful jump into the world of the caped and the courageous. Derrickson made his big splash as a director with The Exorcism of Emily Rose, and only continued to frighten the world with features like Sinister and Deliver Us From Evil for quite a long stretch of his early career. Proving clearly adept with genre storytelling after turning Doctor Strange into a smashing success, Derrickson looks like he'll continue to play both sides of the fence, as Doctor Strange 2 is basically confirmed, and at least one other horror flavored project, Two Eyes Staring, looks to be in his future as well.
Ruben Fleischer
Zombieland was all it took for director Ruben Fleischer to become a hot new talent in the year of 2009. An irreverent zombie film that didn't skimp on the kills or the laughs, the film became a pop culture hit almost instantly. However, it took another nine years for Fleischer to make the jump into superhero films, with one of the most horror fueled entries in the genre's recent history: Venom. While the movie wasn't all that well-received by critics, there's also no arguing about its incredible success, as the Tom Hardy hit from last year is on track to be the basis for a whole new superhero continuity. And in the meantime, Fleisher is set to return to his horror roots with Zombieland: Double Tap currently filming and set to be released later this year.
Wes Craven
You might want to prepare yourself for a bit of a shock with this next one, because while Wes Craven is mostly known for bringing audiences face to face with their nightmares, he also took a superhero film on as a project in the earlier days of his career. By the time Craven had Last House On The Left and The Hills Have Eyes under his belt, he found himself wandering into the world of Swamp Thing, bringing the DC hero to life for Hollywood in 1982. Here's the fun part though: you'll notice that there's one particular film that wasn't made at that point, as A Nightmare On Elm Street wouldn't exist for another two years. Seeing as that film was a box office smash, and Swamp Thing became a cult classic at best, Craven can't be faulted for staying in the realm of horror.
Tim Burton
Picture this: you're a young hot shot director named Tim Burton, and you've always kind of been taken with the world of gothic horror. After making Pee Wee's Big Adventure the success that it is, what's the first project you choose to do? Naturally, you'd cash in those favors and swing for a home run in your genre of choice, like Burton did with 1988's horror-comedy classic Beetlejuice. That decision proved to be a classic success, because after turning on the juice and seeing the box office magic that shook loose, Tim Burton was brought in to usher a new era of superhero films into being. Using his gothic sensibilities, Burton jumpstarted Batman in 1989, and the rest was Danny Elfman enhanced history, continuing with Batman Returns three years later. In the years since he's not only continued to occupationally dabble in the world of horror - such as with the Oscar winning Sweeney Todd: The Demon Barber of Fleet Street - but his aesthetic is still having an impact on comic book movie storytelling 30 years later.
Zack Snyder
For our last example, we've saved quite probably the most interesting. In recent years, director Zack Snyder has become primarily known as the director that tried in vain to get the DC Extended Universe off of the ground. After comic hits like 300 and Watchmen, Snyder graduated to Man of Steel, Batman v. Superman: Dawn of Justice, and Justice League. But before any of those films, the man had a pretty impressive claim to fame: he directed the 2004 remake of George A. Romero's Dawn of the Dead, created with a script from the aforementioned James Gunn. Though more than half of his filmmography is now superhero movies, Snyder's feature roots are in horror, and to it he is returning to the genre next with the Netflix film Army of the Dead.
Looking at this list, maybe some directors best known for superhero movies should think about taking a page from the books of these intrepid filmmakers and pull a reverse migration into the world of horror. If the results are as promising as the stories we've recounted above, the scariest genre could see an even bigger boost than the one its currently experiencing.
Senior Movies Contributor
CinemaBlend's James Bond (expert). Also versed in Large Scale Aggressors, time travel, and Guillermo del Toro. He fights for The User.
Your Daily Blend of Entertainment News
Thank you for signing up to CinemaBlend. You will receive a verification email shortly.
There was a problem. Please refresh the page and try again.