Solo: A Star Wars Story Almost Featured Darth Maul's Original Voice Actor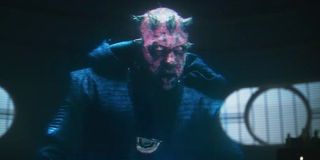 Arguably the biggest surprise from Solo: A Star Wars Story was the cameo from Darth Maul, who was last seen in live action being sliced in half by Obi-Wan Kenobi in The Phantom Menace, but had continued on to be a recurring character in the Star Wars universe's animated realm. While Ray Park returned to physically portray Maul for Solo, Sam Witwer, who previously voiced the character in Star Wars: The Clone Wars and Star Wars Rebels, vocally reprised the character instead of Peter Serafinowicz, who voiced him in The Phantom Menace. As it turns out, though, Serafinowicz did record lines for Solo, though this readings ultimately went unused for the final cut.
Peter Serafinowicz, currently best known for playing The Tick on the same-named Amazon series, traveled to Pinewood Studios to visit the Solo: A Star Wars Story set and speak with director Ron Howard about Darth Maul, specifically what he'd "become" following his defeat on Naboo. Serafinowicz then recorded his lines, and the following day is when Ray Park was brought in to act out Maul's scenes on camera. Fast-forward to the days leading up to Solo's release, Serafinowicz was excited to bring his kids and their friends to the movie and have them hear him voice the former Sith Lord, but then he learned how things had changed following the Solo world premiere. As he recalled to Collider Live:
On the one hand, I understand Peter Serafinowicz being disappointed not to get to hear himself voicing Darth Maul again. After all, though Maul was a Zabrak of few words in The Phantom Menace, Serafinowicz was the one who made him sound sinister and meaning during his introductory appearance, and almost two decades later, he traveled all the way to Pinewood Studios to reprise for Solo: A Star Wars Story. On the other hand, given that Sam Witwer has voiced Maul for nearly a decade and has been integral to the character becoming more interesting, I get why the Solo filmmakers decided to switch to him instead. Still, it would have been nice if Serafinowicz and his family were at least invited to the Solo premiere given his history with Maul and that he contributed to the movie.
Darth Maul was absent from Solo: A Star Wars Story until nearly the very end, when it was revealed that he was Dryden Vos' boss and the head of the Crimson Dawn crime syndicate. Qi'ra contacted Maul to inform him that Dryden Vow and his men had been killed by Tobias Beckett and his accomplices, though she didn't name Han and Chewbacca as the culprits. Though disappointed by this turn of events, Maul ordered Qi'ra to come to Dathomir so they could start working more closely together. While it doesn't look like Solo 2 will happen, perhaps there will be an opportunity in the future for Qi'ra and Maul's relationship to be explored in a Star Wars novel, comic book or, as a best case scenario, a Disney+ series. If not, at least those who haven't kept up with Maul past the theatrical movies can fill in the blanks of his story by checking out The Clone Wars and Rebels.
While it remains to be seen if/when we'll see Darth Maul on screen again, the Star Wars saga continues with the release of Episode IX on December 20. Keep checking back with CinemaBlend for more updates concerning a galaxy far, far away, and be sure to browse through our 2019 release schedule to plan your trips to the theater this year accordingly.
Connoisseur of Marvel, DC, Star Wars, John Wick, MonsterVerse and Doctor Who lore. He's aware he looks like Harry Potter and Clark Kent.
Your Daily Blend of Entertainment News
Thank you for signing up to CinemaBlend. You will receive a verification email shortly.
There was a problem. Please refresh the page and try again.