The Latest Hobbs And Shaw Footage Totally Kicked Our Asses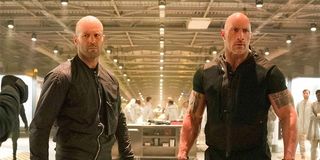 Back in February we got our first look at a film that seems like it could be one of the most fun blockbuster releases to come out in 2019. Spinning off from the Fast & Furious franchise with two of the most charismatic stars in the ensemble, David Leitch's Hobbs & Shaw looks like an over-the-top, insane, and ridiculous ride, packed with some brilliant action that should seriously thrill audiences worldwide this summer.
It seems, however, that what we've seen so far is only the tip of the iceberg. Today at CinemaCon in Las Vegas during the Universal Studios presentation, we got to see the latest trailer for Hobbs & Shaw, and it succeeded in not just blowing our minds, but also presenting some crazy set pieces that sent legitimate chills down the spine.
Wasting no time diving straight into the ass kicking, the Hobbs & Shaw footage began with the two titular characters in the middle of a mission and standing in front of a pair of twin doors. After some quick debate over which door belongs to who, Deckard Shaw (Jason Statham) makes the call to open the one on the right – and it turns out to be not such a great choice, as he suddenly discovers a team of henchmen waiting for him on the other side. As Luke Hobbs (Dwayne Johnson) mocks the choice that was made, Shaw immediately jumps into action and starts taking down his enemies with his impressive skills.
Meanwhile, Hobbs opens his door, and though there is only one dude standing behind it, he is so big that he actually makes the former Diplomatic Security Service agent look tiny, and he wields a giant wrench. Still, the hero is able to make quick work of his enemy, felling him with a single hit. As it happens, the two opposite hallways in which the eponymous characters find themselves are separated by a glass window, and so Hobbs is able to watch his partner fight as he himself casually strolls to the exit on the other side. Eventually they both reach the end, and Hobbs picks up his single foe and pushes his face against a scanner, opening a door. Staring back daggers, Shaw tries to replicate the action with one of his unconscious "companions," but it doesn't quite work – leading the British fighting machine to smash the guys face into the scanner multiple times with sincere frustration.
From there the trailer offered a bit more of the plot, explaining that bulletproof villain Brixton (Idris Elba) has put a target on the back of Hattie Shaw (Vanessa Kirby), Deckard's sister, who has stolen a virus from him that could kill half of the human population. As Shaw and Hobbs debate family business versus world saving business, we briefly see a shot of Magdalene Shaw (Helen Mirren), Deckard's mom, during a behind glass prison visitation telling Deckard to look out for his sister.
It's agreed between the two heroes that the only way to succeed is to work together, but a full partnership doesn't really seem to be totally possible. After all, we then see them in a jet preparing to use their ejector seats, and as Shaw counts down Hobbs pulls his frenemy's cord and fires him out of the cockpit – laughing as he does it.
As the action continues, Brixton expresses a high opinion of himself, calling himself Black Superman, which the lead duo gets to experience first-hand when the villain jumps on to the back of a flatbed truck with them and proceeds to kick both of their asses – leading Hobbs to later agree, "Damn, he really is Black Superman."
Understanding that they are in serious trouble, a plan is made by Hobbs and the two Shaw siblings to get off the grid, which then takes them to the island of American Samoa, where Hobbs is reunited with his family, specifically his mother and brothers. They're all willing to work together so that they can save the world, but they are at a bit of a disadvantage. While they have plenty of cars to get the job done, it turns out that the Hobbs household has gotten rid of all their guns.
Still, that doesn't stop them from engaging in full on war, leading to an epic ground battle that is previewed in bits and pieces. The big showstopper is delivered at the end, however, when Hobbs, Shaw, and Hobbs' brothers are driving cars and doing battle with a military helicopter. While driving, the giant Samoan is able to throw a giant hook on to the chopper, and at the same time more hooks and chains are connected between the family's vehicles to combine their strength. The end result is pure cliffside madness, as the helicopter tries to fly away, pulling the cars, while the cars at the same time try to pull the helicopter down – with Luke holding on to a chain and pulling with all of his might.
Nothing previewed thus far at CinemaCon has been able to match the epic-ness that was on display in the Hobbs & Shaw footage, and while I was already way beyond simple anticipation for the blockbuster, that excitement has only gone way, way up. Everything we've seen from this movie thus far has suggested it could be the biggest and most bodacious story in the entire Fast & Furious canon, and it truly can't get here soon enough.
At this time we don't know if this specific footage will eventually be making its way online, or when the next official trailer for Hobbs & Shaw will hit, but take our word that you are going to want to pay attention. The movie is still a few months away, set for release on August 2nd, but you can be sure that we'll be writing a lot more about it between now and then. Be on the lookout for more of our stories, as well as plenty more coverage out of CinemaCon 2019.
Assistant Managing Editor
NJ native who calls LA home and lives in a Dreamatorium. A decade-plus CinemaBlend veteran who is endlessly enthusiastic about the career he's dreamt of since seventh grade.
Your Daily Blend of Entertainment News
Thank you for signing up to CinemaBlend. You will receive a verification email shortly.
There was a problem. Please refresh the page and try again.