Godzilla 2: What We Know So Far About King Of The Monsters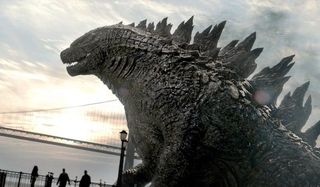 Godzilla has been a pop culture icon for decades, but when it comes to fully American productions centered around the monster, there have only been two undertakings. The first, in 1998, did not fare well either critically or commercially, thus eliminating any plans to spawn a series. Fortunately, the 2014 reboot was better received, ranking at 74% on Rotten Tomatoes and collecting nearly $530 million worldwide. With a performance like that, it's understandable that shortly after the movie's release, a sequel was ordered: Godzilla 2, officially titled Godzilla: King of the Monsters. Godzilla has led multiple movies in Japan, but this marks the first time in the United States that the giant reptile's adventures will continue past one movie.
Godzilla: King of the Monsters (which was shot in Atlanta, Georgia) is finally upon us, and there's a fair amount of information to chew on concerning the sequel if you can't get out to see it right away, or aren't sure if you want to continue this journey with the Titans. That's why we've created this handy guide so you can browse through what's been announced about the blockbuster, from when it's coming out to who's working on it both on and off camera to how it will connect to a grander shared universe filled with other giant and powerful monsters.
What Have We Seen From Godzilla: King Of The Monsters?
Luckily, we've had plenty of trailers and teasers for the new blockbuster at this point, which show off some of the crazy destruction, massive action sequences and intense Titan fights that we'll be treated to on the big screen. As you can see above, the final trailer shows us just how bad things are, and how much we need Godzilla to help protect us against some of the other Titans.
What Is The Godzilla: King Of The Monsters Release Date?
Thankfully for Godzilla fans, the scheduling changes for Godzilla: King of the Monsters haven't been too drastic. It was originally supposed to come out on June 8, 2018, but after Legendary Entertainment moved production of Kong: Skull Island from Universal to Warner Bros., the giant ape was deemed to be the priority. Godzilla: King of the Monsters was subsequently moved to March 22, 2019. Now it's set for release on May 31, 2019, putting it up against Rocketman and Ma that opening weekend. As far as overall May competition goes, there's a lot packed in, including Detective Pikachu, John Wick: Chapter 3 - Parabellum and Aladdin. But, when you're opening in the first summer movie month, thats expected.
What Is The Godzilla: King Of The Monsters Rating?
Godzilla: King of the Monsters finally got its official rating from the MPAA (Motion Picture Association of America) a few weeks back. And, it did get the rating that was expected, which is the same one that Godzilla did: PG-13. The 2014 blockbuster was rated that way for "intense sequences of destruction, mayhem and creature violence," and Godzilla: King of the Monsters will feature the same elements. So, this is a movie that can also be enjoyed by younger fans...but not too young. PG-13 is right in the sweet spot. Plus, that's what fellow MonsterVerse (more on that later) entry Kong: Skull Island was rated, too.
Who Is The Godzilla: King Of The Monsters Director?
Gareth Edwards' directing credits include End Day and Monster, but Godzilla was the blockbuster that earned him widespread recognition. The original plan was for him to return for Godzilla: King of the Monsters after helming Rogue One: A Star Wars Story. However, in May 2016, it was announced that Edwards would no longer direct the sequel, as he wanted to step back from overseeing big productions and focus on smaller-scale projects. It wasn't until January 2017 that his replacement was hired: Michael Dougherty, the man who directed Trick 'r Treat and Krampus. But that isn't the only way he's involved in the sequel...
Who Are The Godzilla: King Of The Monsters Writers?
Months before Michael Dougherty had been tapped to direct Godzilla: King of the Monsters, he had already been brought aboard to co-write the flick with Zach Shields. They succeed Godzilla screenwriter, Max Borenstein, who was originally supposed to return, but later dropped out. Dougherty's notable writing credits include X2: X-Men United and Superman Returns, while Zach Shields has previously worked with Dougherty on Krampus. Given the horror background these two have, there's a distinct chance that Godzilla: King of the Monsters will have scarier elements, though not to the point that the movie will rest comfortably in the horror genre. To be fair, watching a giant fire-breathing monster destroy cities is scary enough, but perhaps there will be added suspense to make Godzilla: King of the Monsters more captivating. A good sequel retains what made the first movie work so well, but also incorporates new material to keep things fresh.
What Is Godzilla: King Of The Monsters About?
Well, we're in big trouble now. After the events of 2014's Godzilla, even more of the Titans began to wake up and come out of their hiding places, leaving massive destruction in their wake. At the start of Godzilla: King of the Monsters, 17 of these dangerous beasts have come forward (with more expected to surface soon), with those who work at the crypto-zoological agency Monarch realizing that they're moving as a pack and following a leader.
That leader just so happens to the the three-headed monster King Ghidorah, ancient nemesis of Godzilla. We need to take out Ghidorah to get the rest of the awakened Titans to stop their reigns of terror, and, guess who seems like the best hope for that?
After defeating the MUTOs (Massive Unidentified Terrestrial Organisms) that were the "real" villains of the first film, Godzilla rested in the rubble from his giant battle for a bit and then returned to the sea. Unfortunately, humanity isn't having much luck fighting back against these nearly indestructible creatures, so we hatch a plan to locate Godzilla's ocean-floor hiding place, wake him up and get him to, once again, fight the good fight against his fellow Titans as we do everything we can to help out.
Though, I have to say, bothering a creature like Godzilla seems like a bad idea that could easily wipe out a chunk of a country's military force and /or population should he wake up on the wrong side of his monster bed.
Who Are The New Godzilla: King Of The Monsters Characters?
The first actor who was cast for Godzilla: King of the Monsters was Millie Bobby Brown. She's best known for her breakout role as Eleven, nicknamed "El," on the Netflix series Stranger Things. In the show, she plays a telekinetic girl who was kept in a government laboratory, experimented on, and who was soon revealed to be able to make contact with the alternate dimension unofficially known as the "Upside Down." So yeah, Brown is well-versed in the realms of sci-fi and horror.
Brown will play Madison Russell, and be one of the central characters in Godzilla: King of the Monsters, along with two other newcomers: Kyle Chandler and Vera Farmiga, who will play her parents Dr. Mark Russell and Dr. Emma Russell, who are both working to stop the Titans. Aside from the obvious danger involved in living under the conditions found in the film, there will be other familial strife for the Russell's. Chandler recently revealed that one of the reasons his character hates the Titans is that "they caused havoc with my family," and it seems like a great loss came from that havoc.
The other new cast members include Ziyi Zhang (Crouching Tiger, Hidden Dragon) as Dr. Ilene Chen, Bradley Whitford (The West Wing, Get Out) as Dr. Rick Stanton, Charles Dance (Game of Thrones) as Jonah Alan, Thomas Middleditch (Silicon Valley) as Sam Coleman, Aisha Hinds (9-1-1) as Colonel Diane Foster, O'Shea Jackson Jr. (Straight Outta Compton) as Chief Warrant Officer Barnes and Anthony Ramos (A Star Is Born) as Staff Sergeant Martinez. As you can probably tell from all the doctors and military personnel in that lineup, all of these new characters seem to be actively helping Monarch stop the Titans.
Who Are The Returning Godzilla Characters?
So far, only three of the actors who appeared in 2014's Godzilla have been confirmed to return for the sequel. Aaron Taylor-Johnson said back in 2015 that he was unsure if he'd be back, and that it would depend on whether director Gareth Edwards stuck around or not. Seeing as how Edwards did not return to the Godzilla fold, we can probably expect that Taylor-Johnson won't be around, even in a small capacity. That will likely also leave out any appearance by Elizabeth Olsen's Elle Brody (we've certainly not seen either of them in any of the trailers), but it turns out that Ken Watanabe's Dr. Ishiro Serizawa will be back.
Ishiro was the main representative from Monarch, the organization that studies Earth's monsters. Given how Monarch is the main connective thread of the MonsterVerse (more on that in the next section). Not only does Ishiro have experience studying Godzilla, but he can hopefully provide insight on the new monsters that emerge. Hopefully, Ishiro will become what Nick Fury and Phil Coulson are / were to the Marvel Cinematic Universe. He's not the focus, but he's integral to shedding light on these mysterious beings.
The other returning characters / actors are Sally Hawkins (The Shape of Water) as Dr. Vivienne Graham and David Strathairn (The Blacklist, Billions) as Admiral William Stenz. While it would have been nice to see how the Brody family was faring after everything they went through in the first film, their story was wrapped up pretty well, so it was never necessary for them to show up again. It makes a lot of sense then, that the action of Godzilla: King of the Monsters would find another family to focus on amid all the Titan uproar, and the film is doing just that.
How Does The MonsterVerse Fit Into Godzilla: King Of The Monsters?
When 2014's Godzilla came out, it was a self-contained story that left room for a sequel later down the line. That's standard for many blockbusters, especially ones based on existing intellectual property. But with the rising popularity of cinematic universes, thanks to Marvel, Warner Bros. decided they wanted in on the action. Legendary Entertainment had already acquired the rights to creatures like Mothra, Rodan and King Ghidorah after Godzilla was released, and in September 2015, it was announced that Kong: Skull Island would be developed at Warner Bros. instead of Universal.
The following month, it was confirmed that the giant ape lives in the same world as the fire-breathing reptile, which has been dubbed the MonsterVerse. Kong: Skull Island takes place in the early 1970s, four decades before the present day Godzilla events. However, there are several references to Monarch, which isn't surprising since it was only two decades earlier that those nuclear weapons were dropped on Godzilla.
So, what does all this mean for Godzilla: King of the Monsters? Well, whatever happens in the sequel, you can count on Godzilla not dying. The following year, on March 13, he's going up against Kong in Godzilla vs. Kong. This will be the first time these two have clashed in an American setting and Michael Dougherty, who directed King of the Monsters and also co-wrote Godzilla vs. Kong, has described the film as a "potential underdog fight," which will see a much more mature King Kong needing to use all his primate intelligence and skills to defend himself from the massive lizard.
It stands to reason that Godzilla: King of the Monsters' ending will pave the way for this epic battle. Who knows, maybe Kong himself might make a cameo appearance. There already seems to be a major connection brewing between Kong: Skull Island and King of the Monsters that will explain how these creatures remained hidden for so long. Then there's that Skull Island after-credits scene, which teased every monster we know we're going to see in this film. It does make sense that a major tease for the next film in the MonsterVerse would come at some point during King of the Monsters, we just don't know what it might be right now.
You can head out to see Godzilla: King of the Monsters right now!
Your Daily Blend of Entertainment News
Connoisseur of Marvel, DC, Star Wars, John Wick, MonsterVerse and Doctor Who lore. He's aware he looks like Harry Potter and Clark Kent.