Godzilla: King Of The Monsters Trailer Is Intense And Filled With Destruction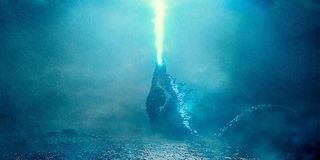 Warner Bros' MonsterVerse kicked off in 2014 with Godzilla, Hollywood's second attempt at bringing the monstrous reptile to life. The MonsterVerse continued in 2017 with Kong: Skull Island, but next year marks the return of Godzilla to the big screen with Godzilla: King of the Monsters. After months of casting announcements, a scattering of photos and even a weird Monarch tease, the first King of the Monsters trailer has finally arrived out of San Diego Comic-Con, which you can check out, below.
Although we took a trip back to the 1970s in Kong: Skull Island, 2014's Godzilla marked the public's first exposure to the monsters that have lived on Earth for thousands of years. Godzilla: King of the Monsters picks up five years after that movie, and if you thought watching Godzilla fighting MUTOs was intense, the sequel kicks things up several notches. This time around, humanity, the search is on for the other monsters in hiding, a.k.a. the Titans, because if they don't, according to Vera Farmiga's Dr. Emma Russell, the planet and all of humanity will perish. Unfortunately, they probably would have been better off leaving the Titans alone, because Mothra, Rodan and King Ghidorah will be unleashed in King of the Monsters, and it's not just a few cities in danger in the sequel. From the way this trailer frames the story, the entire world is at risk.
There are a couple things worth noting regarding Godzilla: King of the Monsters' plot. One, Emma Russell, a paleontologist working for Monarch, and her daughter, Millie Bobby Brown's Madison Russell, have been kidnapped by a "mysterious organization" that has its own plans for the monsters. So despite her claims in the trailer, it's possible she was coerced to say all that. Two, Farmiga recently revealed that Emma has found a way to communicate with the "Titans" in King of the Monsters, which could potentially lead to her controlling them. Humans stand little chance of bringing down these monsters through brute force, but this method of communication could change the game. Still, when it comes to felling Mothra, Rodan and King Ghidorah, we'd be wise to count on Godzilla to get the job done.
Godzilla vs. Kong arrives in 2020, so at the bare minimum, we know Earth won't be destroyed in Godzilla: King of the Monsters. Still, this sequel looks like it won't be lacking in action and chaos. King of the Monsters' cast also includes Kyle Chandler as Mark Russell, Bradley Whitford, Charles Dance, Thomas Middleditch and O'Shea Jackson Jr., as well as Ken Watanabe and Sally Hawkins reprising Dr. Ishiro Serizawa and Dr. Vivienne Graham, respectively.
Directed by Michael Dougherty, Godzilla: King of the Monsters rampages into theaters on May 31, 2019, so stay tuned to CinemaBlend for continuing coverage. In the meantime, don't forget to look through our 2018 release schedule to learn what movies are arriving later this year.
Your Daily Blend of Entertainment News
Connoisseur of Marvel, DC, Star Wars, John Wick, MonsterVerse and Doctor Who lore. He's aware he looks like Harry Potter and Clark Kent.