How Shazam! Changed An Important Sivana Scene During Its Reshoots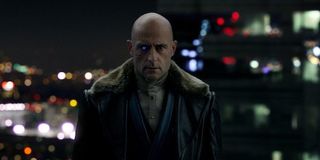 Warning: MAJOR SPOILERS for Shazam! are ahead!
Although the original plan for Shazam! was to have the eponymous protagonist face off against Black Adam, the clash is being saved for the future, as the villain/anti-hero also known as Teth-Adam will first debut in his own movie. Instead, Shazam! used Mark Strong's Doctor Thaddeus Sivana as its main antagonist, and he definitely showed off his intimidation chops.
This was best demonstrated when Sivana killed everyone inside of a boardroom, including his own brother and father, using the Seven Deadly Sins. As it turns out though, that wasn't originally the scene that showed just how frightening Sivana could be. I recently spoke with Michel Aller, the editor of Shazam! and frequent collaborator with director David F. Sandberg, and she informed me that during principal photography, Sivana's display of incredible power happened in a different location. Speaking about the boardroom scene, she said:
The Christmas season can be a dramatic time among certain families, but killing your relatives and all the attendees of a holiday party is an entirely different beast. Something like that feels more appropriate during the Airing of Grievances in a Festivus celebration. But as Michel Aller explained to me, during Shazam!'s reshoots phase, it was decided to change things up, which is how the boardroom slaughter came to be.
In case you need a refresher, after Thaddeus Sivana, against the wizard Shazam's protests, stole the Eye of Sin from the Rock of Eternity and became the new vessel for the Seven Deadly Sins, he traveled to Sivana Industries to confront his father and brother. Both of them had been emotionally abusive towards Thaddeus growing up, with his brother, Sid, blaming him for the accident that paralyzed their father. Now that he had the power to exact revenge, Thaddeus tossed Sid out the window and had the Seven Deadly Sins murder Mr. Sivana and everyone else in the room.
For those curious to see how this massacre was originally supposed to play out at the Christmas party, Michel Aller states that there's a good chance this will be one of the deleted scenes included on the Shazam! home media release, although obviously the visual effects effects won't be complete. In her words:
Doctor Sivana didn't get to enjoy his partnership with the Seven Deadly Sins for very long in Shazam!. Thanks to the World's Mightiest Mortal and his adoptive siblings, who were able to become superheroes thanks to Billy Batson sharing his power, the Sins were contained back in the Eye of Eternity and redeposited to their prison in the Rock of Eternity, which is now officially the Shazam family's lair.
However, don't think this is the last we've seen of Sivana in the DC Extended Universe. In the Shazam! mid-credits scene, he was shown obsessively scrawling ancient runes on the walls of his prison cell, desperately trying to go back to Rock of Eternity to reclaim his lost power. However, he was then approached by Mr. Mind, who promised him that there are other ways to obtain power, and by working together, the two of them will be able to conquer the Seven Realms. In other words, Sivana's days of slaughtering innocents probably aren't done yet.
Be sure to read CinemaBlend's review of Shazam! and stay tuned for updates concerning Shazam! 2. In the meantime, catch up on all the other DC movies in development by looking through our handy guide.
Connoisseur of Marvel, DC, Star Wars, John Wick, MonsterVerse and Doctor Who lore. He's aware he looks like Harry Potter and Clark Kent.
Your Daily Blend of Entertainment News
Thank you for signing up to CinemaBlend. You will receive a verification email shortly.
There was a problem. Please refresh the page and try again.