Star Wars: Galaxy's Edge Will Feature Yoda, Other Surprising Returning Personalities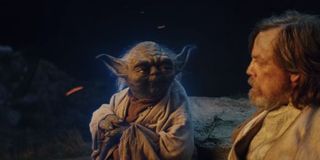 Star Wars: Galaxy's Edge promises to open up a new corner of the Star Wars universe. It creates an outpost on a planet at the edge of wild space where guests will be able to interact with new characters, eat new food, and experience all new attractions. However, it wouldn't be Star Wars if the new land didn't also include those elements of the franchise that we're familiar with. At the recent Star Wars Celebration it was revealed that several classic characters will appear in the new land, including Jedi Master Yoda.
Of course, since the time period for the new Galaxy's Edge land is set in the era of the new trilogy, don't expect to actually see Yoda anyplace in the new land, except possibly as merchandise. Yoda has been long dead by the point in which this part of the story is taking place. However Chris Beatty, the Executive Creative Director at Walt Disney Imagineering did reveal that Yoda would be heard someplace in the new land, and that Yoda's voice was being provided by Frank Oz, the voice of Yoda throughout all of the films.
Exactly how the voice would be heard wasn't revealed. It could be part of one of the E-ticket attractions inside the new land, though neither of them strikes me as particularly Jedi enough to make Yoda make sense there. Perhaps Yoda will help guide you as you build your own custom lightsaber, which will be something you'll be able to schedule for yourself in one of the Black Spire Outpost shops.
However, Yoda isn't the only classic voice who will be returning for Galaxy's Edge. Fans of the original Star Tours will remember the pilot, named R3x, who was voiced by Paul Reubens. While the current version of the attraction doesn't have R3x flying, Galaxy's Edge will have the character back, as a DJ at Oga's Cantina. Margaret Kerrison, Story Editor at Walt Disney Imagineering says the new R3x is going to be a lot of fun...
Reubens apparently recorded a lot of new dialogue for his new role, where he'll be playing a lot of brand new music written specifically for the land. Some of that music is being attributed to the band Figrin D'an and the Modal Nodes, which is the group more widely known as the "Cantina Band" from Star Wars: A New Hope. Take a listen to some of it below.
One more classic Star Wars character who will be seen at Black Spire Outpost is the alien Nien Nunb. First seen as Lando Calrissian's co-pilot during the attack on the second Death Star in Star Wars: Return of the Jedi, Nien Nunb was seen as an X-Wing pilot in Star Wars: The Force Awakens, and he's also a background character in Star Wars: The Last Jedi who survives until the evacuation on Crait.
Nien Nunb will also appear in Galaxy's Edge in some capacity, and he will be voiced by the same man who gave him a voice back in Return of the Jedi, even though, according to Galaxy's Edge project lead Scott Trowbridge, making that happen was a little bit tougher this time around...
All of these characters get added to the list of Star Wars characters we already knew would be appearing. All of the main heroes and villains of the current trilogy will also appear on Batuu. We'll see Rey, Finn, Poe Dameron, and even Kylo Ren as part of the Rise of the Resistance attraction. Fans of the Star Wars: The Clone Wars and Rebels animated series will meet an incredibly life like animatronic of Hondo Ohnaka
Star Wars: Galaxy's Edge will also see new music written for it created by John Williams, the man who has written nearly every note of music for the galaxy far, far away. It won't simply be ambient music throughout the land, as that would potentially break the illusion that you actually standing on an alien world. I'm sure, however, that Disneyland and Walt Disney World have found plenty of other ways to include the music.
Whatever your level of love for Star Wars, there's going to be so much going on in Galaxy's Edge that you're going to find something that strikes a chord. Disney never gives the entire game away and with all this announced only slightly over a month before the new land opens, there's almost certainly more to see and hear that we don't know about yet.
We'll find out when Star Wars: Galaxy's Edge opens at Disneyland on May 31 and at Walt Disney World August 29. If you want to guarantee yourself access to the new land, you'll need to book a Disneyland Resort hotel stay during the land's first three weeks, as that will get you a no-cost reservation to enter Black Spire Outpost.
CinemaBlend's resident theme park junkie and amateur Disney historian. Armchair Imagineer. Epcot Stan. Future Club 33 Member.
Your Daily Blend of Entertainment News
Thank you for signing up to CinemaBlend. You will receive a verification email shortly.
There was a problem. Please refresh the page and try again.