Re-Watch Captain Marvel's Mid-Credits Scene Before Seeing Avengers: Endgame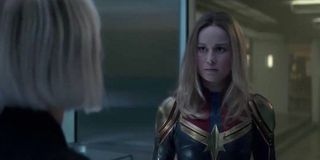 Warning: SPOILERS for Captain Marvel are ahead!
Since the Marvel Cinematic Universe began in 2008, each movie has included at least one extra scene either in the middle of or after the credits, many of which have teased events to come. Captain Marvel kept this tradition going last month, and with only a few days to go until the next MCU installment, Avengers: Endgame, arrives in theaters, now you can officially watch the mid-credits scene that was attached to Carol Danvers' origin story.
Since we're still a few months off from Captain Marvel being released on Blu-ray, DVD and Digital HD, the only way one could have watched the movie's mid and post-credits scenes is either see it in theaters again or find a bootlegged recording online. Fortunately, the Marvel Studios Twitter page included it in its rundown today of the MCU's many (but not all) mid/post-credits scenes. Alas, if you've been wanting to watch a high definition version of Goose coughing up the Tesseract, you'll need to keep waiting.
As the MCU's second period piece, Captain Marvel's main story took place in 1995, over a decade before the events of the modern MCU unfolded. However, in the middle of its credits, we jumped back to the present day, i.e. post-Avengers: Infinity War, when half of all life in the universe was snapped away by Thanos. Infinity War's post-credits scene showed Nick Fury activating the spruced-up pager Carol Danvers gave him before he also turned to dust.
Somehow, the surviving Avengers found Nick Fury's pager and brought it back to their base, unsure of what it is and who's on the other end of the signal it's broadcasting. Lucky for them, they won't have to wait long after it shuts off to learn who's getting the signal, as Carol Danvers has arrived at Avengers HQ wondering where Nick Fury is. Sit down, Carol, they have some bad news for you.
While I'm not 100% sure about this, I suspect that Captain Marvel's mid-credits scene actually comes from Avengers: Endgame itself, similar to how Ant-Man showed a portion of Captain America: Civil War and Doctor Strange showed a position of Thor: Ragnarok. Perhaps Endgame will show how Captain America, Black Widow and the others feared about Nick Fury's pager, and/or maybe we'll see Carol Danvers receive the transmission from wherever she was in the universe.
Even if that's not the case, now that Carol is back on Earth after all these years, she can ideally help turn the tide in the upcoming re-match against Thanos. While an earlier Avengers: Endgame clip revealed how she and the other heroes intend to take the Infinity Stones from Thanos and undo his genocide, we have no idea if they'll accomplish that. Frankly, we're still in the dark about a lot of this movie.
Captain Marvel is winding down its run in theaters, but you can watch Carol Danvers team up with all the other surviving MCU heroes in Avengers: Endgame starting this weekend. Don't forget to also look through our Marvel movies guide to learn what else is on the horizon for this superhero franchise.
Connoisseur of Marvel, DC, Star Wars, John Wick, MonsterVerse and Doctor Who lore. He's aware he looks like Harry Potter and Clark Kent.
Your Daily Blend of Entertainment News
Thank you for signing up to CinemaBlend. You will receive a verification email shortly.
There was a problem. Please refresh the page and try again.