The Avengers: Endgame Premiere Didn't Reveal If There Will Be A Post-Credits Scene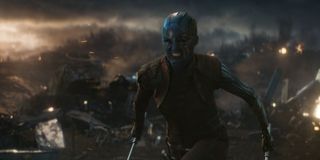 The Marvel Cinematic Universe changed the game for film franchises, most memorably with the standard inclusion of post credits scenes that would set up a future installment once the action of the current film had ended. So naturally, with the clock ticking down towards the release of Avengers: Endgame this weekend, there's a pretty big question looming in the air: will there be an ending tag for the end of the Infinity Saga? The answer, at the moment, is, maybe?
We say this because after last night's big Hollywood premiere of Avengers: Endgame, the credits were actually cut off. Instead of running those customary names of people that worked on the film, and their respective roles, the cast and directors went up to the stage of the Los Angeles Convention Center and delivered some heartfelt speeches.
Admittedly, that's not the answer that fans want to hear involving whether or not Avengers: Endgame ties up its 11 year journey of learning and betterment of oneself will have that last surprise. However, it's not the first time that this sort of strategy was used.
In fact, going back as far as The Avengers in 2012, that film was shown at its very premiere without a post credits stinger. This left the audience, already primed to expect one or two extra moments, with the very same question we are asking today. So while no footage has been seen of any sort of coda to Avengers: Endgame, we're totally thinking that it's going to be in there. It's just behind a Marvel Studios secrecy wall that we haven't seen past yet.
CinemaBlend's own Eric Eisenberg was at the Hollywood premiere of Avengers: Endgame last night, on hand to take in the splendor himself for the film's big night. Not only can he confirm that there was no post-credits scene, but he also gave the following reaction to the film on Twitter:
As for what to expect in this hypothetical, but still possibly absent, post credits scene to Avengers: Endgame? Well, there's a lot of ways it could go. We could see Peter Parker's first words after being restored to life in time to have his adventure in Phase 3's big finale, Spider-Man: Far From Home. Or, there might be some tease as to where Captain Marvel may go next in her adventures.
Perhaps Kevin Feige had someone shoot a Shang Chi teaser with their iPhone and a special lens, with that footage being tweaked in the editing bay as we speak. The big point is, we don't know. But that's part of the fun with going to see a Marvel Cinematic Universe film on opening weekend, as when any story's door closes it tends to open the window to the future. We don't have long to wait, as Avengers: Endgame lands on our collective cinematic doorstep on Thursday night. So there's still time for you get a couple of the vital films to watch before heading out into your schedule.
Senior Movies Contributor
CinemaBlend's James Bond (expert). Also versed in Large Scale Aggressors, time travel, and Guillermo del Toro. He fights for The User.
Your Daily Blend of Entertainment News
Thank you for signing up to CinemaBlend. You will receive a verification email shortly.
There was a problem. Please refresh the page and try again.