How Much Avengers: Endgame Made Opening Night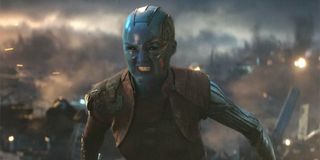 Avengers: Endgame pre-sales have been insane ever since they went on sale, so people should already be fully aware that the new Marvel movie was going to have a big opening night. But being aware that a movie is big and understanding exactly how big a movie is are two different things, which is why we're about to talk opening night numbers here.
Obviously, Avengers: Endgame absolutely dominated on opening night, with early reports indicating the flick could bring in at least $43 million. At the time, thanks to all the myriad showings that happened beginning at 6 p.m. yesterday evening, Deadline reported that the number could ultimately be as high as $57 million. Yes, for one evening of showings.
In fact, however, once the final numbers dropped, the movie made even more money domestically. Variety is reporting Avengers: Endgame opened to a record-breaking $60 million dollars. That would be a lot for an entire opening weekend, but it's an excessive number for just one night.
The previous number to beat for opening night was for Star Wars: The Force Awakens, which made $57 million domestically in its initial entrance into theaters. Over the weekend, Avengers: Endgame will play in over 4,600 theaters, so the numbers should only grow moving forward.
We've been reporting for weeks that Avengers: Endgame would open to record numbers. Certain showtimes have been sold out in various parts of the country for days and days. The AMC on 42nd Street had most showtimes until the middle of the night sold out, with only screenings at 1:45, 2:30 and 3:30 a.m. available, for example.
If Avengers: Endgame actually hit $57 million last night, the final Phase Three movie could be well on the way to making the $800 million that was estimated as a possibility by early box office trackers in terms of worldwide numbers. And I'm not talking $800 million in total; instead, I'm saying this movie could make $800 million during opening weekend. How 'bout them apples?
To compare, when Avengers: Infinity War opened around this time last year, that movie also had an incredible opening weekend, pulling in $640.4 million during its first few days in theaters worldwide. For that movie, the flick opened a little later in China, which is why some are anticipating Endgame could blow past the $800 million mark.
This time around Avengers: Endgame is already breaking records in China in terms of pre-ordered ticket sales, so theoretically the numbers could be even higher there.
Domestically, Avengers: Endgame is also expected to be a winner and early numbers have U.S. and Canada totals at just under $300 million. With $57 million to kickstart that, the movie should be in good shape, as Friday nights and Saturdays are even bigger moviegoing days. (Although presumably a lot of people went Thursday night so as not to get spoiled.)
Ultimately, so far this year the box office has been a little sluggish compared to previous years. While titles like Glass, Us, and Captain Marvel have done well, there hasn't been a Black Panther-type of movie to really rally insane numbers into theaters prior to this weekend. Avengers: Endgame could ramp things up considerably. I'm sure theaters are hoping it does.
Are we on our way to a record box office year? Only time will tell. But we will definitely keep you updated in regards to Endgame. In addition, to see when the likes of Godzilla: King of the Monsters and The Lion King will have their own chance to shine in the sun, take a look at our full movies schedule.
Reality TV fan with a pinch of Disney fairy dust thrown in. Theme park junkie. If you've created a rom-com I've probably watched it.
Your Daily Blend of Entertainment News
Thank you for signing up to CinemaBlend. You will receive a verification email shortly.
There was a problem. Please refresh the page and try again.