Zac Efron Says The Greatest Showman Sequel Could Still Happen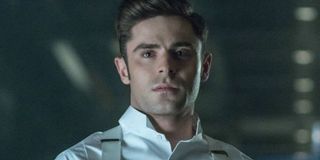 Zac Efron is currently out and about promoting his Ted Bundy flick Extremely Wicked, Shockingly Evil and Vile, but when it comes to Zafron, a lot of people still have The Greatest Showman tunes on the brain. On the bright side, according to the actor, a sequel to the popular movie could still be in play. He recently said on The Graham Norton Show:
Speaking on a couch with some other big name actors, including Matthew Broderick, Zac Efron explained what he knows about a potential sequel to the 2017 musical. It's honestly amazing that we could be talking about a sequel these days, given where the movie was when it first kicked off in theaters.
Honestly, when The Greatest Showman first premiered, it wasn't to an auspicious start. The movie routinely was in third or fourth place at the box office in its first few weeks in theaters at the end of 2017, as it competed with the likes of Star Wars: The Last Jedi, Jumanji: Welcome To The Jungle and Pitch Perfect 3. Then a funny thing started happening—people kept going to see it.
In fact, the movie remained in the Top 10 domestically through the weekend of March 2-4 in 2018, a weekend in which Black Panther was already out and dominating.
Clearly, there's an appetite for more tunes set in the world of The Greatest Showman. Benj Pasek and Justin Paul wrote the music for the film, after gaining fame from creating original music for Smash and La La Land.
However, if you've seen the musical movie, you should already know that it covers a pretty large span of time in the life of the circus dreamer. We get to see P.T. Barnum's early failures, his big dreams and his big successes. Toward the end –and spoilers--fictional character Phillip Carlyle (played by Zac Efron) ends up getting involved as a partner and takes over the open-air circus while Barnum takes a step back to spend more time with his family.
It's hard to tell exactly where a sequel could go with the narrative, but Zac Efron also told Graham Norton that he would be game to work opposite Hugh Jackman and with the music and writing team again, noting though that scheduling could eventually be a problem.
I think a lot of people hope there is a sequel. Although in real life, P.T. Barnum's story wasn't all about overcoming obstacles, the musical narrative really entranced people. It helps that circus set pieces and costumes are lovely and lively. It also helps that the music is so catchy, leading to group sing-a-long screenings.
It was a good holiday season at the movies the year The Greatest Showman came out, but in particular that movie had staying power because it became a cultural film that people could experience together in groups or with one or two of their friends. In turn, the soundtrack became a success and the music for the movie was everywhere.
Part of this could be because the whole thing was originally conceived as a Broadway musical, and there has been some talk about turning the movie into a stage production, as well. So, theoretically even if a sequel does not end up happening, the movie could branch out into other mediums.
Is The Cast On Board For A Greatest Showman Sequel?
Several other people related to the movie, from director Michael Gracey to Hugh Jackman himself, have expressed optimism about telling more of the story about the famed circus. Jackman previously revealed:
This was a passion project for all of the people involved. The movie was also seven years in the making, so it's no real surprise that people related to the movie might have enthusiasm toward doing more, whether that be Zac Efron or Hugh Jackman. Some time after Jackman made the above comment, Gracey also confirmed that discussions were underway about producing a script for another movie. Now, Efron has said something similar.
Talk is not the same as forward movement, unfortunately. It's also probably worth pointing out that The Greatest Showman was a 20th Century Fox movie, so if this project were to move forward, it would have to nab the greenlight from parent company Disney these days. Disney actually recently cut a few Fox movies from its docket, and it's been hard to tell what the company has been championing in terms of projects and franchises from Fox so far.
That said, The Greatest Showman is in a lot of ways like many Disney movies. It's fun, it's mostly family-friendly and it has musical components (and dancing, don't forget the dancing). Most importantly, in a world that is chock full of PG-13 movies, The Greatest Showman was a rare PG outing that didn't feel as if it were just for kids. Clearly it's a likable property, but figuring out what a sequel would be about that would make sense given the historical premise could be a real challenge.
We'll let you know if The Greatest Showman 2 ever gets an official script, but in the meantime take a look at what is hitting theaters in 2019 with our full guide to what's coming up and catch Zac Efron in Extremely Wicked, Shockingly Evil and Vile, which is heading to Netflix starting on May 3.
Now for the real question? Would you like to see more from Zac Efron and company's "greatest show?" Or do you think the movie ended on a final note?
This poll is no longer available.
Amazing Race & Top Chef superfan with a pinch of Disney fairy dust thrown in. If you've created a rom-com I've probably watched it.
Your Daily Blend of Entertainment News
Thank you for signing up to CinemaBlend. You will receive a verification email shortly.
There was a problem. Please refresh the page and try again.