Why Hugh Jackman Wanted To Play P.T. Barnum In The Greatest Showman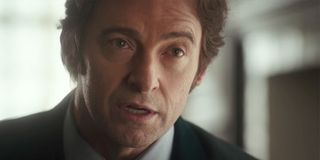 As an actor, Hugh Jackman has pretty much done it all. He's dabbled in musicals (Les Miserables), action (Swordfish), comedy (Eddie The Eagle), drama (Prisoners, The Prestige), romance (Kate & Leopold, The Fountain), and provided arguably the most iconic superhero performances yet as Wolverine. So it's little surprise then that the Australian actor was so intent on portraying P.T. Barnum in The Greatest Showman. Especially because, as Hugh Jackman himself insisted, the founder of the Barnum & Bailey Circus basically invented show business.
This was exactly what Hugh Jackman told Michael Gracey when the actor was trying to get his fellow countryman on-board The Greatest Showman as its director. When recalling how he eventually signed up to oversee The Greatest Showman, Michael Gracey explained,
Michael Gracey made this admission to CinemaBlend when we visited the set of The Greatest Showman in Brooklyn, New York, earlier this year. After showing us a handful of the musical numbers from The Greatest Showman, each of which looked utterly spectacular, Michael Gracey then told us about how he came to be involved in the project. But rather than just signing up for the film and then delivering exactly what was put in front of him, Gracey actually had a huge hand in severely altering the trajectory of The Greatest Showman.
That's because when Hugh Jackman originally handed Michael Gracey the script for The Greatest Showman it wasn't actually a musical. After taking a look through the script, Gracey told Jackman that in order for him to unleash his full potential as the character of P.T. Barnum, the film needed to be a musical so that it could "really play to [his] strengths." Hugh Jackman was so in favor of Gracey's declaration that he immediately signed him up as The Greatest Showman's director. Gracey recalled,
You can take a look at Hugh Jackman as P.T. Barnum in The Greatest Showman by watching the trailer for the musical below.
You'll finally get to see The Greatest Showman in all of its glory later this year on Christmas Day, as that's exactly when the Hugh Jackman, Zac Efron, Michelle Williams, Rebecca Ferguson, and Zendaya-led outing will hit screens.
Your Daily Blend of Entertainment News
Thank you for signing up to CinemaBlend. You will receive a verification email shortly.
There was a problem. Please refresh the page and try again.