Robert Downey Jr. Shares Inside Look At Tony's Most Epic Scene In Avengers: Endgame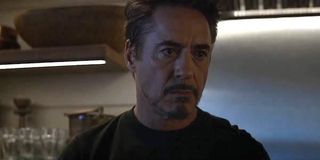 Warning: SPOILERS for Avengers: Endgame are ahead!
We knew going into Avengers: Endgame that this was going to be an especially big movie for Robert Downey Jr's Tony Stark since it was the culmination of a story that he helped kick off in 2008's Iron Man, as well as the fact that this was the final movie on Downey's Marvel contract. Sure enough, Endgame saw Tony making the ultimate sacrifice to vanquish Thanos and his forces, and Downey has shared a behind-the-scenes look at Tony's last act in the Marvel Cinematic Universe.
Following in the footsteps of Thanos and The Hulk, Tony Stark became the third individual to channel the power of all six Infinity Stones on screen, only like his buddy Bruce Banner, Tony inserted the Stones into his own nanotech Infinity Gauntlet. Alas, Robert Downey Jr. was not wearing such a glove in real life, as you can see from the above picture he posted on Instagram. That was completely CGI.
Nevertheless, this was one of the most epic moments in Avengers: Endgame, as just when it seemed like the Thanos from 2014 was going to erase the entire universe and replace it with a new one, it turned out that Tony Stark had swiped the Infinity Stones from Thanos' gauntlet to put in his own. One snap later, and Thanos and his forces all turned to dust. Unfortunately, a normal human wasn't meant to use all the Infinity Stones, so Tony lost his life to save all of existence.
Since Robert Downey Jr. knew going into Avengers: Endgame that this would be his last Marvel movie, you have to imagine filming these scenes were emotional for him, especially Tony Stark's Infinity Snap. Not only does Tony deliver one last heroic act in the MCU, his utterance of "And I… am Iron Man" reminds of when Tony told the press that same thing at the end of the first Iron Man movie, setting the stage for a franchise unlike any ever seen before.
Tony Stark would stick around long enough to say goodbye to War Machine, Spider-Man and his wife, Pepper Potts, but that snap ended his story. All the major characters we've met in the MCU over the years attended his funeral, and while his daughter Morgan is only 5 right now, perhaps she'll become an important player in this franchise later down the line, carrying on where her father left off.
But Avengers: Endgame didn't close the book on Tony Stark's story. It also capped off the tale of Steve Rogers, a.k.a. Captain America, who chose to stay in the past with Peggy Carter and passed on his vibranium shield to Sam Wilson, a.k.a. Falcon, as an elderly man. Natasha Romanoff, a.k.a. Black Widow, also died during Endgame, but because her solo movie is coming up, we'll at least get to learn more about her pre-Avengers years.
Be sure to read CinemaBlend's review of Avengers: Endgame and stay tuned to CinemaBlend for more updates on the future of the MCU. If you're curious about what movies are already lined up, look through our handy guide.
Your Daily Blend of Entertainment News
Connoisseur of Marvel, DC, Star Wars, John Wick, MonsterVerse and Doctor Who lore. He's aware he looks like Harry Potter and Clark Kent.