Watch Avengers: Endgame's Professor Hulk Introduction In Official Marvel Clip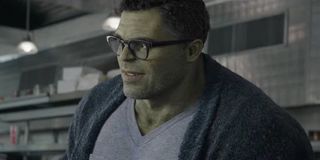 It goes without saying, but Avengers: Endgame SPOILERS are ahead!
For years, we were promised that Thor: Ragnarok, Avengers: Infinity War and Avengers: Endgame would form a special arc for the Hulk, and now we finally know the end result. In Endgame, rather than seeing the traditional dynamic between Bruce Banner and his monstrous other half, Bruce instead melded his intellect with Hulk's physique, creating what's unofficially known as Professor Hulk.
Whether you've already seen Avengers: Endgame once or a handful of times, or you haven't made it to the theater yet and would like a more spoilery glimpse of the movie, Marvel has released the clip that introduces the Marvel Cinematic Universe's Professor Hulk. Check it out!
Although Hulk popped up at the beginning of Avengers: Infinity War last year, after getting pummeled by Thanos, he refused to come back out for the rest of the movie, which directors Joe and Anthony Russo attributed to the Green Goliath getting tired of saving Bruce' banners ass. We then spent a year wondering what was next for the Hulk, with many fans theorizing that Bruce and Hulk would become one being.
That is indeed what happened, as following Avengers: Endgame's five-year time jump, one of the things Scott Lang was caught up to speed on after breaking free from the Quantum Realm was how Bruce Banner finally stopped looking at Hulk as a disease and instead viewed him as the cure. Several gamma radiation sessions later, and Bruce has the best of both worlds, with the public now seeing him as a superhero and kids wanting to take selfies with him and definitely not Ant-Man.
It's also worth noting that this Avengers: Endgame clip doesn't play out exactly as it does in the actual movie, as it cuts out the part where Scott Lang tells those kids "Take the goddamn phone!" I guess Marvel wants to be careful in case any young'uns are watching this clip.
Although Mark Ruffalo appeared as normal Bruce Banner at the beginning of Avengers: Endgame, for the rest of the movie, Professor Hulk was Bruce's normal form, with only Ruffalo proper appearing again when The Ancient One knocked Bruce's astral form out of his body in 2012. However, the Russos have confirmed that the injury Hulk sustained to his arm when snapping Avengers: Infinity War's dusted individuals back into existence is permanent, so he'll have diminished strength going forward.
While Mark Ruffalo has at least one movie left on his contract, there's no word yet on if we'll see Hulk again in the MCU. Unlike what happened with Iron Man and Captain America, Avengers: Endgame didn't completely close the book on Hulk's story, so there's potential for him to appear in another movie down the line. Nevertheless, the character's come a long way since he first appeared in The Incredible Hulk, especially considering he never got to star in another solo movie.
If you haven't already, be sure to read CinemaBlend's review of Avengers: Endgame and stay tuned for more coverage on the movie. If you're already looking ahead to the future of the MCU, browse through our comprehensive guide concerning what's coming up.
Your Daily Blend of Entertainment News
Connoisseur of Marvel, DC, Star Wars, John Wick, MonsterVerse and Doctor Who lore. He's aware he looks like Harry Potter and Clark Kent.