This Rotten Week: Predicting Aladdin, Booksmart, And Brightburn Reviews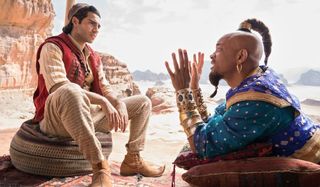 The Memorial Day weekend has practically always been a key time for studios to pull out the big guns, and they aren't disappointing in 2019. Disney continues its march to turn its whole animated catalogue into live-action films, two nerds get one last night of high school redemption, and a classic superhero origin story is upended in a creepy way. Get ready for Aladdin, Booksmart and Brightburn.
Just remember, I'm not reviewing these movies, but rather predicting where they'll end up on the Tomatometer. Let's take a look at This Rotten Week has to offer.
Since 2007, Will Smith has acted in exactly one movie - Men in Black III (68%) - that has finished on the positive side of the Tomatometer. The rest of his resume during this time has been at best below average, and at worst sneakily very bad. It includes total stinkers like Bright (25%), Collateral Beauty (14%) and Suicide Squad (27%) along with merely meh flicks like Concussion (59%) and Focus (56%). We just aren't seeing many fresh tomatoes next to his name. Is Aladdin the film that breaks him out of the critical doldrums? I want to believe it is, but that's far from a certainty.
Guy Ritchie directs Aladdin, and he's had a good amount of success with critics in recent years. The filmmaker helmed a flop last time out in the form of King Arthur (31%), but also has Man From U.N.C.L.E. (67%) and the last two Sherlock Holmes movies (60% and 70% respectively). The trailers for Aladdin make it look like a movie that wants to have fun with the live action version of the Disney classic, while also providing some fresh, stunning visuals. The fact that there are no early reviews has me a little skeptical, but it's tough to imagine this doesn't finish, at the minimum, on the positive side of 50 percent.
Being an absolute sucker for the "It's the last night of our lives as rambunctious youths and our existence will be defined by the next 24 hours" movies, Booksmart looks like it is right in my wheelhouse. Two bookworms on the cusp of high school graduation realize they've spent the better part of their teens buried in their studies while being accepted to the same colleges as their fun-having peers, and the only remedy is to cram four years worth of living into one night. Let's get it on!
Booksmart is Olivia Wilde's directorial debut, and early reviews suggest that she knocked it out of the park. It's sitting at 100% on the Tomatometer with 55 reviews posted, and critics are using using words/phrases like "endlessly funny," "smart," and "flawless." This is high praise, and we could be talking about the flick moving into the pantheon of great high school movies when it's all said and done.
Sometimes an alien baby crash lands to Earth in the middle of America, is raised by a pair of loving farmers and becomes the beacon of hope and good in the world by donning a red cape, flying around, and fighting for justice. And sometimes that alien baby goes, well, a different direction. Such is the case in Brightburn, which looks like the darkest Superman story ever told
A kid, sent from somewhere, realizes he has superpowers and chooses to use them for overwhelming bad on the townsfolk whom he believes have mistreated him. It looks like your standard hero film, just in stark reverse. I think a certain crowd will love this take on the genre, but critics are unlikely to go for it. I think it finishes well below the 50 percent mark.
The Rotten Watch went two for three last week, with two movies finishing within ten percent of my prediction. John Wick: Chapter 3 - Parabellum (Predicted: 90% Actual: 88%) was a rather easy one considering how many reviews were already in early at the time of publication. This result keeps the rather surprising franchise going, and the first three flicks have scores of 86%, 89% and 88%, respectively. Frankly, that's almost unbelievable considering the hardcore nature of the movie. Be prepared for many more John Wicks to come.
A Dog's Journey (Predicted: 59% Actual: 49%) was the other win, just barely falling within range. The follow up to A Dog's Purpose (34%) finished significantly higher than its predecessor. It apparently still isn't a good movie by any means, but appeared to fulfill its mission as a vanilla, sappy movie that won't create any waves and is good enough to bring the whole family to the theater.
Finally, The Sun Is Also A Star (Predicted: 30% Actual: 51%) was a miss. Though still technically rotten, the score fell out of range by a healthy margin. Even critics who gave it positive reviews seemed to do so almost apologetically, admitting the flick had a number of flaws and was heavy on the cliches. Regardless, my score was off the mark.
Next time we've got Godzilla: King Of The Monsters, Ma and Rocketman. It's gonna be a Rotten Week!
Doug began writing for CinemaBlend back when Terminator: The Sarah Connor Chronicles actually existed. Since then he's been writing This Rotten Week, predicting RottenTomatoes scores for movies you don't even remember for the better part of a decade. He can be found re-watching The Office for the infinity time.
Your Daily Blend of Entertainment News
Thank you for signing up to CinemaBlend. You will receive a verification email shortly.
There was a problem. Please refresh the page and try again.