The Best Romantic Comedies To Watch On A First Date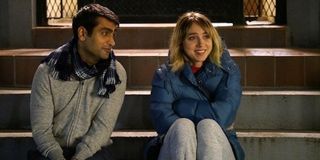 It's date night and what better plan for a date night than romantic comedies? After all, you want things to go as perfectly as possible, particularly given it's not merely any ordinary date night; it's your first date. If things go south, there might not be a second chance. So you need the best romantic comedies that will set the mood. Something that will make you laugh, maybe even cry and hopefully propel a future relationship. Or, at least, a chance at a second date. In short, if you want the perfect date, you need the perfect movie. But what exactly are you gonna watch?
There are so many romantic comedies out there, hundreds of them, honestly. Your selections are vast and plentiful. Yet, you don't want to settle for something average... or worse. You want a darn good romantic comedy film. No, you want a great one.
We're here to help. Here are just a few great romantic movies to watch on your first date. Because we can't guarantee things will work out between you two, but we can assure you that these movies are worth your while. Pop them in — or, more likely, find them on your favorite streaming service — and let the romance sing. Thank us later.
Silver Linings Playbook
David O. Russell's exhilarating, enrapturing romantic dramedy Silver Linings Playbook is one of the few recent rom-coms that made its way into critics' top ten lists and heavy Oscar consideration. As well it should, too. The romantic comedy, which made Bradley Cooper a dramatic heavyweight and earned Jennifer Lawrence her first (and, to date, only) Oscar, is a firecracker of a movie. How the sparks do fly! Centered around former teacher Pat (Cooper), who has just been released from a mental institution after an incident, is living with his parents and trying to reconnect with his ex-wife. That presents several challenges, of course. And a few more come into play when Pat meets Tiffany (Lawrence), who begins to change Pat's perspective on life.
Somewhat loosely based on the Matthew Quick's debut novel of the same name, which is also well worth a read if you find the time, Silver Linings Playbook is a film that deals with the difficulties of life in a high-turmoil fashion that relates to the character's point of view. Through the excellent performances, wonderfully grounded character work and the magnificent direction of David O. Russell, it results in a captivating and stimulating romantic comedy that you certainly don't want to miss. Here's your silver lining indeed.
Before Sunrise
In Richard Linklater's delightfully quaint Before Sunrise, Ethan Hawke and Julie Delpy find themselves in a meet-cute that lasts throughout the entirety of the film's length. As two young starry-eyed dreamers traveling through Europe with big ideas in mind for their future and idealism in their hearts, they begin to form a casual friendship that is explosively charismatic to everyone but them. As they walk and talk through their European destination, however, it even becomes apparent to them that love is in bloom.
Few movies capture the wondrous feeling of falling in love quite as honestly and realistically as Before Sunrise. Through the magnetic chemistry of our leads, the fantastically thoughtful dialogue they're give and the casual confidence of the director-screenwriter Richard Linklater, Before Sunrise has gone one to be one of the most beloved romantic comedies of the '90s, and it spawned a trilogy of films reconnecting these two characters every nine or ten years. In fact, this series has aged like fine wine. You can save those two for future date nights, however. They're well worth it.
When Harry Met Sally...
Particularly for folks who like their romantic comedies a little more mature and lovelorn, When Harry Met Sally... is a golden ticket for any date night. The film centers around two characters who begin to fall in love with each other throughout 12 years of casual encounters, and it's the type of rom-com that doesn't like to play by expected rules. It uses witty banter from the late, great screenwriter Nora Ephron to not only spice things up but to give the film its emotional heft, and it relies on the evolving-yet-also-instantaneous chemistry between Billy Crystal and Meg Ryan to make this one of the best romantic comedies for a date night.
In my opinion, at least, director Rob Reiner has typically (or, at least, often) been at his best inside the romantic comedy genre (as I'll explain in more detail later). And When Harry Met Sally... remains one of his best movies. More than that, it's one of the best romantic comedies of the 20th century, producing a number of timeless quotes and winning romance to make any date night the perfect occasion to be introduced to this beloved cinematic couple. Feel free to meet these characters yourself when you bring them into your next date night.
The Princess Bride
You can never go wrong with another of Rob Reiner's classics, The Princess Bride. It's a fantasy film that has been quoted more times than the Bible — at least by some pop culture aficionados — and it certainly has a warm place in many people's hearts. There's a good reason this romantic comedy has resonated. It's a film that doesn't fit into any neat boxes, and it's a film that can be enjoyed by audiences of all ages and fans of nearly all genres. It's got action, comedy, drama and swashbuckling extravaganzas in addition to the romance, but it is first-and-foremost a love story. And a very sweeping one at that.
Robin Wright and Cary Elwes share fantastic chemistry together in this love story fable, sharing a delicate-yet-adventurous romance that is easy to enjoy and even easier to be swept by. The work of a filmmaker on a Hollywood hot streak and the type of cinematic fable that unfortunately only comes one in a generation, if that, The Princess Bride is certainly one that's easy to enjoy with your date, whether it's your first or 400th. That's far from inconceivable.
Roman Holiday
It's hard to go wrong with Audrey Hepburn. The actress has appeared in no shortage of classic titles, including Breakfast at Tiffany's, Sabrina, Funny Face, My Fair Lady, Charade and Best Picture winner, The Apartment, to only name a few. But when it comes to her early days of cinema, you would be hard-pressed to find many cinematic romances better than the one Hepburn shared with Gregory Peck in 1953's Roman Holiday.
The romantic comedy that paved the way for many more after it, this trendsetter of a romantic comedy has everything: laughs, drama, European backdrops and more. It's a lovely, gorgeous little movie, and the romance between the two leads is downright infectious. (Obviously, quite charming too.) Ultimately, when it comes to Roman Holiday, Aubrey Hepburn may quickly help you to fall in love with the idea of your own holiday away.
Love, Simon
In Greg Berlanti's tender, affectionate LGBTQ teen drama, Love, Simon, Nick Robinson plays the title character, a teenager who keeps his homosexuality identity a secret from his friends and family. Based on the YA novel Simon vs. the Homo Sapiens Agenda by Becky Albertalli, the film paints a well-realized protagonist who is gradually learning to accept himself and be true to himself. Particularly as he forms a pen pal e-mail correspondence with another closeted gay man in his class known only to Simon as "Blue."
A compassionate and caring movie that provides as many laughs as it does sweeping drama moments, it's a film that allows you to go through several different feelings all throughout the course of nearly two hours. Particularly as the central romance comes into fruition towards the film's final moments. While this movie might work best for younger audiences, Love, Simon should win over hearts of all ages.
The Big Sick
Real-life couple Kumail Nanjiani and Emily V. Gordon turned their turbulent off-screen romance into a romantic comedy for the ages in The Big Sick. Directed by Michael Showalter and written by Nanjiani and Gordon, the film stars Nanjiani as a fictionalized version of himself, while Zoe Kazan plays Emily. As the story unfolds, struggling comedian Kumail and graduate student Emily meet cute over the course of several weeks, only to be met with a strain in their relationship when Emily contracts a mysterious illness which puts her in a coma and her life potentially on the line.
Since the writers of the film have gone on to make the film a reality, we know that it's going to work out for them throughout the course of the film. Nevertheless, as Kumail interacts with Emily's parents, played wonderfully by Holly Hunter and Ray Romano, and the comedian begins to find himself in spite of his family expectations, you find yourself with a beautifully realized, gorgeously human tale of life, romance and identity that plays a lot of the expected romantic comedy beats while still finding a new way to make it all feel real. The result is one of the best romantic comedies of the '10s.
Of course, these are only a few options made available to you. There are several other selections to be found, and there's always a chance that these movies won't float your boat. Because hey, not every movie will work for everyone. Nevertheless, if you are in a pinch and you want a date movie that will (hopefully) set the night off on a right note, you can certainly do worse than the movies listed here. Here's hoping it works out!
Your Daily Blend of Entertainment News
Will is an entertainment writer based in Pittsburgh, PA. His writing can also be found in The Playlist, Cut Print Film, We Got This Covered, The Young Folks, Slate and other outlets. He also co-hosts the weekly film/TV podcast Cinemaholics with Jon Negroni and he likes to think he's a professional Garfield enthusiast.