The 7 Best Action-Packed Jason Statham Movies To Watch Before Hobbs And Shaw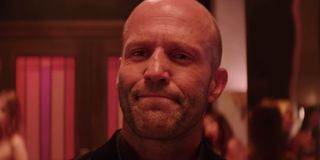 He's been a hero, a villain, a joker and a competitive diver. But if action superstar Jason Statham is known for anything, it's his ability to kick a lot of ass. The most recent example of that piece of his career has been his success as an ass-kicker in the Fast and Furious film series, so much so that he's half of the new spinoff, Hobbs and Shaw.
If you're a fan of Jason Statham's, or are looking for a reason to get into his work, we recommend you, at the very least, watch the last two films in the Fast and Furious series to get caught up to the point that Hobbs and Shaw is at in the series. However, there are other movies in the Statham catalog you should be partaking in to get yourself pumped and ready for his latest action romp, and we have a good list of what those films should be.
So schedule a little bit of "me time" on the books, make sure you do your streaming and rental research as to how to get ahold of the Jason Statham movies we're about to lay down and prepare for your very own film festival. Let's call it "StathamFest," which means that the following are your required stops on the StathamFest trail.
The Italian Job (2004)
With his career as an action lead getting a huge boost out of The Transporter's surprise success, one of the Jason Statham movies that increased his visibility exponentially was director F. Gary Gray's remake of the 1969 crime caper, The Italian Job.
Flexing his action hero muscles as Handsome Rob, Jason Statham also got to play the eye candy of Mark Wahlberg's band of criminals, which was certainly a bonus for the audience that made it a theatrical hit. The Italian Job not only gave Statham a chance to be a comedic heartthrob, but it also gave him even more experience with the impressive car stunts that helped make his career what it is.
While we never got the proposed sequel, The Brazilian Job, we did get a Statham/Gray reunion when the star and director paired up for The Fate of The Furious; so The Italian Job is a good film to re-watch in preparation for the further adventures of Deckard Shaw.
The Transporter 2 (2005)
The Transporter is one of the earliest successes of Jason Statham's career, as Frank Martin was the first blockbuster character that Statham had under his action belt. And with The Transporter 2 bringing Frank to the mean streets of Miami, the scenery is closer to home, along with the high flying automotive action.
While it acts as a sort of loose remake of Man On Fire, with Jason Statham's Frank replacing Denzel Washington's Creasy, the film is a full throttle thrill ride, complete with one of the most ridiculous action moments in the man's entire career. The second of three installments with Statham as Mr. Martin, our hero is charged with not only preventing a viral outbreak, but also recovering a wealthy family's child in the process.
A positively breathless ticking clock action film, The Transporter 2 is a Jason Statham movie quick enough to fit into any day's schedule, but it's also weighted enough to keep an audience fixed on the screen the whole time. If you believe one of life's rules is a person knowing their car and its contents, in and out, this one is a no-brainer.
Crank (2006)
Mixed in with all of the big budget franchises and one-off action fests that make up the body of Jason Statham's movies are some smaller, and definitely weirder, choices. Case in point is the extremely memorable Crank, directed by Neveldine/Taylor, a duo more than familiar with the world of the weird.
Jason Statham's character this time around is Chev Chelios, with Crank seeing his protagonist injected with a drug intended to prevent the flow of adrenaline, in hopes of killing him dead. But, of course, as this is a Neveldine/Taylor directed film, Statham's assassin antihero does have a way out of this mess. And it's keeping his adrenaline pumping in such an extreme fashion, that methods such as electrocution and other feats tempting death are needed at all times in this single day thriller.
Pushing the boundaries of every force it comes into contact with, Crank makes for one of the weirdest, but also one of the most exhilarating Jason Statham movies in his collected canon. Proving that he can turn his charms and action talents to 11 when need be, Crank gave Statham the range he needed to eventually jump into the sort of antics that Hobbs and Shaw will eventually demand of him.
War (2007)
While Jason Statham and Jet Li would eventually team up yet again in The Expendables, their paths would cross earlier in the gang thriller War. Except in the instance of this particular film, Statham and Li faced off as nemeses in an all-out street fight between an FBI agent and a rogue element.
Jason Statham's John Crawford is the FBI agent who's swearing revenge against Jet Li's former CIA operative Rogue, a target who survived his supposed death and not only killed Crawford's partner, but also plans on starting a gang war between the Triads and the Yakuza. Things get pretty hairy as the two play cat and mouse on the streets of San Francisco, and will use everything at their disposal to strike the other where it hurts the most.
Another interesting connection that adds an interesting layer to watching War is the fact that Jason Statham's character, Crawford, works with an FBI sniper by the name of Goi throughout the film's duration. Playing Goi is none other than Sung Kang, better known as Han from the Fast and Furious universe; and considering how War ends, Jason Statham's murder of Han in that particular series could be seen as pure revenge.
Death Race (2008)
Sometimes a movie gets remade because of its popularity. But in the case of director Paul W.S. Anderson's Death Race, the film feels like a remake that is made to capitalize on the popularity of someone like Jason Statham. At least it feels that way, because wisecracks meet car stunts in this dystopian action extravaganza that screams its status as a Jason Statham movie.
Framed for a murder he didn't commit, Jason Statham's Jensen Ames is sent to prison and given the opportunity to win his own freedom through the titular Death Race. A televised pay-per-view spectacle, take The Running Man and infuse it with the DNA of NASCAR, and you've got the basic premise for this particular film.
As far as Jason Statham movies go, Death Race is sort of an underrated gem. Showcasing Statham's abilities as an action lead, while also putting him into an ensemble that sees Joan Allen, Ian McShane and future Fast and Furious co-star Tyrese Gibson all mixing it up, Death Race is well worth tracking down if you're serious about your Statham.
The Expendables (2010)
If there's anything that the viewing public should know about Jason Statham by this entry in the list, it's that he plays very well as both a lead and an ensemble member. The latter is part of why The Expendables is such a treat to watch, as the relatively fresh faced Statham gets to play with heavy hitters like Sylvester Stallone and Dolph Lundgren.
Hired to overthrow a villainous dictator, The Expendables sees some of the biggest names in action teaming up, or in some cases fighting against, the likes of Sylvester Stallone's expendable team. Playing Lee Christmas, the team's blade expert, Jason Statham gets to be a man who only talks when the conversation requires him to. And if he's not talking, chances are his opponent is about to take some serious damage.
Whether it's an island in the Gulf of Mexico or a basketball court on home soil, Jason Statham takes the fight to whomever stands in his way in The Expendables. Even though he appears as a member of the overarching ensemble, this Statham movie has enough action to excite the crowd and enough Statham magic for him to stand out from all the rest.
The Meg (2018)
Let's just get something out of the way: The Meg is, by no means, a film that needs to be taken seriously. Getting past that though, it's easy to see how people enjoyed this film so much, it became a blockbuster hit in 2018's film market. And naturally, part of that success is Jason Statham's Jonas Taylor.
Playing a rescue diver obsessed with proving the existence of a rare Megalodon, Jason Statham gets to be The Meg's hero, front and center. As such, Jonas is wise, kind and not afraid to put his foot down; all the things you'd expect from a Statham performance, with a little more heroic charm allowed this time out.
In fact, it's Jason Statham's charm that helps anchor The Meg's all-star cast, which also includes Rainn Wilson, Ruby Rose and Li Bingbing. And with both Statham and his cast fully in sync, the level of ridiculous spectacle and action is balanced in such a state that the audience can really sink their teeth into it. And if you want to make it a family affair, this film's PG-13 rating will certainly allow the kids to enjoy this one alongside the adults in the room.
Jason Statham's career is as varied as it is exciting, and this sampler pack of films is only the beginning of the proof to that point. So let StathamFest pump you up for a summer of action, as well as the eventual box office debut of Hobbs and Shaw. But more importantly, let these films entertain you while showing the many facets of Jason Statham's career as a hero, a villain and a comic relief for the ages.
Hobbs and Shaw promises to kick the box office's ass on August 2, but if you're looking for some action prior to that point, check out the 2019 release schedule for more of the options available to you.
CinemaBlend's James Bond (expert). Also versed in Large Scale Aggressors, time travel, and Guillermo del Toro. He fights for The User.
Your Daily Blend of Entertainment News
Thank you for signing up to CinemaBlend. You will receive a verification email shortly.
There was a problem. Please refresh the page and try again.