4 Great Frozen Songs That Aren't 'Let It Go'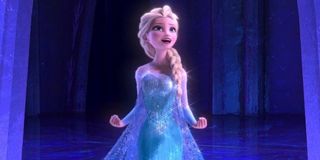 Listen, everyone knows "Let It Go." Chances are, if you have lived through the year 2013, or especially if you have young children running around the house, you have heard the popular, Oscar-winning Disney single from the hit animated film, Frozen. Then, you've probably heard it again. And again. And again, and again, and again, and again.
The invigorating, wondrous and captivating song has been a persistent fixture of pop culture ever since it was first belted by the great Idina Menzel (also known as "Adele Dazeem" by certain Oscar presenters). But even though it's the most famous song from the movie, the other songs from the hit album shouldn't be dismissed in the process. There is enough love to go around when it comes to the Frozen soundtrack.
There is no denying that "Let It Go" is a great song. But we want to make a case for the rest of the songs from Frozen's soundtrack. Therefore, here are some other Frozen songs that you've certainly heard before but should be given a second thought before you put "Let It Go" for the 400th time today.
"Frozen Heart"
Before we meet Elsa, Anna, Olaf, Kristoff and all our main characters, and before we even heart the opening notes of "Let It Go," we're introduced to the world of Frozen through the thunderous, nordic village song, "Frozen Heart." An intensive, pulsating working tune is our worldbuilding song, the track that puts us into the world of our animated characters and invites us into their wintry terrain. As a result, while it is gruffer and more action-intensive than the other songs on this soundtrack, it's a great way into get yourself immersed in the frosty story.
The rhythmic slashing of the pickaxes trudging into the frozen ground sets the mood for the introductory song, letting us see the beauty in the mundane world and capturing the icy energy of the hardworking singers. It's a pulsating, hard and fast song with an excellent hook and yet a somber mood. It's also a nice way of letting us understand the mood of the film, which can be as warm as it can be cold in equal turns.
"Do You Want To Build A Snowman?"
Arguably the second most famous song in Frozen, to be clear, "Do You Want To Build A Snowman?" is, nevertheless, a sweet-hearted, instantly catchy and heart-tugging tune. It's filled with childhood whimsy, copious bouts of heart and an underlying melancholy at the dysfunction that can often arise between siblings. A literal hot-and-cold relationship, as it were.
Performed by Agatha Lee Monn & Katie Lopez, along with Kristen Bell, "Do You Want To Build A Snowman?" is intentionally simple, relying on its warm innocence and cold sadness, mixed lovingly by its compassionate singers, to sell the emotional crux of the song. Particularly since it serves as one of our introductory tracks, it knows that it is important to keep the song straightforward and character-focused, along us — the viewer and the listener — to understand the broken dynamic between these distant sisters, and one sister's sincere, earnest effort to reconnect with her cold-shouldered sibling.
It's a song both loving and lovely, capturing the vulnerability and inner desires of our young characters with gentle and resonating impact. It's not quite a powerhouse the way "Let It Go" is, but "Do You Want To Build A Snowman?" does have a lot of emotional impact. No matter how many times you hear it, it always packs a punch.
"In Summer"
A jazzy, frothy and appropriate warm upbeat diddy that's given a great deal of character and personality by singer and performer Josh Gad, "In Summer" is a cute and humorous ode to the impending summertime sung by a clueless Olaf. As we all know, Olaf the Scene-Stealing Snowman believes the warm summer season will bring bright and sunny days for him, unaware of what happens to snow when the temperature peaks. As a result, the song finds Olaf singing sweet praises to the hot season that will eventually bring his demise, falsely thinking the future will be more joyful.
Therefore, "In Summer" mirrors the snowman's ironically warm demeanor. It captures the misguided belief of the singing supporting character that sunny days are ahead, in more ways than one, and that it won't be long before a permanent smile will be placed on his carrot-nosed snow-based face. Obviously, everyone else — including the other characters in the scene — know that Olaf is delusional, to say the least. But the rousing and passionate song is great at capturing Olaf's aloof mindset and helping us to understand his misguided belief that the beaming sun will bring peace and happiness.
"Fixer Upper"
With its upbeat tempo, high energy and charming array of characters, it's surprising that "Fixer Upper" isn't a bigger hit. The song, which plays prominently in the middle of the movie, can sort of feel a bit out of place in the scheme of the story. It kinda comes out of nowhere, and it's sung through a variety of characters who were only introduced a brief moment before. Nevertheless, in terms of sheer entertainment, it's hard to beat.
Featuring the voice talents of Maia Wilson, along with the prominent cast and several other talented musicians, "Fixer Upper" is a spontaneous and silly number compared to the rest of the film. With its assortment of bathroom gags and different off-beat comic touches, it can feel a little jarring compared to the tone of the rest of the film. Nevertheless, what's fun is fun. And this song has a great heart and a ton of energy to boot. And much like the title would suggest, it comes into the film just when it could use a pep in its story.
Of course, if you own the Frozen soundtrack, there is a good chance that you have already heard these songs several times before, in a continual loop. While "Let It Go" is still — and will remain — the most famous song on the soundtrack, and the one that will forever continue to get the most plays, the rest of the soundtrack shouldn't be disparaged in the process.
Therefore, the next time you, or your kids, decides to put on the Frozen soundtrack, it might be best to try one of these popular (and less-than-popular) songs instead. And remember, there is a whole new batch of Frozen songs in the future when Frozen 2 storms its way into theaters on November 22nd.
Your Daily Blend of Entertainment News
Will is an entertainment writer based in Pittsburgh, PA. His writing can also be found in The Playlist, Cut Print Film, We Got This Covered, The Young Folks, Slate and other outlets. He also co-hosts the weekly film/TV podcast Cinemaholics with Jon Negroni and he likes to think he's a professional Garfield enthusiast.