The 10 Most Iconic Studio Ghibli Movies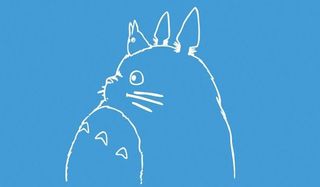 In the world of anime, Studio Ghibli is pretty much the equivalent to Disney, with writer/director/visionary Hayao Miyazaki acting as the sort of Walt Disney-esque figure in the studio's ranks. Through his hand, and that of the various writers, directors, and animators that have populated the studio, films like 2001's Spirited Away have taken their places in history as the magical animated masterpieces they're known to be today.
Out of all of the various Studio Ghibli movies that have been released, through studios like Disney, and more recently GKids, there are certain films that stick out as the most storied of successes, historical fence posts, and in one particular case, a release that was long prevented from reaching U.S. soil until 25 years after its initial release. But each of these films holds one thing in common: they upheld Studio Ghibli's commitment to turning the anime world upside down, through art and story in equal turn.
Nausicaa of the Valley of the Wind (1984)
While Studio Ghibli wouldn't formally be connected to Disney until the 1990s, you can clearly see some cross-contamination of influences with Nausicaa of the Valley of the Wind. A story based on a manga of the same name, also written by Hayao Miyazaki, his first film under the Ghibli brand told the story of Nausicaa (Alison Lohman), a princess who is prophesied to save humanity and restore natural order a millennium after an apocalyptic war has poisoned a wide swath of the planet. The film not only helped found Studio Ghibli, but it also went on to be a huge hit that changed the face of anime, and help inform how Studio Ghibli would allow its work to be translated in the future.
Originally adapted into the re-edited dub, known as Warriors of the Wind, this version had upset Miyazaki so much that it would influence him to be steadfast about how his films were portrayed in future dubs. This resulted in a proper translation and dub in 2003, hot on the heels of Spirited Away being a landmark hit that cemented a relationship between Studio Ghibli and Disney. Needless to say, Nausicaa of the Valley of Wind is the version you should look for if you're interested in enjoying this film, which also boasts Patrick Stewart, Uma Thurman, and Mark Hamill in its English voice cast.
Grave of the Fireflies (1988)
While Grave of the Fireflies doesn't have the flashy voice cast, or the typical Disney-friendly story that most Studio Ghibli films do, the Isao Takahata-directed film does have one of the most heartbreaking stories to ever make it into an animated film. Following the story of two young children trying to survive in Japan during the aftermath of World War II, it's as beautiful as it is devastating.
Showcasing the ability of the normally whimsical studio's ability to convey reality in just as gorgeous of a way, Grave of the Fireflies was one of the earliest anime films to catch on with American audiences. To this day, this Studio Ghibli movie is remembered for its grim-but-bittersweet tone, as well as its portrayal of a country trying to find its way through the wreckage of war.
My Neighbor Totoro (1988)
Even if you've never seen anime before in your life, Studio Ghibli's My Neighbor Totoro has probably still made an impact on your mind, all thanks to its titular character and his memorable design. Debuting in Hayao Miyazaki's pivotal 1988 hit, the film shows us the adventures of Satsuki and Mei (Dakota and Elle Fanning, in the 2005 Disney dub), a pair of girls who are waiting for their mother to get out of the hospital, and make some enchanted, cat-like friends along the way.
Dealing with themes involving illness and -- depending on who you talk to -- mortality itself, My Neighbor Totoro is especially remembered for its gorgeous art style. Not to mention, the fact that the film made such an impact during the '80s boom of anime films that famed film critic Roger Ebert took notice and heralded the film as one of his "Great Movies" picks. To seal the deal, Totoro himself became Studio Ghibli's mascot, finding his way into the studio's logo that runs before their films. Strangely enough, this film would also be an influence on the Pete's Dragon live-action remake, with the studio's now former distribution partner, Disney.
Kiki's Delivery Service (1989)
Young witches who have black cats as familiars and a spunky outlook on life are certainly no surprise in our modern culture. In the case of Kiki's Delivery Service, those fun devices are used to show a young woman (voiced by Kirsten Dunst in the English dub) who's ready to make a living for herself. And to do so, she opens a delivery service that employs her magic broom as her main mode of transportation.
Another home video hit that arose from the partnership that Disney and Studio Ghibli would forge with Princess Mononoke, Kiki's Delivery Service was another case of American translation changing the intent of the original film. However, it wasn't to as severe of an extent as Nausicaa of the Valley of the Wind, and was easily fixed in later re-releases after its initial 1997 dubbing. The film would be another critical hit in its initial release, and added yet another gem into the crown of Studio Ghibli's stable of films.
Only Yesterday (1991)
A story of escaping the big city to enjoy the countryside, Only Yesterday is a tale of nostalgia and remembrance of one's childhood, as they are continuing to make their way in the world as a young adult. Central character Taeko (voiced by Daisy Ridley in the long awaited English dub), finds herself leaving Tokyo's busy nature in order to help her country family with an annual harvest. Along her journey, as well as during her stay, she is accompanied by her younger self, and visions of the simpler times she once saw as boring routine, but slowly begins to see in a new light.
While Only Yesterday was the highest-grossing film in Japan in 1991, and a well-acclaimed work from director Isao Takahata's portion of the Studio Ghibli canon, it never saw an English dub, or release into the United States, until 2016. The film's reputation as a somewhat "lost" Ghibli film kept it a mysterious prospect; but ultimately once the film was released, it was found to be a more-than-fitting addition into the Studio Ghibli canon. Most importantly, the film occupies a beautiful cross section of whimsy and reality that only Studio Ghibli could bring in such beautiful detail.
Princess Mononoke (1997)
While Studio Ghibli had been in operation for over a decade by time Princess Mononoke was released in 1997, it was this film in particular that helped bring the company's work into prominence on a worldwide scale. Telling the tale of a princess (dubbed in the English version by Clare Danes) who is trying to save the life of a prince infected by a corrupting demonic force (voiced by Billy Crudup in the English translation), director Hayao Miyazaki's work was showcased to the masses with a film that would not only be yet another financial success in the Japanese market, but would also open the door up to a lot of the Studio Ghibli back catalog being released on home video, courtesy of Disney.
Funnily enough, it's the experience Hayao Miyazaki had with Nausicaa of the Valley of the Wind that helped Princess Mononoke escape the fate of being cut down to a more "marketable" version by Harvey Weinstein. That is, until Miyazaki sent a samurai blade to Weinstein, with the note "No cuts" attached. Thankfully, while Princess Mononoke may not have been a box office smash as one would have hoped, it was the first big step in Studio Ghibli's campaign to become a big name in animation, particularly in the U.S. market.
Spirited Away (2001)
After the cult success of Princess Mononoke, Disney started to release Studio Ghibli movies stateside, thanks to John Lasseter's admiration for Hayao Miyazaki's work. Spirited Away was one of the first films to get that treatment in a post-Mononoke world, as it introduced audiences to the world of Chihiro (voiced in English by Daveigh Chase), a young girl who crosses into a spirit realm and is trying desperately to get home with the help of a young companion, Haku (dubbed in English by Jason Marsden), who can also turn into a spirit dragon.
With the "Best Animated Film" category only coming into existence in 2001, there's a relatively light amount of history for that particular trophy at the Academy Awards. Yet, that didn't stop Miyazaki from making history with Spirited Away, as that film became the second animated feature to win the honor, and the only hand drawn/foreign language entry to do so as of yet.
The Cat Returns (2002)
Believe it or not, there's a Studio Ghibli anime with the voices of Cary Elwes, Anne Hathaway, Tim Curry, and Kristen Bell, among others, included in that very film's English dub. And much like its cast, The Cat Returns has a memorable story of its own, as our protagonist Haru (Hathaway) is accidentally betrothed to a member of cat royalty by saving his life. So if she wants to go back to her normal human life, and not be totally transformed into a cat herself, she needs the help of a legendary hero known as The Baron (Elwes).
One of the few iconic Studio Ghibli movies not directed by Hayao Miyazaki, The Cat Returns is notable for the fact that it's a fine example of the sort of star power Disney would draw to the Studio Ghibli catalog when creating its English language dubs. Also, the film is an amazing example of one of Anne Hathaway's earlier performances from around the time she was about to break onto the Hollywood scene with The Princess Diaries.
Howl's Moving Castle (2004)
Magic and the realities of war are what make Howl's Moving Castle the anime masterpiece that it eventually became, as Hayao Miyazaki adapted a novel by English novelist Diana Wynne Jones into what he considered to be an ultimately life affirming story. With a wizard (dubbed by Christian Bale) trying to avoid a war between two kingdoms, a prince missing in action, and a young woman (Emily Mortimer) who needs that same wizard's help to break an aging spell, there's a lot of intrigue in this animated masterwork.
If you thought the cast for The Cat Returns was nuts, get a load of Howl's Moving Castle's cast list! In addition to Bale and Mortimer's leads, Billy Crystal, Josh Hutcherson, and Lauren Bacall are among the various actors that round out the talent involved in this Studio Ghibli hit. A film that Miyazaki himself thought would be ill-received due to his anti-war stance in the wake of the newly started Iraq War, Howl's Moving Castle has become a well-noted favorite of Studio Ghibli fans, as well as a reliable source of food porn for breakfast enthusiasts.
The Wind Rises (2013)
One of the rare historical dramas made by Studio Ghibli, The Wind Rises tells the life story of Japanese engineer Jiro Horikoshi (dubbed in English by Joseph Gordon-Levitt) and his work on the Mitsubishi A6M Zero fighter. Integral to Japan's war effort during World War II, writer/director Hayao Miyazaki's version of his life incorporates the events of the fiction novel The Wind Has Risen into the life and times of Horikoshi's professional career.
While the film isn't a perfect, or even a totally fact-based biopic, The Wind Rises came to prominence as the third, and so far final, film from Hayao Miyazaki and Studio Ghibli to be nominated for an Academy Award for Best Animated Film. It was also, for a time, the film that Miyazaki had intended to retire with, which gave the film a little more prominence in its release. Like many of the other Studio Ghibli movies that came before it, the film pushed the boundaries of what anime could do, and became Japan's highest-grossing film of its release year.
While Hayao Miyazaki intended to retire with The Wind Rises, it wasn't too long before went back on his word and returned to work at Studio Ghibli. And with those rumors about the studio closing being debunked, there's plenty of life left in Studio Ghibli, especially in this more modern world of anime acceptance. With a wider distribution platform, both in theaters and on home video, the medium of anime has been allowed to flourish into something greater than it's ever been.
Studio Ghibli's earlier efforts from the 1980's, up to this very moment in history, are a cornerstone for such a feat, and the world is better off because of it. Needless to say, it'll be a welcome prospect to see what the studio will be up to in the future, and where the road may take Hayao Miyazaki and his artistic ambitions. And as Studio Ghibli has now been partnered with anime distributor GKids, that work will continue in a new, more bold fashion for all involved.
If you're interested in checking out some of these Studio Ghibli films, as well as others not listed here, you can take part in GKids' annual Ghibli Fest. To learn more about which films are on 2019's lineup, you can visit the official site for more info.
Your Daily Blend of Entertainment News
Senior Movies Contributor
CinemaBlend's James Bond (expert). Also versed in Large Scale Aggressors, time travel, and Guillermo del Toro. He fights for The User.
Your Daily Blend of Entertainment News
Thank you for signing up to CinemaBlend. You will receive a verification email shortly.
There was a problem. Please refresh the page and try again.