Tom Hanks On Realizing At Disneyland That Toy Story Is So Iconic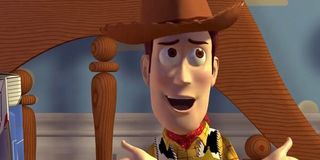 Disneyland and Disney World are places filled with magic and wonderment for kids and Disney bounding and food for adults. However, if you are a person who actually voices an animated character for the company, going to the Disney Parks can be a very different experience. Just ask Tom Hanks, who recently revealed he actually realized at Disneyland just how iconic his animated series Toy Story is.
Obviously when you think about iconic Pixar movies Toy Story comes to mind, but the importance of the film to the brand and to millions of fans everywhere didn't really impress itself onto the actor's mind until his daughter pointed it out during a performance of Fantasmic! Or, as Tom Hanks put it at a recent press day:
Dangit, Tom Hanks. I thought I could get through a whole day without getting emotional about Toy Story.
Honestly, Fantasmic is one of Disneyland's biggest attractions. It's so popular, you can even get a Fast Pass for it, but for the average person (and you can tell how in Disney mode right now I am because I first typed "avengers person"), watching Fantasmic has a different meaning than it had for Hanks. Speaking to CinemaBlend and other outlets, Tom Hanks also revealed that he and co-star Tim Allen and all of the other actors who play toys in the Toy Story movies would never have had the opportunity to have that type of impact if they hadn't said "yes" to Toy Story when Pixar was still a fledgling company.
A lot of things in life are about being in the right place at the right time. Obviously, Tom Hanks would never have been offered Woody if he hadn't already been a notable name in Hollywood, so there was work put in too. But if he hadn't said yes, one of his most enduring roles would have been a reality with another actor's name attached. Tom Hanks seems synonymous with Toy Story, but what if he had said no?
It's no secret that Pixar's John Lasseter always wanted Tom Hanks in the role of Woody, although others were allegedly considered. Tom Hanks has mentioned before that what convinced him to join was Pixar using test footage from Turner and Hooch on an animated mock-up, which showed him he was the right fit for Woody.
It's also a credit to the Toy Story universe that Tom Hanks and Tim Allen kept returning for the various Pixar sequels, including the upcoming Toy Story 4, out on June 21.
Related: Toy Story 4's Tom Hanks And Tim Allen Explain Why They're Like Woody And Buzz
When we talk about Fantasmic, reviews often compare the Disneyland version to the Disney World version. Or they explain the best way to avoid needing a Fast Pass or even the best locations to watch.
It's easy to get lost in the logistics of planning a trip like this, but the story from Tom Hanks not only cues all the "awws," it really goes to show how much of a lasting legacy Disney and Pixar have built through collaboration and smart additions to the Disney Parks. Whether or not you're a huge Disney fan, there's certainly a responsibility behind that sort of work, and Hanks for one doesn't seem to take it for granted.
Your Daily Blend of Entertainment News
Reality TV fan with a pinch of Disney fairy dust thrown in. Theme park junkie. If you've created a rom-com I've probably watched it.