Toy Story 4 Used Arrested Development Clips To Explain Forky To Tony Hale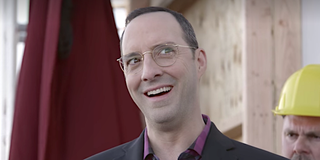 There's been a lot of talk about the new characters coming to the Toy Story universe in recent months, particularly given big names like Keanu Reeves, Christina Hendricks and Tony Hale are attached. Among those characters is a little guy name Forky, who is created by Bonnie on her first day of school out of trash. The soon-to-be-enlightened trash is voiced by the aforementioned Tony Hale, who shared with CinemaBlend at a recent press day that figuring out how to voice Forky was actually fairly easy thanks to a cool Pixar trick.
After getting over the shock of being asked to appear in a Pixar movie, Tony Hale revealed the powers that be at Pixar actually used voice clips of other acting gigs, including Arrested Development and Veep, to share how the studio hoped the character would look and sound in the final product.
But don't take it from me, you can hear more from Tony Hale on the topic with our exclusive interview, below.
During an interview with CinemaBlend while in Orlando for a recent Toy Story 4 press day, Tony Hale shared with us the special way Pixar pitched Forky to him, also mentioning that it was an easy sell. The actor also told us that he was just "overwhelmed" to be invited to join the animated voice team on Toy Story 4, also noting that perhaps a spork was not what he had in mind initially, although it all seems to have worked out very well for both the actor and the Pixar creative team. He said:
He later went on to say that he wasn't sure what he was expecting from the voice gig, but it definitely wasn't to see a spork animated on a screen with his own voice from Arrested Development emanating out of it. Yes, this is really how the pitch happened. Per Hale:
Bonnie had to fall in love with the spork, so the character had to be one the audience could fall in love with too, and first that meant selling Tony Hale on the role.
Looking into how Pixar pitched the idea to the actor, I'd assume clips from Veep in particular might have been a little too outrageous to really fit into the goal for the G-rated Pixar movie, but the sentiment is still pretty cool, particularly given that some of Tony Hale's other characters do share commonalities. Still, somehow I can't see Pixar using a clip of Forky asking Veep's Jonah if he looks like "a pimp," although a clip with Forky noting "I was made to understand that there would be grilled cheese sandwiches here" or "I'm a monster!" could definitely be more on brand for the little spork.
Related: Watch Keanu Reeves Record Lines For Toy Story 4
In fact, the actor also spoke out about how Forky tends to follow a through line a lot of his other characters have exhibited over the years: they're nervous.
Given the nature of characters like Buster Bluth and Gary Walsh, it makes a certain amount of sense those were the roles the Pixar team would have chosen when putting together footage in order to share the expectations for Forky in Toy Story 4.
Hearing that's how Pixar sold Tony Hale on the gig isn't shocking news if you know a lot of hot facts about Pixar, however. In fact, it's a trick that Pixar has used for years in order to help actors to understand and voice their animated counterparts to their full potential.
Previously, we've heard from Toy Story's own Tom Hanks regarding how Pixar pitched him on the role of Woody so many years ago when the original movie was just coming together. Hanks has said the company used a sample of the animation mixed with his vocals from Turner and Hooch to get him on board for the role playing the animated cowboy toy. It makes me wonder what Christina Hendricks and other actors related to Toy Story 4 were also able to see while being pitched.
It may be a repeat trick, but it's sure an effective one.
Granted, it's not a quick process to go from animated AD clips to the big screen. Various people related to the production also mentioned it took several years to go from script to finished product. Now, we're nearing the finish line, however. In fact, you can hear Tony Hale as new character Forky in the Toy Story 4 trailer right now, or catch the fully charming movie (at least per the critics!) when it hits theaters on June 21st… although there doesn't look to be a Pixar short this time around, which would be a first for Pixar since 1995.
Of course, Arrested Development can also be revisited on Netflix and Veep just finished its run on HBO, with past episodes still available. For more on Toy Story 4 take a look at our full guide.
Your Daily Blend of Entertainment News
Reality TV fan with a pinch of Disney fairy dust thrown in. Theme park junkie. If you've created a rom-com I've probably watched it.