Why Jon Favreau Kept Wanting The Lion King To Be 'Uglier'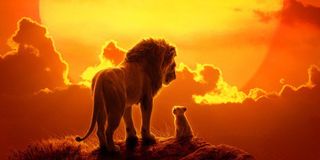 With Jon Favreau's remake of The Lion King hitting theaters next month, an increasing number of news and interview pieces focusing on the film's unique look have surfaced (as have ones on directing James Earl Jones). Jon Favreau has frequently commented on the film's utilization of special effects, and his most recent comments shed even more light on the topic. In the director's words:
That sounds expensive, right? It probably is. But Jon Favreau wanted to get it right. He continued in revealing interview with The Telegraph, saying:
Overall, it resulted in a weird creative process on The Lion King that made it feel like those involved were tacking a game. Jon Favreau continued:
Based on what we've seen so far, his efforts seem to have paid off. And judging from how the actors look when placed beside their characters, it looks like Jon Favreau and his team recreated these characters in a way that, despite the film's drastically different look, is incredibly faithful. Well, that's true for every character except for Scar. So far, fans haven't responded well to the villain's new look. Maybe Chiwetel Ejiofor's eager performance will win them over.
Disney's willingness to take risks, coupled with its ruthlessness toward competitors, has basically ensured that the studio won't be beaten at the box office in 2019. And how would it be? It has basically bought every lucrative franchise in Hollywood, so it's difficult to imagine any studio becoming any kind of threat to its profits.
The Lion King stars Donald Glover, Seth Rogen, James Earl Jones, Keegan-Michael Key, Beyonce Knowles-Carter, Eric Andre and a host of other prominent actors and actresses. It's a film with that many high-profile actors will absolutely make some serious money at the box office, but will the film be any good? Jon Favreau and his fellow filmmakers seem to think so. We'll find out for sure next month.
The Lion King will hit theaters on July 19. Tickets are on sale now so snatch them up while you can! Keep your eyes on the CinemaBlend newsfeed for new developments, and don't forget to look through our 2019 release schedule to see what other movies open later this year.
Your Daily Blend of Entertainment News