See The Lion King Actors Alongside Their New Characters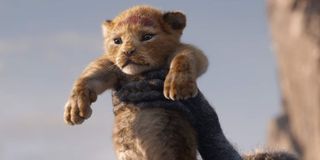 Can you believe we're only 50 days out from The Lion King's big 'live-action' debut? Director Jon Favreau, armed with one of Disney's biggest animated hits of all time and a couple surprises up his sleeve, is about to test that Mouse House magic once again with a remake of this famed film from the '90s.
To celebrate this occasion, the studio has issued brand new posters of the new photo-realistic versions of your favorite characters from The Lion King. And in an interesting exercise, we placed those new character renderings next to their respective voice actors for comparison. See how the circle of life has spun its magic as we work through the list, starting with Simba himself.
Simba – Donald Glover
First off, let it be said that the family resemblance between older Simba and Mufasa is pitch perfect in terms of their new photo-real lion forms. Keep that in mind when you get to Mufasa further down the line, but for now let's get back to the future king. Donald Glover has assumed the vocal responsibilities for the new version of The Lion King, and if they can animate a smile that matches half of his charming grin onto that new form, it'll be a historic achievement.
Nala – Beyonce Knowles-Carter
While The Lion King's cast is definitely supposed to resemble a sort of hybrid between actor and animal, Beyonce and Nala are a pretty fine character match. Both have that regal air about them, and we wouldn't be surprised if after all is said and done, Nala starts to take after her real life counterpart by ruling with firm formation.
Mufasa – James Earl Jones
As the only returning cast member from the original Lion King cast, James Earl Jones will once again play Mufasa. But don't let the translation of Mufasa's looks into a more standard lion form fool you, Jones has indeed recorded all brand new vocals for the remake; even if the material is pretty close to what he had back in 1994. So that warm, authoritative voice will have a brand new animated face to speak out of, with new pearls of wisdom to boot.
Sarabi – Alfre Woodard
As the matriarch of the Pride Rock royal family, Sarabi is played in the modern Lion King cast by none other than legendary actor Alfre Woodard. Looking at both Woodard and Sarabi, there's definitely a similarity between the actor's face and the characters. But strangely enough, a case could be made to say that Simba's grown form gets his eyes from his father, but his finer facial features from his mother.
Scar – Chiwetel Ejiofor
Now here's where we run into a big point of push back between the fans and the animators. With the stellar casting of Chiwetel Ejiofor suiting the role of Simba's evil uncle Scar to a tee, there are some arguments as to whether or not the live-action rendering of this Lion King baddie does the original justice. Sure, he has the characteristically pronounced scar on his face, but depending on if you're a purist or not, the lack of a black mane or sparkling green eyes will have some prepared to accept and others to reject this variant.
Timon – Billy Eichner
Looking at the full poster for Timon's new Lion King makeover, it's comical how his character is proportioned on his one-sheet versus the rest of the cast. While most others have close ups that span between the title block and the character credit at the top, Billy Eichner's neurotic guru of the jungle is not so lucky, what with meerkats being of smaller stature than most of the other characters on display. Though, to be fair, that just lends to his credibility as an adorable singing dispensary of wisdom.
Pumbaa – Seth Rogen
The folks at Disney are really nailing it with Seth Rogen's Pumbaa, as The Lion King's better half to Billy Eichner's Timon looks like another one of those renderings that captures the spirt of character and performance perfectly. What's even funnier is the fact that when it comes to Rogen's smile, as well as the texture of his hair, Pumbaa seems to be a spiritual match, which will probably make him even more emotional about taking his place in Disney history.
Zazu – John Oliver
While you can't make a Hornbill look perfectly like John Oliver, at least not without some serious explaining to do, Zazu's new look in The Lion King is exactly what you'd expect when it comes to the king's majordomo. An air of informative wisdom and self-serious behavior show in both Oliver and his animated avatar, which has us thinking that if HBO and Disney could be the best of friends for one night, we could get an episode of Last Week Tonight in Pride Rock with Zazu.
Rafiki – John Kani
Wise counsel to Mufasa, and later Simba, in matters of Pride Rock, Rafiki's life lessons and blessings unify the royal family in their fates, and bring Simba back to his homeland when it needs him the most. Black Panther's John Kani plays the role of the shrewd baboon, who's always ready to literally knock some sense into someone in their darkest hour. Honestly, out of all of the characters we've seen so far, the resemblance between Kani and Rafiki is so close it's awe inspiring.
Young Simba – JD McCrary
We close out our cast rundown from The Lion King with the youngest characters in the main cast, young Simba and Nala. In the case of the young cat who wants to be king, recording artist and actor JD McCrary is the guy with the skills to bring Simba's cub days to life. And much like that little lion who will ascend to the throne, Mr. McCrary matches the light, eager energy that we know Simba to radiate in this part of his journey.
Young Nala – Shahadi Wright Joseph
Simba and Nala: a pair as iconic as any you could dream of from Disney storytelling. Just as it's important to see Simba go from wild eyed wander to restless voyager, we need to see Nala go from partner-in-crime to a stalwart supporter against Scar's legion. You can see both in the expression of the lion component of Nala, and you'll surely be able to hear it in not only Beyonce's adult version of the character, but also in Us star Shahadi Wright Joseph's performance as young Nala.
Remaking The Lion King is a task that could go either wonderfully right or horribly wrong. From the looks of the characters we're seeing come to the screen in these images, it looks like things are trending towards the better. If that's not Disney magic, then we don't know what is.
The Lion King graces Pride Rock with its presence, and that modern Disney magic, on July 19.
Your Daily Blend of Entertainment News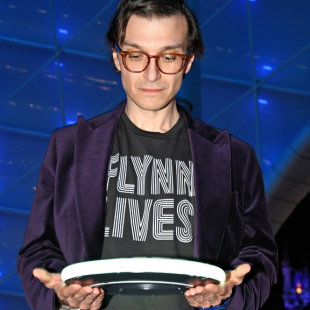 Senior Movies Contributor
CinemaBlend's James Bond (expert). Also versed in Large Scale Aggressors, time travel, and Guillermo del Toro. He fights for The User.