Beetlejuice 2 Still Happening? Winona Ryder Just Said This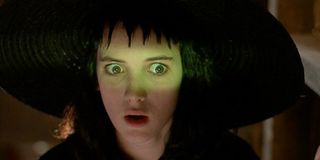 If we say "Beetlejuice 2" enough times, Beetlejuice 2 will happen. And Seth Meyers was the last one to say Beetlejuice 2, so it looks like it's happening. The late-night talk show host of Late Night with Seth Meyers asked his latest guest, Winona Ryder, about the status of the often talked-about sequel, and the actress confirmed that we're getting one.
She seemed slightly hesitant to reveal anything at first, but after thinking about it for a beat, here's what she said,
Winona Ryder is referring to the interview Burton gave to MTV News way back when. In it, he was asked about the status of Beetlejuice 2 and whether or not his leading lady would be making a return appearance. He said "Oh yeah" to both accounts. It also seems like Michael Keaton, who played the titular dead man in the original film, will be back for more supernatural shenanigans, as he's been in discussions with Burton and his producers.
Beetlejuice of 1988 starred Keaton, Ryder, Alec Baldwin, Geena Davis, Catherine O'Hara and Jeffrey Jones. After a couple (Baldwin and Davis) recently pass over to the other side, they haunt their home, but soon an obnoxious couple (O'Hare and Jones) and their daughter (Ryder) move in. To get them out, the ghosts hire a charismatic "bio-exorcist" named Beetlejuice (Keaton). Ryder told Meyers that she still gets recognized by children for her role in the film. Even TSA will stop her at the airports and ask her to say, "Beetlejuice, Beetlejuice, Beetlejuice," the three-pronged chant that summons the mischievous phantom.
Watch Ryder's interview with Meyers below.
So, with both of Burton's main actors on board the sequel, when will the director cut the chatter and actually make Beetlejuice 2? In an interview with Entertainment Weekly earlier this year, writer Seth Grahame-Smith hinted it could be as early as the end of this year. The only thing holding his team back is the filmmaker's commitment to Miss Peregrine's Home For Peculiar Children, which is currently set for release on March 4, 2016.
Your Daily Blend of Entertainment News
Thank you for signing up to CinemaBlend. You will receive a verification email shortly.
There was a problem. Please refresh the page and try again.