What The Surviving Beatles Thought Of Yesterday, According To Danny Boyle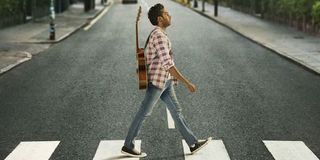 Danny Boyle's Yesterday isn't just about a world where The Beatles never existed. Called "a total joy of a film that cements Danny Boyle and Richard Curtis as master storytellers of our time," the film explores the pursuit of fame through fresh eyes and a determined heart. Apparently, director Danny Boyle and screenwriter Richard Curtis sent the film to the surviving members of The Beatles. Spoiler alert: They loved it.
Wildly popular from the early 1960s onward, The Beatles is often considered one of the greatest bands of all time (if not the greatest). The band was comprised of four extremely talented, extremely well-known members: John Lennon, Paul McCartney, George Harrison, and Ringo Star (who was recently knighted). John Lennon was shot dead in New York City in December 1980 and George Harrison died in November 2001 after a battle with lung cancer. Paul McCartney and Ringo Starr are alive and to this day enjoy thriving music careers. Meanwhile, the music they produced as a band continues to touch every corner of pop culture, including video games (Titanfall 2, most recently).
So you can understand Danny Boyle's desire for their approval. Fortunately for him, when he reached out to the surviving members of the legendary band, he got encouraging responses.
Andrea Mandell of USA Today (opens in new tab) had the chance to speak with Danny Boyle, who said:
It would certainly be interesting to hear Paul McCartney's thoughts on Yesterday, so hopefully he does find time to watch the full movie.
Danny Boyle, whose influences include Battle of the Bulge, The Sound of Music, and others, has directed a number of high-profile films -- with Trainspotting, 127 Hours, and Slumdog Millionaire ranking as some of his most well-known efforts. There are obviously more, but for brevity's sake I'm keeping the list short. He has also produced, directed, and written for television since the late 1980s.
At one point, Danny Boyle was supposed to direct the upcoming Bond 25. However, he dropped out of the project. There wasn't any real word regarding what actually happened, but, at a certain point, it became clear that Boyle didn't want any part of Daniel Craig's final James Bond adventure. It's a shame, really. He probably would have done some great things with the character. Boyle's fame as a filmmaker means headlines for each new project he tackles, and the hype surrounding Yesterday and the Bond fiasco only confirms that.
Yesterday is now playing in theaters everywhere. If you're a fan of The Beatles, you should probably check it out!
Your Daily Blend of Entertainment News