Christopher Lloyd Explains What A Fourth Back To The Future Movie Should Tackle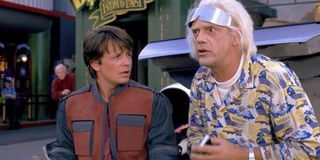 Released in 1985, 1989 and 1990, respectively, the Back to the Future movies were unbelievably successful and remain the three biggest films in which Michael J. Fox ever appeared. After the franchise won a recent poll, fans expected Robert Zemeckis to make a fourth film. He shot those hopes down even though he continues to reference the original trilogy. While franchise star Christopher Lloyd also expressed concerns regarding a fourth film, he did discuss it at a comic-con. Remember, though, that he was hesitant to return for even one sequel. So his comments aren't particularly surprising.
Christopher Lloyd portrayed Dr. Emmett L. Brown in the Back to the Future films. His character, along with Michael J. Fox's Marty McFly, spent each movie traveling to Hill Valley, California's different eras. The franchise became an international phenomenon and captured the hearts and imaginations of audiences the world over.
During the Niagara Falls Comic-Con (via Comicbook.com), Christopher Lloyd said the following:
To this day, the Back to the Future films are still held in extremely high regard. In addition to Robert Zemeckis himself revisiting the films, a recent horror film also packed in some tributes. There are too many to mention in a short news piece, but you can rest easy knowing this incredible franchise is still receiving recognition. It will live on!
Despite his comments, Christopher Lloyd seems to think a fourth film could work. But as Robert Zemeckis's comments indicate, it's highly unlikely that Hollywood will greenlight another film. That's unusual, especially considering the reality that Hollywood will create unnecessary sequels, prequels, spinoffs and in-betweenquels until the Earth explodes. But Robert Zemeckis remains fiercely opposed to the idea, and his contract dictates that he must approve of any potential return to the property.
On a lighter note, the trilogy holds up well and still evokes the same sense of wonder it did when I first saw the films as a kid. Even if it doesn't come back, the Back to the Future franchise is alive and well in the hearts and memories of the people who made it successful in the first place.
So in summation, it doesn't look like a fourth film will happen, but the idea is nice. However, the cast did reunite recently, so that should be more than enough to satiate your desire to see them together again.
Lay those hopes to rest anyway and find another franchise to love and respect. There are plenty.
Your Daily Blend of Entertainment News