Halle Berry Congratulates Halle Bailey After The Little Mermaid Casting Confusion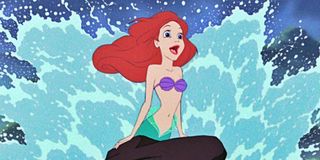 I'll reluctantly admit that, upon reading up on the casting for Rob Marshall's live-action remake of The Little Mermaid, I was initially confused. Convinced that I'd read it incorrectly, I re-read the news and understood: Ariel is to be played by young actress Halle Bailey, not veteran star Halle Berry. The two names share initials and are close enough phonetically to cause confusion.
Halle Bailey herself, however, was understandably ecstatic. This is, after all, an incredible opportunity, one any young actress would kill to score. Considering rising star Zendaya was rumored to star in the remake, Bailey is undoubtedly thankful that Disney was willing to take a chance on a lesser-known actress. And, as it turns out, so is Halle Berry.
Responding to Halle Berry's congratulatory tweet, Halle Bailey said:
It's a brief response but it shows how excited both actresses are for the film and for Halle Bailey's upcoming performance. Hopefully it's a memorable one!
The production has enjoyed positive responses, particularly from Hollywood stars who are excited about what Disney could potentially do with the classic story. One of these proponents is original Ariel voice actress Jodi Benson, who came forth to express her excitement. Benson easily could have been salty about the project, but instead she fully supports Disney's partiality toward live-action reworkings. It helps that unlike one of the original animators of The Lion King, she hasn't felt slighted by Disney. To be fair, the animator was offended because Disney refused to credit him in Jon Favreau's soon-to-be-released remake. Can't really blame the guy, right?
It will be interesting to see Halle Bailey grow as an actress through this role. Unlike Zendaya, she doesn't have nearly as many credits to her name and lacks the star power the Spider-Man: Far From Home actress carries with her.
Disney's other live-action remakes (especially the Emma Watson-led Beauty and the Beast and Jon Favreau's The Lion King) showcase stacked casts consisting of both newly famous actors and actresses and industry veterans with considerable clout. Some of these reworkings haven't strayed far enough from their source material, becoming dull rehashes of better, more inspired movies. Beauty and the Beast is a prime example of this. But hopefully, The Little Mermaid will break that trend.
If you're curious about Ariel's new look, you can check out what Halle Bailey could look like in the live-action remake here. I'll admit, I'm super excited to see what Disney does with her look.
The Little Mermaid currently has no release date so keep your eyes on the CinemaBlend newsfeed for imminent updates! No doubt they'll come trickling in as we inch closer to the film's release.
Your Daily Blend of Entertainment News
Your Daily Blend of Entertainment News
Thank you for signing up to CinemaBlend. You will receive a verification email shortly.
There was a problem. Please refresh the page and try again.