10 Classic '90s Movies That Launched A-List Careers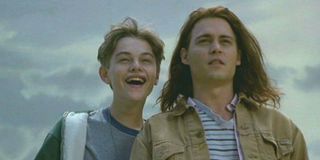 (Image credit: Paramount Pictures)
The inception of many of the people on our current iteration of the a-list occurred in the 1990s. To witness the careers of celebrities like Sandra Bullock, Gwyneth Paltrow or Matt Damon, you can look no further than some of the most iconic, or infamous, '90s movies.
We saw the debut of Matthew McConaughey and his immortal catchphrase in 1993's Dazed and Confused. Ben Affleck had his first (uncredited) film in the original Buffy the Vampire Slayer in 1992. The list of '90s movies that saw your favorite celebrities break into the business goes on and on.
The following are just a few well-known '90s movies that led to enduring careers of some of cinema's most popular names. Enjoy!
Brad Pitt In Thelma & Louise (1991)
He was the definitive '90s movies hunk and still remains one of the most respected actors of this time, his next big role being in Quentin Tarantino's upcoming Once Upon a Time… In Hollywood. In regards to Brad Pitt's earlier work, I could have mentioned his groundbreaking role in the 1989 romantic horror comedy Cutting Class, but I figured he is more partial to this celebrated drama from director Ridley Scott and this is the one that made his name known.
Done with the men in their lives, Thelma (Geena Davis) and Louise (Susan Sarandon) hit the road in search of freedom, but run into trouble when Louise kills a man who tries to rape Thelma. Along the way, the duo meet hitchhiker J.D. (Brad Pitt), whom Thelma takes a liking to.
Thelma & Louise is remembered as one of the first buddy action thrillers that put women in the lead. It is also remembered as the beginning of Brad Pitt's reputation as a Hollywood heartthrob.
Jake Gyllenhaal in City Slickers (1991)
You may know Jake Gyllenhaal best as Donnie Darko, Jack Twist in Brokeback Mountain, or the leading role of 2001's Bubble Boy. The Academy Award-nominee is as talented and versatile as he is because he started earlier than you may have realized.
Jake Gyllenhaal made his film debut at 11 in one of the funniest '90s movies, the western comedy City Slickers. He plays Danny, the son of Mitch Robbins (Billy Crystal), a radio ads salesman who joins his friends on a cattle drive to combat his mid-life crisis.
City Slickers earned veteran actor Jack Palance his only Academy Award and spawned a 1994 sequel and a 6-minute Westworld crossover, neither of which Jake Gyllenhaal reprised his role for. Given that his most recent role was Mysterio in Spider-Man: Far From Home, it seems he's had enough luck since without playing Danny Robbins again.
Leonardo DiCaprio In What's Eating Gilbert Grape? (1993)
When you think of the '90s movie that helped Leonardo DiCaprio's career explode in Hollywood, of course you're thinking of Critters 3, right? Well, I would respectfully argue that the beginning of Leo's illustrious reputation was the film that earned him his first Oscar-nomination.
Johnny Depp plays the title role of the rural drama What's Eating Gilbert Grape?, about a young man forced to care for his mentally disabled brother (Leonardo DiCaprio) and morbidly obese mother (Darlene Cates) after the death of his father. Things change when he falls for Becky (Juliette Lewis).
Leonardo DiCaprio skyrocketed to the A-list four years later in James Cameron's Titanic and finally broke his losing streak at the Oscars in 2016 for The Revenant, but his powerful, heartbreaking performance in What's Eating Gilbert Grape? at age 19 was what really showed he had chops. I wonder if he still keeps in touch with the cast of Growing Pains, though.
Will Smith In Six Degrees of Separation (1993)
In one of the most astonishing examples of a transformative career path, Will Smith went from rapper to sitcom star and then alien killer, and most recently played a blue-skinned genie in Aladdin. Six Degrees of Separation, a film that proved to the world his skill as an actor, is far subtler than what he's best known for.
Based on the play by John Guare, Six Degrees of Separation is about a pretentious New York couple (Stockard Channing and Donald Sutherland) who finds unexpected company in a young man (Will Smith) who claims to be the son of Sidney Poitier. However, not all is what it seems with this mysterious stranger.
You know the rest: Will Smith became an action star with Bad Boys, earned the title of Mr. Fourth of July with Independence Day, and continued to save the day from nocturnal mutants, crippling football injuries, and poverty. 1990s-era Smith will soon make a return in the upcoming sci-fi thriller Gemini Man.
Natalie Portman In Léon: The Professional (1994)
From ruling Naboo in the Star Wars prequels to romancing the God of Thunder in the Thor films, Natalie Portman has pretty much done it all. It helps she started off at a very young age, debuting in a film equally, and literally, as explosive as just about anything else she has done.
Luc Besson wrote and directed one of the most acclaimed '90s action movies, Léon: The Professional (or just simply Léon or The Professional, depending on what continent you are on) a tale of a French master assassin played by Jean Reno. When Léon reluctantly becomes the caregiver to young Mathilda (Natalie Portman), the two are roped into a vengeful stand-off against the unbalanced cop (Gary Oldman) who killed her brother.
Léon: The Professional has earned as much acclaim as it has controversy in regards to how uncomfortably close then-46-year-old Jean Reno and then-12-year-old Natalie Portman's characters grow as the story progresses. Thankfully, did not stop Portman from leading an indisputably successful career, including an Oscar in 2011 for Black Swan.
Scarlett Johansson In North (1994)
Before she turned 30, Scarlett Johansson played an Avenger in the Marvel Cinematic Universe, an operating system in love with a human in Her, and the object of Bill Murray's affection in Lost in Translation. Despite her ongoing success, ScarJo's film debut is one with an infamous reputation.
Scarlett Johansson made her film debut at age 9 in director Rob Reiner's family comedy North, starring a young Elijah Wood in the title role of a boy travels the world in search of replacements for his ignorant parents. Johansson, in her brief appearance, plays Laura Nelson, the daughter in an ideal family hoping to adopt North.
If you did not know that Scarlett Johansson was in North, I would imagine she would have no hard feelings over that. The film is most famous for critic Roger Ebert's declaration that he "Hated hated hated hated hated this movie. Hated it." Thank God for Black Widow.
Paul Rudd In Clueless (1995)
Say, speaking of Avengers, Paul Rudd has certainly come a long way in his career before helping save the world as Ant-Man in Avengers: Endgame. Has he always been the same charming and funny guy you've come to know? Yes, and this iconic high school '90s movie was the beginning of that persona.
Writer and director Amy Heckerling's Clueless analyzes the social constructs of high school from the eyes of Cher (Alicia Silverstone), a seemingly superficial, privileged teenager from Beverly Hills. She often butts heads with her stepbrother, Josh (Paul Rudd), until their relationship takes an unexpected turn.
Paul Rudd would rise up as a comedic tour de force in films like Anchorman and The 40-Year-Old Virgin before being cast as the lead in Ant-Man 20 years after Clueless. During that time, the guy never aged a day.
Charlize Theron In That Thing You Do! (1996)
You need a woman with a fearsome disposition and razor sharp wit to lead your action movie? I'd recommend the incomparable Charlize Theron, whom you may have never seen fighting tyranny in the apocalyptic wasteland or tripping in night clubs with Seth Rogen if not for Tom Hanks.
That Thing You Do!, Tom Hanks' directorial debut, the story of a Pennsylvania rock band that scores a one hit wonder in 1964 and struggles to ride the wave of fame as long as they can. It is one of the first films starring Charlize Theron, who plays the demanding girlfriend of central character Guy Patterson (Tom Everett Scott).
According to Tom Hanks, not only was Charlize Theron was the first to audition for her part, she was the first performer cast in That Thing You Do! because he immediately recognized that the South African-born actress had something special. The Academy seemed to agree, awarding her the Oscar for Best Actress in 2004 for Monster. She'll next appear in the upcoming Fast and Furious 9.
Edward Norton In Primal Fear (1996)
You can always rely on Edward Norton for a riveting performance, whether he is running a fight club with Brad Pitt or poking fun at his own behind-the-scenes reputation in Birdman. The actor really hit the ground running at 27 years old in his 1996 film debut.
In Primal Fear, hotshot lawyer Martin Vail (Richard Gere) takes on the seemingly unwinnable case of an altar boy (Edward Norton) accused of murdering a priest. In his attempts to spin the case in his favor, he ends up discovering the truth is far more shocking that he could have realized.
Edward Norton earned an Academy Award nomination (his first of three) and a Golden Globe win for the intense legal drama. Like I said, he really hit the ground running.
Ewan McGregor In Trainspotting (1996)
Obi-Wan Kenobi is a man of uncorrupted mind and pure heart, so I can imagine that it might be surprising to picture him as a heroin addict. Yet, that is the role that helped Ewan McGregor make a name for himself before the Star Wars prequels.
Trainspotting is a drama about Renton's (Ewan McGregor) struggle to get himself clean and sober despite his friends' deep immersion into Scotland's drug scene. For a tale with bleak themes of addiction and mundanity, Danny Boyle's visceral directorial vision and the charming cast makes the film a very lively and endearing experience.
Since Trainspotting, which spawned a 2017 sequel, Ewan McGregor has played younger Obi-Wan Kenobi, an updated Lumiere in Beauty and the Beast, and an older Christopher Robin. As for his next venture in assuming roles previously portrayed by other actors, he will play an older Danny Torrance in the adaptation of Stephen King's sequel to The Shining, Doctor Sleep.
It may be hard to admit, but we owe the best that Hollywood has to offer today to the '90s. Who knows which stars we'll be talking about in reference to movies from this decade that launched A-List careers?
Your Daily Blend of Entertainment News
Jason has been writing since he was able to pick up a washable marker, with which he wrote his debut illustrated children's story, later transitioning to a short-lived comic book series and (very) amateur filmmaking before finally settling on pursuing a career in writing about movies in lieu of making them. Look for his name in just about any article related to Batman.