Why Edward Norton Doesn't Play The Hulk Anymore, According To Edward Norton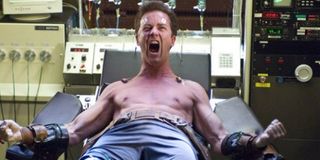 Edward Norton has revealed why he didn't play The Hulk in The Avengers, and he has basically suggested that he wouldn't have wanted to do it anyway... even if they'd asked him.
Edward Norton rebooted Bruce Banner in Louis Leterrier's The Incredible Hulk back in 2008. While not totally terrible, the movie failed to truly connect with its intended audience, only generating $263.4 million at the box office. This poor display -- as well as a number of other creative issues between Marvel Studios, Norton and Leterrier -- resulted in Mark Ruffalo taking the part of The Hulk for Joss Whedon's 2012 monster-hit, The Avengers. Of course his success in the film means that Norton's time as Banner has almost been entirely dismissed. But despite the way it panned out, Norton has now told NPR that he doesn't regret starring in the film and he's actually happy that he got out when he could.
To be fair to Edward Norton, he has gone on to star in a number of modern classics since his failed attempt to make The Hulk his own. Plus, his comments suggest that obligations for both The Avengers and next summer's Avengers: Age Of Ultron would have stopped him from starring in critically acclaimed movies like Moonrise Kingdom, The Grand Budapest Hotel and Birdman. In fact, his performance in the latter has been received so positively there is even early chatter that he could be in line for a Best Supporting Actor Oscar nomination. However, Mark Ruffalo also has gone on to appear in a number of engrossing smaller budget films in the same space of time, including Begin Again and Foxcatcher. So, there's that.
I was always disappointed that Edward Norton just wasn't able to gel as either Bruce Banner or with Marvel. There was great excitement when he was cast as the beloved character. But production problems, which saw Louis Leterrier direct with a broken foot, soon blighted the shoot and Edward Norton's insistence that the script wasn't ever right even saw him refuse to promote the film. Because of this, it was no surprise when Mark Ruffalo was called in to replace Norton, and it seemed like a clean break for everyone.
That's not to say that the Fight Club actor wasn't originally a tad upset that he was eventually overlooked for The Avengers. Back in July 2010, he told his Facebook followers that he was saddened not to be in the ensemble epic, writing, "It seems it won't work out for me. I sincerely hoped it could happen and be great for everyone, but it hasn't turned out as we all hoped."
Sounds as if Edward Norton needs to get his stories straight before he starts running his mouth regarding the decision for him to be dropped from the blockbuster series. I still prefer him to Eric Bana, though. Do you?
Your Daily Blend of Entertainment News
Thank you for signing up to CinemaBlend. You will receive a verification email shortly.
There was a problem. Please refresh the page and try again.