10 Best Jake Gyllenhaal Movies, Ranked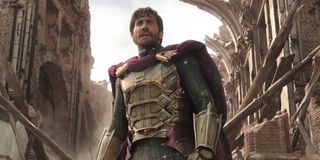 Jake Gyllenhaal is one of Hollywood's top talents, and after a brief marathon of his movies it isn't hard to see why. He's played many different types of characters throughout his career, and in all honesty he's good in just about every single one of them. At least, he is in these 10 movies, which are among the 10 best that the actor has offered audiences over the years.
As the world waits to see Jake Gyllenhaal play Mysterio in the upcoming sequel Spider-Man: Far From Home, I've put together a list of the 10 best films he's put out into the universe for your reading pleasure. These are the top 10 films to enjoy for those who want to see a good Jake Gyllenhaal movie featuring the actor at his best, even if the story or other actors didn't quite live up to the hype. Take a look and find these movies in the universe ASAP.
1. End Of Watch
The top Jake Gyllenhaal movie on this list, End Of Watch earns its spot for the gritty story of two LAPD officers just trying to survive the crime ridden streets. There's action, there's tension, and there are tear-jerking and terrifying moments. This movie is Jake Gyllenhaal at his best, and he looks completely in his element from start to finish. Others may believe there are better options out there, but I really feel they'd be wrong in regards to Gyllenhaal performances.
2. Donnie Darko
No disrespect to everything he's done after, but Jake Gyllenhaal's Donnie Darko remains one of his best to date. It features a much different performance than the characters Gyllenhaal would become later in life. It may not be the most groundbreaking performance the actor has ever given Hollywood, but it is the one that really set him on a path to be one of Hollywood's premiere names. Without it, there's no telling where the actor would be today. Plus, the movie itself still holds up.
3. Brokeback Mountain
No one should need a list to know Brokeback Mountain is one of Jake Gyllenhaal's best. Those who have gone this long without seeing it are making a mistake, and missing out one of the best performances of Heath Ledger's career to boot. For Gyllenhaal it's really on another level than any other role he's taken since, and absolutely one every movie lover should experience at least once. It's insane so many people passed on making this movie!
4. Zodiac
This Jake Gyllenhaal movie isn't more optimistic than many of the others on the list, but at least his character is more of the hero in this harrowing story of one of the most enigmatic serial killers in America's history. Of the selections on this list, Zodiac is the one that best highlights Jake Gyllenhaal's ability to portray an obsessed character, which is often an element in his roles. See this one immediately.
5. Nightcrawler
Here's another Jake Gyllenhaal movie where the actor turns on the crazy, although his character in Nightcrawler is far more insane and sadistic than funny. Gyllenhaal plays Louis Bloom, a man determined to make a living as a tragedy cameraman in Los Angeles. The film and Gyllenhaal is bonkers from start to finish, but it doesn't really hit peak freaky until that scene where he's laughing watching television and looking around and reacting to no one in particular.
6. Okja
One of Jake Gyllenhaal's most underrated roles in a while, Okja features the actor taking that crazy angle he does so well and spinning it into the eccentric television host Dr. Johnny Wilcox. Johnny Wilcox is not the type of character one sees often in a Jake Gyllenhaal movie, let alone a character that he would be the actor to play. It's hilarious, and a high point in a movie that can get pretty damn depressing as it goes on.
7. Southpaw
In a ranked list detailing the best boxing films of all time, Southpaw probably wouldn't be super high. That said, this Jake Gyllenhaal movie has earned its spot here for the way the actor portrays loss, and for how absolutely jacked he got for this movie. He's never in bad shape, of course, but this performance had to have sold a few people on him playing Batman someday.
8. Jarhead
Jarhead puts Jake Gyllenhaal in the shoes of former real life marine Anthony Swofford. For those who haven't seen it, this isn't the typical war movie, as it details one soldier's journey during Operation Desert Storm. This Jake Gyllenhaal movie captures a side of modern warfare from a unique perspective not often shown, and is only elevated in the respect that Gyllenhaal's performance is heightened by director Sam Mendes and a great supporting cast.
9. Brothers
There are a fair amount of feel-good Jake Gyllenhaal movies for audiences to enjoy, but I need to point out this film is not one of them. In Brothers, Gyllenhaal plays the supportive brother Tommy to Tobey Maguire's Sam, who has been overseas. Though he only plays a supporting role, Jake Gyllenhaal knocks it out of the park as Tommy, who only wants the best for his brother in a situation that gets increasingly out of control before anyone realizes it.
10. The Day After Tomorrow
The Day After Tomorrow is one of the biggest guilty pleasure Jake Gyllenhaal movies on the market. The decisions the characters make throughout this disaster film are ridiculous, and it's overall a very subpar blockbuster film. With that said, there are laughs for those willing to "weather the storm." My personal favorite Gyllenhaal moment is when his character Sam Hall nearly drowns in a flood because he won't get off the payphone with his dad.
Now, Jake Gyllenhaal has made a lot more movies than the ten that appear on this list, and it wouldn't be surprising if someone's favorite movie was left off this list. What are your favorites? We'd love to hear from you in the comments below!
Your Daily Blend of Entertainment News
Mick likes good television, but also reality television. He grew up on Star Wars, DC, Marvel, and pro wrestling and loves to discuss and dissect most of it. He's been writing online for over a decade and never dreamed he'd be in the position he is today.