That Thing You Do: The Cast Then And Now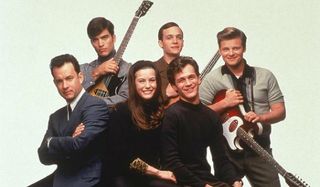 On October 4, 1996, That Thing You Do opened to what would eventually pan out to be a third place showing at the end of its first weekend of release. The film, which marked the writing and directing debut of Tom Hanks, would gross $34.5 million by the end of its run, ranking in as the 60th place film of the entire year. And yet, despite all of this, it's become a classic in every sense of the word.
The trials and tribulations of Guy "Skitch" Patterson and The Wonders have been shown on cable, sold many home video copies, and catapulted the film into the cult classic status it deserves. But what of the stars of That Thing You Do? Where are they now, and what have they been up to? Well, it's been a good couple of decades, so now's a great time to see what everyone's been doing since they did that thing that they did.
Tom Everett Scott
Guy Patterson was our everyman, our focal point to the madness that was the 60's pop scene that reigns in That Thing You Do. With his trademark shades, his sick drum skills, and the wit and wisdom that helped the band last as long as it did, he truly was Spartacus. He is our biggest fan, and it's all thanks to the talents of Tom Everett Scott, a man who's been working quite regularly since career started on an episode of Law and Order back in 1993.
Of course, his huge breakout hit was That Thing You Do, which almost wasn't his big screen debut, thanks to his resemblance to Tom Hanks himself. Fortunately, co-star and Hanks' wife, Rita Wilson, convinced those in charge to take the leap, and Scott went on to drum his way into our hearts for years to come. After the music died down, Tom Everett Scott found himself in high visibility projects like Boiler Room, Van Wilder, and Parental Guidance.
Though in the years after That Thing You Do, Scott worked a lot in TV, most notably in roles on ER, Southland, and Sons Of Anarchy, as well as a return to Law and Order as New York Governor Donald Shalvoy. Recently, you may have seen Scott in his roles on MTV's Scream, The CW's Reign, and CBS' Elementary, but you'll be able to see Scott this December in La La Land, a film that was inspired by That Thing You Do. Talk about coming full circle.
Liv Tyler
Guy wasn't the only person who helped keep The Wonders going, as his eventual wife, Faye Dolan, was also one of the many keys to success for the band. Though she was dating the super serious founder and lead singer / guitarist for the band, James "Jimmy" Mattingly, Faye always seemed like the right type of girl for Guy, even when he couldn't see it. And we have the talented Liv Tyler to thank for being the bedrock of the That Thing You Do cast, an opportunity that came after she'd established herself with her appearance alongside Alicia Silverstone in the video for Aerosmith's song "Crazy."
A few film roles into her career, Tyler had landed a double tap of musical comedies, as she had also played Corey Mason in the cult 90's classic Empire Records in the year previous to That Thing You Do's release. It was certainly enough to put her on the radar of Hollywood, especially in the case of Michael Bay, who would then cast Liv Tyler as the female lead in his 1998 blockbuster Armageddon.
It wasn't until 2001 that her biggest role would land on her doorstep, as Tyler was cast as Arwyn, the elven princess who saved Frodo from Ringwraiths and had fallen for the half human ranger Aragorn in The Lord of the Rings trilogy. Since then, Liv Tyler has been in everything from Marvel's 2008 reboot of The Incredible Hulk to HBO's depressingly effective drama The Leftovers.
Johnathon Schaech
If That Thing You Do has a villain, it almost has to be the snide, sneering artiste that lead the band, James "Jimmy" Mattingly. Obsessed with his art, and singing his own material, Jimmy was never cut out for pop stardom, though if you read the liner notes to the soundtrack, he did eventually have another hit with a band of his creation. Not only does he consistently sour his bandmate's fun, he also breaks girlfriend Faye's heart by the end of the film.
Johnathon Schaech, on the other hand, seems pretty cut out for the business of show, as he's been consistently working since he first appeared in the TV movie, The Webbers, in 1993. Previous to That Thing You Do, Schaech's claim to fame was in his role as Leon, the man Winona Ryder's protagonist would romance while mulling over her boyfriend's marriage proposal in How to Make an American Quilt. But once pop superstar-dom kicked in, there was no turning back.
Schaech would go on to not only continue acting in films that varied from the Jessica Lange / Gwyneth Paltrow thriller Hush to the direct to video sequel Road House 2, as well as the horror remakes Prom Night and Quarantine, but he also became a fixture on television, as well as a writer! In fact, one of Schaech's more prominent roles in recent days has been as DC Comics anti-hero Jonah Hex on The CW's Legends Of Tomorrow. Still, after all that time, we can't get his unique method of quitting out of our heads.
Steve Zahn
Lenny Haise values three things in this life: being famous, pretty girls, and cracking jokes at both the right and wrong times to do so. Playing lead guitar and also singing lead vocals, he had ample opportunity to indulge in all three during The Wonders' one hit roller-coaster ride.
No one else in the world could have brought Lenny to life the way that comedic actor Steve Zahn did, and it's partially in thanks to the time Zahn had spent honing his craft in films like Reality Bites and Crimson Tide in the years preceding That Thing You Do. Though comedic statements about Generation X and drama aboard a nuclear submarine may not seem like the likely grist for the mill that brought us Zahn's hysterical performance, they certainly did something to put him where he needed to be for Tom Hanks' purposes.
In the years after That Thing You Do, Steve Zahn cemented himself as a go-to character actor, a skill he continues to trade on to this day. Highlights from his career include his role as George Clooney's dopey sidekick Glenn in Steven Soderbergh's Out of Sight, a part in the J.J. Abrams scripted Joy Ride, as well as the role of Frank Heffley - the father in the first three Diary of a Wimpy Kid films, and Tucker in Dallas Buyer's Club. He can next be seen in 2017's War for the Planet of the Apes.
Ethan Embry
In every band, there's an unsung backbone that almost always gets overlooked: the bass player. In the case of That Thing You Do, T.B. Player was our unnamed hero, who would go on to be a true hero, as he enlisted in the Marine Corps just before the Vietnam War. Unfortunately, he missed The Wonders' big break on TV because of it, but at that point the call to defend America has become his mission in life.
Ethan Embry, the man behind our low-key pop hero, had his first breakout role in the Ed O'Neill road comedy Dutch back in 1991, which is funny considering the two would reteam for ABC's Dragnet reboot in 2003. Much like Liv Tyler before him, Empire Records helped Embry maintain visibility in the Hollywood circuit, and more than likely helped him secure the role as the bass player who he thinks went by the name of "Tobias."
After serving under Tom Hanks' watchful direction, Embry would go on to score an even bigger hit in 1997, when he was cast as Preston, the head over heels protagonist who had a crush on Jennifer Love Hewitt's Amanda in Can't Hardly Wait. His career would go on to rack up other notable credits, such as parts in other films like Vegas Vacation and Timeline, as well as on TV shows like Brotherhood, The Walking Dead, and most recently the Netflix original Grace and Frankie.
Tom Hanks
Though simply named Mr. White, the man behind the colorful name is much more complicated, professionally and personally. Eventually promoted to President of Playtone Records, Mr. White was the manager behind The Wonders during their time as a member of the Playtone "Galaxy of Stars." He shepherd them through county fairs, recording sessions, and TV appearances, and all throughout he had each member of the band pegged to a tee. It's as if he'd written their story, and actively shaped it based off of his template.
Which is exactly what writer / director / co-star Tom Hanks did with That Thing You Do, a movie that came out of a 30 day writing spree inspired by his restless nature during the promotion of Forrest Gump. After almost two decades of acting in hits like Splash and Big, as well as taking part of prestige worthy films such as Philadelphia and Apollo 13, Hanks took the plunge and wrote this love letter to 60's Pop, while also directing it into existence.
Naturally, Tom Hanks continued acting after That Thing You Do, with roles in Saving Private Ryan, The DaVinci Code, and most recently Sully all keeping him active. As far as writing and directing are concerned though, Hanks has only one other entry on his hyphenated resume, the 2011 film Larry Crowne. Tom Hanks can next be seen as Robert Langdon in the latest Dan Brown adaptation, Inferno, arriving on October 28th.
Charlize Theron
While Guy and Faye always seemed like a natural item, one of the stumbling blocks that always held up the works was Guy's girlfriend, Tina Powers. A sort of vapid, disinterested woman, Tina never really bought into the whole project known as The Wonders, and before you could say "root canal," she ran off with her dentist - leaving Guy in the dust.
It's not the sort of role you'd give Charlize Theron lightly these days, but back when she was cast in this supporting role for That Thing You Do, Tom Hanks just knew she'd be an all-star. With two film credits to her name, Theron was a star that Hanks swore he'd always claim to have discovered, and with this film placing her on the track to greatness, he couldn't have been more right.
The year after That Thing You Do, Charlize Theron would star in the comedy Trial and Error, as well as the horror thriller The Devil's Advocate, with her high profile roles in films like The Cider House Rules and The Italian Job following in the years to come. But her super-stardom transcended into A-list home runs after her role as real life killer Aileen Wuornos in 2003's Monster earned her an Academy Award for Best Actress. Theron still mixes things up with her resume, as roles in Prometheus, Mad Max: Fury Road, and The Huntsman: Winter's War, and she can be seen causing chaos next year as the villain in F. Gary Gray's Fast 8.
Giovanni Ribisi
If it wasn't for the fact that Chad broke his arm while hopping parking meters, he would have still been the drummer for The Wonders during their Mercyhurst Talent Show gig. Though, if he'd been the drummer that night, That Thing You Do wouldn't have become the hit it eventually was, as it was Guy Patterson's up-tempo drumming that saved the single from obscurity and landed the band its first gig. Still, Chad got to get in real cozy with Guy's family, and eventually worked at the family's appliance store, so he was pretty well taken care of during his recovery.
Giovanni Ribisi, on the other hand, didn't need to break an arm to land his next couple of jobs, as Tom Hanks must have put in a kind word to sell him into his next big project, Steven Spielberg's war epic Saving Private Ryan. While Ribisi did have a couple TV movies, as well as a healthy dose of guest spots and recurring characters on shows like Ellen and Friends under his belt, That Thing You Do was his first big Hollywood film. It may have been a minor role, but it was one that lead to only bigger and better things.
Recently, Giovanni Ribisi secured a role in the Amazon dramedy series Sneaky Pete, after scoring a decade plus of work in memorable roles in Boiler Room, Flight of the Phoenix, Lost In Translation, James Cameron's Avatar, and all three of Seth MacFarlane's feature films. We'd call that broken arm a lucky break, if we do say so ourselves.
Rita Wilson
As far as cocktail waitresses go, The Blue Spot Jazz Club is lucky to have someone as beautiful and helpful as Marguerite is. Able to light your cigarette, fill your drink, or introduce you to Del Paxton himself, she's always smiling and always on the lookout. Lucky for Guy Patterson, and the third act of That Thing You Do, she was on duty the night he wandered through the doors in search of some jazzy inspiration.
Tom Hanks is lucky too, considering he gets to spend his life with the lovely woman playing this goddess of the gin joint, Rita Wilson herself. With years in TV shows like The Brady Bunch and MASH, as well as film roles like Cheech & Chong's Next Movie, Wilson would cross paths with her future husband twice: on TV in the show Bosom Buddies, and in the film Volunteers. Their marriage took place in 1988, and Rita Wilson would continue to work alongside her husband here and there, with Sleepless In Seattle being one of the most memorable points in their shared filmography.
After making sure Guy got back to his hotel room a-ok, Rita Wilson would continue to act in projects like Jingle All The Way, Law and Order: SVU, and Girls, while also becoming a producer under the Playtone Productions label. In fact, Wilson produced one of the most successful independent films ever, My Big Fat Greek Wedding, as well as its sequel, which was released earlier this year.
Paul Feig
During an extremely short appearance on Los Angeles radio station KMPC, there's a familiar looking guy that has on a bright purple shirt, chatting up yet another spin of that chart-breaking hit That Thing You Do. While the band doesn't get a word in edgewise, we know that the film's really about their story. Though that DJ would go on to tell a tale or two himself.
For you 90's comedy geeks out there, yes that is Paul Feig playing the role of KMPC's disc jockey in That Thing You Do, though at this point in history you may have recognized Feig from roles in The Naked Gun 33 1/3: The Final Insult or the underrated Disney hit Heavyweights, as Feig's acting career was in full swing when he secured this role. However, it was his calling as a writer/director that would light the candle under his resume and send him screaming into the history books.
Perhaps Paul Feig's greatest creation, Freaks & Geeks, would come only three years after his fictional disc jockey days, which ushered in the era of Feig as a writer / director / actor in both the realms of TV and Film. Arrested Development, The Office, and even Mad Men are just a couple of the shows that would fall into his capable directing hands, with the coup de grace being his directorial efforts on the film Bridesmaids. The rest, as they say, is history.
Bryan Cranston
The second American to fly into space, a distinguished soldier, and pioneering astronaut in his time, Lt. Colonel Virgil "Gus" Grissom is a real life figure that makes a cameo during That Thing You Do's big "Hollywood Television Showcase" sequence. Though you may not have noticed back in 1996, the actor playing Lt. Col. Grissom was none other than award winning fan favorite Bryan Cranston himself!
With copious experience in TV, with shows such as Airwolf, Baywatch, and Seinfeld, as well as roles in films like Amazon Women on the Moon and Fletch Lives, Cranston secured a short, but memorable role in That Thing You Do which tied into another project Tom Hanks was working on. While Bryan Cranston played Gus Grissom in the film we're discussing, Hanks must have seen something extremely impressive in him, as he was then cast as Buzz Aldrin in Tom Hanks' HBO mini-series about the American space program, From The Earth To The Moon.
Of course, Cranston's most memorable roles would come further down the line, as 2000 brought him a six year run as Hal, the belittled father figure on Malcolm in the Middle, and 2008 would see Bryan Cranston take on his most iconic role yet - teacher turned Walter White on AMC's Breaking Bad. Though Cranston has still continued to keep up appearances in the movie world, and even managed to reunite with Tom Hanks for his other writing / directing effort, 2011's Larry Crowne. Bryan Cranston can next be seen returning to another franchise that did him well early on, as he's playing Zordon in the new Power Rangers reboot.
Kevin Pollak
Victor 'Boss Vic Koss' Kosslovich is not only the Three Rivers Mattress king, he's a hell of an emcee. At least, that's what he tends to think when he's on the stage. Off the stage he's got a bit of a temper, and isn't as cosy as one would think. Still, if you're looking to buy a mattress or introduce a Pop act in Pittsburgh, Boss Vic Koss is your man!
Playing the Boss himself is veteran character actor, and genuinely awesome raconteur, Kevin Pollak. A stand up comedian and actor of much renown by time That Thing You Do rolled around, Pollak was best known in the world of film for his role as Lt. Sam Weinberg in the film adaptation of Aaron Sorkin's A Few Good Men, as well as parts in both films in the Grumpy Old Men series, and Martin Scorsese's Casino.
In the two decades since That Thing You Do's road to cult success, we've seen Kevin Pollak crop up in supporting and leading roles in films like The Whole Nine Yards and Max Rose, as well as on TV shows like the CBS hit series Mom. Though if you're a child of the internet, you've probably heard him on his internet talk show / podcast, Kevin Pollak's Chat Show, which is available through the Earwolf network.
Your Daily Blend of Entertainment News
Senior Movies Contributor
CinemaBlend's James Bond (expert). Also versed in Large Scale Aggressors, time travel, and Guillermo del Toro. He fights for The User.