Looks Like Hobbs And Shaw Could Make Less Than We Thought Opening Weekend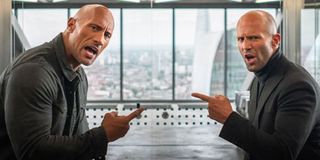 Hobbs & Shaw is heading to the box office in just a few short weeks and to be frank, we've already seen a lot of the explosive action we can expect from the film. Yet, despite a couple of insane trailers, it looks as if interest in the Fast and Furious franchise may be waning a bit. Or is it? Depends on how you look at box office.
Reports this week indicate that Hobbs & Shaw may not make as much opening weekend as was initially expected. The long range tracking a few weeks ago indicated the Fast and Furious spinoff flick might make between $75 million and $115 million domestically during its opening weekend.
Now, the new numbers are out and they don't look quite so shiny. The latest opening weekend box office report indicates Hobbs & Shaw may only make somewhere in the range of $55 to $65 million domestically when it opens. That's even low compared to the lower end of the wide estimation made previously.
Is it really that bad though? Well, if you compare it to other Fast and Furious franchise openers, its middling. Furious 7, the movie that came out after Paul Walker's untimely death, had the biggest opening for the franchise at $147 million+ domestically. Fast & Furious 6 is in second place, with $97 million+ and The Fate Of The Furious had the third biggest opening before inflation with $98 million. Fast Five opened to a cool $86 mil, Fast & Furious made $70 mil and then there's a big drop off.
The original three movies brought in $40 million, $50 million and $23 million opening weekend, respectively. So Hobbs and Shaw bringing in $55-$65 million would not be so bad for franchise earners, although the original three movies came out in a time when movies cost less and were marketed differently.
However, as Variety notes, there's no one competing directly with Hobbs & Shaw during opening weekend, which could give the flick additional legs. Plus, although The Lion King and Once Upon A Time… in Hollywood will both be out prior to Hobbs & Shaw, those movies shouldn't theoretically compete.
Since August is a slower month for movies, Hobbs & Shaw should have plenty of time to continue playing out at the box office in the weeks after release. This should particularly be true given a lot of its competition is smaller movies or family titles like Dora and the Lost City of Gold or The Angry Birds Movie 2.
Seemingly a direct competitor, Angel Has Fallen doesn't come out until the end of the month. Angel Has Fallen is the action thriller sequel to both Olympus Has Fallen and London Has Fallen, starring Morgan Freeman and Gerard Butler. It will hit theaters on August 23.
For The Full Look At August's Releases, Head Here
It also should be noted that box office has been lower than anticipated this summer, although flicks like Toy Story 4 and Spider-Man: Far From Home have been bright spots. (Although I'd be remiss if I didn't note even Toy Story 4 opened below lofty predictions.) So, the box office predictions have dropped somewhat seemingly due to the audience's responses to the summer movie slate.
Ultimately, Hobbs & Shaw is a spinoff, so it's a little unclear what the expectation for success for that spinoff is at that point. Plus, the movie could still beat these box office predictions and land closer to the initial predictions. It's been a wonky year for predictions to say the least, so nothing would surprise me at this point. It should also be noted the film doesn't open up in China until later in August and that worldwide should add to the flick's total as well. It's seemingly clear that Hobbs & Shaw will make money for the studio, the question really should be: How much?
Luckily, if Dwayne Johnson + Jason Statham + Idris Elba is your thing, you don't have too much longer to wait. Catch Hobbs & Shaw when it's out August 2nd if you want to beat these box office predictions to a pulp.
Amazing Race & Top Chef superfan with a pinch of Disney fairy dust thrown in. Theme park junkie. If you've created a rom-com I've probably watched it.
Your Daily Blend of Entertainment News
Thank you for signing up to CinemaBlend. You will receive a verification email shortly.
There was a problem. Please refresh the page and try again.