The Hobbs And Shaw Trailers Keep Getting Better And Better With Motorcycles And Helicopter Stunts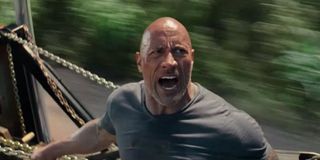 Folks, it's been a bummer summer this year. While there have been some surprises here and there, it's been a mostly meh market out there. We need the right movie to come along and save us from the doldrums; and at the rate these Hobbs & Shaw trailers are going, it looks like we're gonna get that movie in spades.
Watch the insanity for yourself, courtesy of the latest, and final, trailer for the film below:
So if that motorcycle stunt with Idris Elba's Brixton wasn't crazy enough, this final Hobbs & Shaw trailer has given us an extended look at just how that moment fits into the film. Starting with Dwayne Johnson's Luke Hobbs crashing through a skylight and Jason Statham's Deckard Shaw taking the elevator to some baddies, a fight breaks out for all to see. But newcomer Vanessa Kirby's Hattie Shaw isn't left out, as she's using her jacket to defeat another helmeted villain in the process.
And that's just the start of the insanity you'll see in director David Leitch's latest action spectacle, as well as the beginnings to what plays out in this trailer for Hobbs & Shaw. I promised motorcycles and helicopters, and oh boy, there's plenty of that action to spare as well. What follows is a car chase that sees the big motorcycle stunt included, and extended to see Brixton not only riding on top of several cars hard enough to shatter their windows, but also fast enough to crash right through a double decker bus.
That's not enough to stop "Black Superman" though, as Idris Elba's villain gets right back up and pledges war. Which means it's time to cue a sick montage as a remix of Jay-Z's "Public Service Announcement" keeps time to the carnage on screen.
If it drives, flies, or allows our heroes to run on it, the Hobbs & Shaw crew is ready to use it to fight to the death. And while it feels like we're seeing a clip reel of the entire story, almost beat for beat, it's hard not to look at those sequences where Hobbs tosses a metal chain at Brixton's helicopter. In fact, there's two things we're sure of with that particular scene: that helicopter's going down, and we think we've found the one F-bomb Hobbs & Shaw will be using for its duration.
Though it's really hard to be mad at this movie for playing so many cards on the table, as there's another stunt that does involve a motorcycle, and outdoes that previous one we gushed about involving Idris Elba. While we're not sure how practically this following piece can be executed, seeing what has to be Brixton flipping back onto his bike after lying on the ground is one hell of an image. Take a closer look below:
Wow. How do they do it? Even if that's a CGI stunt, it's still an impressive feat, much like the rest of the contents of Hobbs & Shaw's final trailer. And if this marketing campaign holds up, we might be looking at the best, and maybe the biggest, movie of the summer right before us.
Hobbs & Shaw tries to be friends, while saving the world, on August 2nd.
Your Daily Blend of Entertainment News
Senior Movies Contributor
CinemaBlend's James Bond (expert). Also versed in Large Scale Aggressors, time travel, and Guillermo del Toro. He fights for The User.