8 Movies That Could Still Save The Summer Of 2019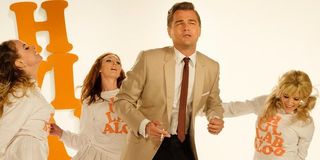 The summer movie season of 2019 has been an interesting one. While we've seen movies like Aladdin make a surprising amount of money, and other films have performed just as expected, there's been a fair share of bummers out there.
In a year where Dark Phoenix, Men In Black: International, and even Toy Story 4 fell short of some proverbial marks, it's been quite gloomy if you've been following the reports of each weekend's grosses.
There's still some good news though, as the summer isn't over just yet. Come to think of it, eight specific films that are being released in the coming weeks look like they'll be potential contenders and surprise hits once everyone has seen Spider-Man: Far From Home. Follow us, as we run through the movies that could still save the summer of 2019.
Crawl
Alligators can be vicious, cruel, and nasty; but they can also be one hell of an adversary for your movie's cast to face off against. Crawl is ready to test that theory yet again, as director Alexandre Aja's big film of 2019 has crowd-pleaser written all over it. A father and daughter are ready to face off against nature in a short, brutal looking thrill ride; something that any summer can always use in its canon.
Opens: July 12th
Stuber
Buddy cop comedies are a genre that can always use some love at the theater, and Stuber is ready to pick you up for just that. Kumail Nanjiani and Dave Bautista play an Uber driver and a cop who have been thrown together by destiny. Classically mis-matched, the pair will do what they can to stay alive, and catch the bad guys in time. An R-rated comedy that really wants your five star rating, it feels like the sort of movie that friends will go see for a laugh, only to tell even more friends they need to see it.
Opens: July 12th
The Lion King
Disney is having both a wonderful and a weird year, with Aladdin and Avengers: Endgame bringing in a ton of money, and Toy Story 4 having an interesting opening weekend. The Lion King looks like it could be another monumental hit for the studio, as nostalgia and a new CGI cast bring a classic tale back to life. If Simba's journey from cub to king hits just as hard as it did the first time, you can be sure people will flock to this one.
Opens: July 19th
Once Upon A Time In Hollywood
Every new movie that Quentin Tarantino puts out brings us one more closer to his self-imposed retirement. Throwing aside the debate of if Kill Bill counts as one or two movies, we may just see our potential final dose of Tarantino with Once Upon A Time In Hollywood. Leonardo DiCaprio, Brad Pitt, and Margot Robbie running around 1969 Hollywood looks absolutely gorgeous, completely insane, and as cool as any Tarantino movie should. If this really is going to be the final bow for QT, then it looks like he's saving the best for last.
Opens: July 26th
Fast And Furious Presents: Hobbs & Shaw
The more we see of Fast and Furious Presents: Hobbs & Shaw, the more it looks like the bonkers surprise that the summer season really needs. A lot of the movie already seems to be showed off in what we've seen, but no matter how many times we see Jason Statham crack wise or Dwayne Johnson bring down a chopper with a damned metal chain, it has us ready to stand and cheer. There's plenty of time to get serious during the fall, but right now it's time for some nitro fueled destruction in Hobbs & Shaw.
Opens: August 2nd
Scary Stories To Tell in The Dark
Horror, as a genre, seems to be growing in market share in the next couple of months, as there are a lot of movies that are looking to scare up some box office and terrify viewers with their stories of darkness. Scary Stories to Tell in the Dark is a reminder that not only is that hypothesis firm and accurate, but appears to show that you can do a horror movie for kids that looks like it'll freak out adults as well. Based on the book series of the same name, this Guillermo del Toro produced film looks like a surprise blockbuster just waiting to happen, and we can't wait to see it!
Opens: August 9th
Good Boys
Both Booksmart and Good Boys look like they could be handed the crown of being "Superbad 2.0," and their very similar trailers are the living proof. However, just as director Olivia Wilde's debut proved itself to be more than just a clone, Good Boys looks like it could very well differentiate itself from Jonah Hill and Michael Cera's breakout hit. With a trio of middle schoolers, including The Predator's Jacob Tremblay, embarking on a raunchy adventure gone wrong, parents will more than likely see this one first. Don't be surprised if they love it so much, they share it with their kids for a second viewing.
Opens: August 16th
Ready Or Not
We started this list with a horror film, we threw one in near the middle, and, damnit, we're going to close out on what could be a brand new horror classic in our midst. Ready Or Not pits Samara Weaving against a killer family, which includes Andie McDowell and Adam Brody among its members, who want to claim her for some unknown purpose. Were this to be a scary game of hide and seek, complete with creative kills, it might have still worked out. Thankfully, a killer sense of humor is present, which just might make this movie a memorable sleeper hit in those last few weeks of summer excitement.
Opens: August 21st
Summer 2019 isn't over yet, and if you're looking for something new and exciting to make your next few weeks all the more exciting, it looks like you won't have to wait for long. So keep hydrated, don't forget to wear your sunscreen, and make sure to pre-order your tickets before heading to the theater.
Your Daily Blend of Entertainment News
Senior Movies Contributor
CinemaBlend's James Bond (expert). Also versed in Large Scale Aggressors, time travel, and Guillermo del Toro. He fights for The User.
Your Daily Blend of Entertainment News
Thank you for signing up to CinemaBlend. You will receive a verification email shortly.
There was a problem. Please refresh the page and try again.