Frank Grillo Reveals His Contract With Marvel, Clarifies Crossbones' Fate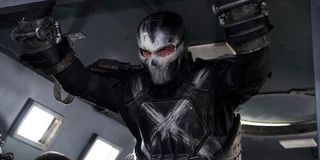 Many of the actors who've joined the Marvel Cinematic Universe signed multi-picture deals. Frank Grillo is one of those actors, and thus far he's played Brock Rumlow, a.k.a. Crossbones, in three MCU movies. As it turns out though, Grillo still has plenty of movies left on his Marvel contract, revealing:
The prospect of Brock Rumlow playing Captain America is… questionable at best, even ignoring the fact that the character is dead. Besides, with Anthony Mackie's Sam Wilson having just inherited the star-spangled mantle from Steve Rogers, we can expect him to serve as Captain America for a long time. He's next set to star alongside Sebastian Stan's Bucky Barnes, a.k.a. Winter Soldier, a.k.a. White Wolf, in their Disney+ series.
In any case, you might think that Frank Grillo's comment to Comicbook.com means there's hope that Crossbones will pop back into the MCU somehow. However, the actor, who recently reunited with Anthony Mackie in the Netflix movie Point Break, clarified the matter on Instagram, declaring that there are no plans for him to play the super villain again.
Brock Rumlow was introduced in Captain America: The Winter Soldier as the field commander of S.H.I.E.L.D.'s S.T.R.I.K.E. team, but it was later revealed that he, like many other S.H.I.E.L.D. agents, was actually a HYDRA operative. At the end of The Winter Soldier, he was nearly crushed to death, but miraculously survived, albeit heavily scarred.
Upon recovering, Brock Rumlow took on the Crossbones identity, left HYDRA and began his own campaign of terror. That ended at the beginning of Captain America: Civil War when he detonated the explosives on his belt in an attempt to kill Steve Rogers, but Scarlet Witch prevented that by transporting into the air. Unfortunately, the blast that incinerated Crossbones also killed dozens of civilians in a nearby building, which led to the passing of the Sokovia Accords.
While that's the end of Crossbones' MCU story, Frank Grillo was one of the many actors who appeared earlier this year in Avengers: Endgame, as he played a past version of Brock Rumlow who the present-day Steve Rogers encountered when he traveled back in time to the aftermath of the Battle of New York. Steve successfully tricked Brock, Jasper Sitwell and the other HYDRA double-agents into giving him Loki's scepter.
But that's it, everyone! Unless Marvel Studios changes its mind and decides to resurrect Crossbones, whether it be as his normal self or a zombie, this particular baddie will not be troubling any heroes again in the franchise. Since most comic book movie villains once appear once, the fact that Frank Grillo got to appear thrice is not too shabby.
Frank Grillo's upcoming movies include Boss Level, Black and Blue, Once Upon a Time in Staten Island and The Hitman's Wife's Bodyguard. As for non-Grillo movies, find out what's hitting theaters later this year in our 2019 release schedule.
Connoisseur of Marvel, DC, Star Wars, John Wick, MonsterVerse and Doctor Who lore. He's aware he looks like Harry Potter and Clark Kent.
Your Daily Blend of Entertainment News
Thank you for signing up to CinemaBlend. You will receive a verification email shortly.
There was a problem. Please refresh the page and try again.