What We Know About Chris Evans' Marvel Contract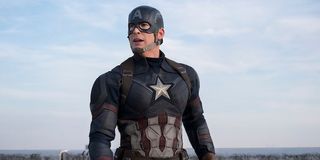 Ever since he was injected with the Super Soldier Serum and became the Star Spangled Man with a plan, Steve Rogers has been one of the Marvel Cinematic Universe's most important heroes. During both World War II and the present day, Captain America has kept humanity safe from the forces of evil, including most recently fighting alongside Earth's Mightiest Heroes against Thanos' army in Avengers: Infinity War. But it's possible that his tenure could be ending soon.
It's no secret that although the MCU will continue past Avengers 4, that movie will wrap up both the Phase 3 era and conclude many story threads that have been running through the franchise since it launched in 2008. And while Marvel is still keeping quiet about Avengers 4 story details, given the magnitude of this movie and how Avengers: Infinity War went down, many fans suspect that one or a few characters will exit this shared universe before the credits finish rolling, with Captain America being one of the most popular candidates. Before delving into the likelihood of that happening, let's go over the details of Chris Evan' MCU contract.
When Chris Evans signed onto Captain America: The First Avenger in 2010, the MCU was basically still in its infancy, as only Iron Man, The Incredible Hulk and Iron Man 2 had been released, and Thor was in the middle of principal photography. Nevertheless, a franchise is a franchise, and when you're hiring an actor to play Captain America, you understandably want to ensure he'll be around a while. So Evans signed a standard six-picture contract to play his second superhero role (the first being The Human Torch in the 2000s Fantastic Four movies).
Fast-forward to now, Chris Evans has made all six of those initial appearances. Following the first Captain America movie, naturally he also led sequels The Winter Soldier and Civil War, and he was an important ensemble player in The Avengers, Avengers: Age of Ultron and Avengers: Infinity War. Evans also cameoed in Thor: The Dark World (as a disguised Loki) and Spider-Man: Homecoming (through hilarious PSAs), but those appearances didn't count towards his contract.
So if Chris Evans had stuck to his original six-picture contract, Avengers: Infinity War would have been his last appearance. Fortunately, the actor decided not to call it quits after Thanos wiped out half of all life in the universe and decided to reprise Captain America in Avengers 4, describing his reasoning for the extension thusly:
So as things stand now, contractually speaking, Avengers 4 is Chris Evans' last Marvel movie, but what about the future? What are the chances that Evans could stick around as Captain America in Phase 4, even if Steve Rogers isn't around as much as he was during Phases 1-3. That remains up in the air, although lately, there's been a bigger sense that we should make peace with Evans leaving for good.
Initially in 2014, it seemed like Chris Evans would let go of Captain America once his contract ran out, as he told Variety that he wanted to retire from acting altogether and step behind the camera after his time at Marvel wrapped up. But later that same year, Evans clarified that he wasn't letting go of the patriotic shield anytime soon, and in the years since then, he's seemed thankful to get to play Steve Rogers.
Nevertheless, there's been regular speculation about something happening to Captain America in Avengers 4, whether it's dying in battle, retiring from the superhero life, reuniting with Peggy Carter, etc, that takes him off the board. And then on October 4, 2018, Evans' tweeted the following about finishing his Avengers 4 reshoots.
This led many to assume that Chris Evans was saying goodbye to Captain America, but the actor clarified what his tweet actually meant while appearing at Ace Comic-Con, saying:
Alright, so we're not going to get a straight answer from Chris Evans about Captain America's Avengers 4 fate, but nevertheless, there's been no indication that Steve Rogers will be a major player in the MCU past Phase 3. Even if he were to stick around, with heroes like Black Panther, Captain Marvel and Doctor Strange taking over as the new "generation" of leading protagonists, we probably wouldn't see Steve consistently pop up, let alone lead another movie.
It's easy enough to keep comic book characters around for decades on the printed page, as these stories operate on a sliding timeline, allowing for each generation to have their own "version" of these heroes and villains. But the actors playing these characters in the MCU are aging, and while Chris Evans could conceivably keep Captain America for another decade, eventually he'll have to close this chapter of his life.
It also helps that there are others who could pick up the Captain America mantle if Steve Rogers is gone. Both Bucky Barnes, a.k.a. Winter Solider, and Sam Wilson, a.k.a. Falcon, have filled that role over the last decade, and Crossbones actor Frank Grillo suggested that a woman could don the red, white and blue costume. Maybe Sharon Carter? In any case, even if we never see Steve again after Avengers 4, at least keeping the Captain America legacy going through another character is on the table.
Rest assured, if any new, substantial information is revealed about Chris Evans' future with the MCU, we here at CinemaBlend will let you know about it. For now, you can count on a clean-shaven Evans reprising Captain America in Avengers 4 on May 3, 2019, and if you're curious about what else this superhero franchise has in development, browse through our handy guide.
Your Daily Blend of Entertainment News
Connoisseur of Marvel, DC, Star Wars, John Wick, MonsterVerse and Doctor Who lore. He's aware he looks like Harry Potter and Clark Kent.