The 10 Movies That Sold The Most Tickets (Avatar And Avengers: Endgame Don't Make The Cut)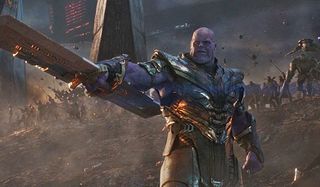 By now, as you likely well know, Avengers: Endgame has officially earned $2.792 billion dollars (and counting) at the worldwide box office. It is, of course, a huge cultural phenomenon. While it took a theatrical re-release for that upset to happen, the Marvel mammoth of a movie dethroned James Cameron's Avatar for this particularly impressive title. If you can believe it, neither of these blockbusters sold the most tickets in cinematic history.
That's right; due to the inflation of ticket prices throughout the last few decades (as you've probably noticed — and your wallet has likely noticed), Avengers: Endgame and Avatar have made the most money at the box office, certainly, but that's only when you take the dollar signs into account, not inflation. When you equally inflate the numbers, you'll find that Avengers: Endgame is only the 16th-highest grosser, while Avatar is at 15. Quite a difference that makes, doesn't it? Surely, Marvel would be a little less proud to be showboating those numbers.
Looking at the worldwide statistics, thanks to the number-crunching folks over at Box Office Mojo, we have a better idea of how the worldwide box office would play out if it were an even playing field. Here are the 10 big films that have actually sold the most tickets inside the grand ole' history of cinema.
10. Snow White And The Seven Dwarfs (1937)
The first ever feature-length animated movie Snow White And The Seven Dwarfs is a triumph on every level. It's a vivid, gorgeously-realized work of animation, the type of forward-thinking filmmaking that has changed the landscape of cinema. It's also the revolutionary film that built Disney's brand. While the box office for the movie is a comparatively-paltry $184,925,486, the wide-spanning worldwide ticket sales prove that Snow White is one of the most extraordinary theatrical showings in history, garnering an astounding 109 million tickets. That's a whole lot of stubs.
Considering that Snow White And The Seven Dwarfs is a masterpiece of its exquisitely-realized craft, and the first-ever movie of its kind in the history of cinema, it should come as no surprise that it received such a wealth of moviegoers upon its release. It's rare to see a truly revolutionary movie, and Snow White is one of the few movies that is truly deserving of such a title. With that, audiences young and old came out in droves to see the first-ever movie produced by Walt Disney. It was drive and expertise that led this company to grow in a variety of exceptional, extraordinary new ways.
9. The Exorcist (1973)
Widely considered one of the scariest and most influential horror movies in history, it should come as no surprise that audiences showed up in droves to see The Exorcist, William Friedkin's widely-acclaimed adaptation of William Peter Blatty's 1971 novel. Yet, it might take some people aback to know just how successful The Exorcist ultimately was upon release. It made $232.9 million at the worldwide box office and it sold 110.6 million tickets in total.
While the production of The Exorcist wasn't without its trouble, especially with the filming process taking twice as long as it was originally anticipated and costing twice as much as its original budget allotted, the film became an enormous success both critically and commercially, particularly as the conversation continued to balloon the film's financial prospects, eventually earning The Exorcist a Best Picture nomination — a rarity for horror films.
8. Doctor Zhivago (1965)
There is no denying that 1965's Doctor Zhivago is an epic with a capital E. The nearly 200-minute adaptation of Boris Pasternak's tome is a sweeping romantic drama, the likes of which are rarely seen — and certainly not often seen these days. It was a well-hyped cinematic spectacle, one that audiences members were told they needed to see on the big screen. Sure enough, audiences came in droves to see this big picture.
Doctor Zhivago made $111,721,910 at the worldwide box office, but it sold 124.1 million tickets. It was clearly an event. It needed the full grandeur of the cinema to make the experience feel so complete, especially in an age before home video became a thing. Going to the movies was a big event, and it didn't get any bigger than Doctor Zhivago. This is a film that fills out the big screen in a major way and it's nice the film was seen so widely.
7. Jaws (1975)
For many folks, Jaws is the movie that defined what we now know to be the summer movie season. Before there was a firm season for blockbusters, Steven Spielberg's suspenseful ocean-based horror flick became a huge cultural phenomenon in a way that — at least temporarily — killed people's interest in going to the beach, as they believed there could actually be a shark close to their own waters.
With all the attention and notoriety given to this early Steven Spielberg masterwork, it's not shocking the horror flick made $260 million dollars at the box office worldwide, and it sold 128.1 million tickets in the process.
6. The Ten Commandments (1956)
A sweeping biblical epic that is filled with awe and reverence, Cecil B. DeMille's passionate religious drama The Ten Commandments is another huge, extravagant movie, clocking in at a whopping three hours and 40 minutes (which is why it always takes about half a day for it to be shown in full on TV). It is another film that truly fills the screen, providing a religious experience for the masses centered around one of the most famous biblical tales.
It was a powerhouse experience that needed to be witnessed in its full glory on the biggest screens, and it makes sense these commandments drove in a high attendance. While the gross seems relatively slim at a slim $65.5 million, it sold a whopping 131 millions tickets, which is certainly quite epic.
5. Titanic (1997)
While James Cameron's former box office mainstay Avatar isn't in the top ten bracket when it comes to ticket sales, his previous film (and one-time number one worldwide grosser), Titanic, certainly has a cushy spot in this round up. Another spectacle-driven romantic drama, with passion and craftsmanship galore, Titanic was an incredible achievement that shocked and awed viewers with its amazing special effects and moving love story.
The 1997 film's unadjusted gross comes up to $659.4 million worldwide, but in terms of ticket sales, this one was massive. Titanic sold 135.5 million tickets, which makes sense given it was still playing in theaters well over a year after it first came out. People went back to see this movie again and again, and it was clearly a love story that touched the hearts of many, while dazzling viewers with its impeccable special effects.
4. E.T.: The Extra-Terrestrial (1982)
Once again, Steven Spielberg finds a place on this list. In addition to the massive (and career-cementing) triumph of Jaws, Steven Spielberg, yet again, proved himself to be a masterful storyteller with wide-reaching cinematic appeal with the astounding success of 1982's beloved alien adventure film, E.T.: The Extra-Terrestrial. While it was safe to note that Spielberg was a top-of-the-line filmmaker by this point in time, E.T. was what really sealed the deal.
This family-friendly tale of a boy befriending a lovable little alien is a film with such heart and wit that it's practically irresistible to audiences young and old. It makes a great deal of sense that E.T. would go on to make a whole lot of money at the global box office. It earned $435,110,554, and it sold 141.9 million tickets throughout this theatrical run — including an early '00s re-release.
3. The Sound Of Music (1965)
The year 1965 was evidently a big one for the multiplex. In addition to Doctor Zhivago making a killing at the box office, the lush musical The Sound of Music was a huge critical and commercial success, winning five Academy Awards, including Best Picture and Best Director, and cementing Julie Andrews' early career as a leading actress. There are few musicals that have truly transcended themselves into becoming such huge worldwide achievements.
The Sound Of Music, therefore, is quite arguably one of the most successful movie musicals in history, both in terms of critical and financial success. The movie made about $159,287,539 when you look at the unadjusted box office gross. But it sold 142.5 million tickets, which isn't too far away from E.T.'s incredible theatrical run. It proved, time and time again, that the hills were certainly alive when it came to the one-and-only Sound of Music.
2. Star Wars (1977)
It shouldn't come as much surprise to know that Star Wars was a huge hit at the box office. The story set in the galaxy far, far away was an unstoppable hit at the box office, earning massive lines of people waiting to see this highly-anticipated cinematic spectacle on the biggest screens on the planet. It was unlike anything else in either cinema or the genre, and it has obviously spanned a seemingly never-ending universe of major films.
Yet, it all had to start somewhere. Here, it started in 1977, when Star Wars became an unlikely hit — the likes of which were rather unprecedented. George Lucas' first space saga made an incredible $460,998,007 when you don't adjust for inflation, and the ticket sales were expectedly exceedingly high: 178,199,600 million tickets, which goes to show you how eager people were to see this movie again and again and again. This became the birth of one of the most well-known (and easily most adored and criticized) movie universes in the history of cinema. Will there ever be another like it? Probably not.
1. Gone With The Wind (1939)
Indeed, while the history of cinema will produce a number of huge movies making a ton of money and taking the number one spot in the worldwide box office, it's hard to imagine any movie selling more tickets than 1939's epic hit, Gone With The Wind. The historical epic romance is one of the most referenced, well-known, criticized and ultimately well-seen movies of all-time, and it received a whopping 10 Oscars, including Best Picture.
Victor Fleming's long, lavish tale is a film that was so immensely popular that audiences continued to come out in massive droves to see this well-regarded film. And it continued to find several re-releases in the 20th century, particularly before the advent of home video. That incredible, estimable success made the movie about $200,852,579 in the box office (which is something for a time when tickets cost something alone the lines of a nickel). And the movie, as you would expect, sold a hell of a lot of tickets. 202,286,100 tickets, to be exact, which is a number that'll likely never be topped. Clearly, quite a lot of people gave a damn about Gone With The Wind. While it's current critical reception is a bit mixed, it remains a runaway hit.
Will Avatar And Avengers: Endgame Ever Hit The Top 10?
It's hard to say for certain for Avatar or Avengers: Endgame will squeeze their way into this heavy competition. Avengers: Endgame has a decent shot of working its way higher up in the ranks since it's currently in theaters, allowing it to become the highest-grossing movie of all-time. If more people see the film and buy tickets, it could possibly upset Avatar's current 15th place standing. Still, considering its Digital release is upcoming and its theatrical release seems to be wrapping, it seems unlikely.
As for Avatar, if the movie gets a re-release leading up to the release of the sequels, that could help it upset its current standing and possibly outsell Ben-Hur in its current 14th place spot. Not a guarantee in the least, but if people are eager to return to Na'vi on the big screen, that could help a lot. It is also worth nothing that a big reason why a number of these movies became so successful is that they acquired a lot of return business with re-releases. That is ultimately a big key factor for why so many of these beloved and acclaimed movies continued to have staying power in this ranking.
So, whether or not Avengers: Endgame or Avatar make it into the real top 10 needs to be determined later down the line.
Will is an entertainment writer based in Pittsburgh, PA. His writing can also be found in The Playlist, Cut Print Film, We Got This Covered, The Young Folks, Slate and other outlets. He also co-hosts the weekly film/TV podcast Cinemaholics with Jon Negroni and he likes to think he's a professional Garfield enthusiast.
Your Daily Blend of Entertainment News
Thank you for signing up to CinemaBlend. You will receive a verification email shortly.
There was a problem. Please refresh the page and try again.