This Rotten Week: Predicting Hobbs And Shaw Reviews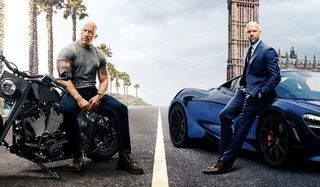 The summer might be starting to wind down when it comes to big action movies arriving in theaters, but there's one more blockbuster popcorn film left in the stable waiting to hit the big screen. Is it a superhero movie? That's debatable. But let's get ready for Hobbs And Shaw.
Just remember, I'm not reviewing these movies, but rather predicting where they'll end up on the Tomatometer. Let's take a look at This Rotten Week has to offer.
The Fast and the Furious franchise has essentially made its mark by having each sequel be more and more ridiculous in every conceivable way from the last . This model has served the brand spectacularly. Each film gets increasingly enjoyable with ramped up action, stunts, character abilities and so forth. It's to the point where these films are essentially superhero films lightly disguised as car chase flicks. The latest in the franchise, the spin-off Hobbs and Shaw, looks all the same. In this one, Luke Hobbs (Dwayne Johnson) and Deckard Shaw (Jason Statham) fight "black superman" (Idris Elba) in what might the most over-the-top flick in the franchise yet.
David Leitch directs the blockbuster after helming hits like Deadpool 2 (83%), Atomic Blonde (78%) and John Wick (87%). He's got plenty of pedigree in the action genre, and it appears all on display in Hobbs and Shaw. The trailer is high octane, tongue-in-cheek and really everything else you'd expect from a Dwayne Johnson/Jason Statham super spy movie. It looks the very definition of a popcorn movie, and that's great news.
Once Upon A Time In Hollywood (Predicted: 91% Actual: 84%) finished with a very Quentin Tarantino-like Tomatometer score, and my prediction was a win for the Rotten Watch. From a critical and scoring perspective, it's hard not to kind of know what we're getting with the iconic director. Just look at all of his films to date:
The Hateful Eight (74%)
Django Unchained (86%)
Inglourious Basterds (88%)
Kill Volume 1 and 2 (84% each)
Jackie Brown (87%)
Pulp Fiction (92%)
Reservoir Dogs (91%)
Those films, plus Once Upon A Time In Hollywood gives Quentin Tarantino an average of 85% when it comes to critics on Rotten Tomatoes - which is an average his latest film just missed by one point. That's a cool level of consistency which we could sum up as, "Just about everyone loves Tarantino flicks but 10-15% of folks just won't. Ever." Considering the nature and style of his films, this feels about right. They aren't going to be for everyone, but they'll be for most folks who love movies.
Next time we've got a huge one with The Art Of Racing In The Rain, Brian Banks, Dora and the Lost City of Gold, The Kitchen, and Scary Stories To Tell In The Dark. It's gonna be a Rotten Week!
Your Daily Blend of Entertainment News
Doug began writing for CinemaBlend back when Terminator: The Sarah Connor Chronicles actually existed. Since then he's been writing This Rotten Week, predicting RottenTomatoes scores for movies you don't even remember for the better part of a decade. He can be found re-watching The Office for the infinity time.
Your Daily Blend of Entertainment News
Thank you for signing up to CinemaBlend. You will receive a verification email shortly.
There was a problem. Please refresh the page and try again.