Another G. I. Joe Spinoff Is In The Works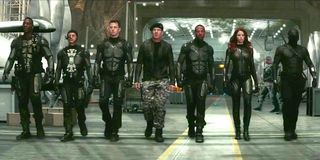 The first two G. I. Joe movies were surprise successes. The second film, titled G.I. Joe: Retaliation, did so well at the box office that talks for a third film started immediately after its release. There was even speculation/curiosity surrounding a potential G.I. Joe and Transformers crossover. And while we still don't really know what's next on the direct sequel front, we do have some news about a new spinoff. Will it get the Rock's seal of approval? We'll just have to see!
Encouraged by Retaliation's numbers, the studio has since confirmed that a G.I. Joe spinoff focusing on Snake Eyes has been in the works for quite some time now. With a 2020 release date and some interesting info already fed to the internet, the film's release is already a certainty and, honestly, I'm excited. But a recent article by Borys Kit of The Hollywood Reporter revealed that in addition to a Snake Eyes solo adventure, we're also getting a spinoff that will focus heavily on (or at least include) a character named Chuckles. Funny, right? Well, he's actually way cooler than his name suggests.
Josh Appelbaum and Andre Nemec, the screenwriters behind the fabulous Mission Impossible: Ghost Protocol and the not-so-fabulous Teenage Mutant Ninja Turtles movies from 2014 and 2016, are currently working on the script for what is being called an ensemble of sorts. The article confirms that the project is officially underway so we'll probably find out more about the nature of the character's role sooner rather than later. Hopefully Chuckles gets tons of screen time and wins the hearts of millions. Wishful thinking, I know.
Chuckles (Phillip M. Provost) debuted as part of the line of G.I. Joe action figures, but did not appear in either Rise of Cobra or Retaliation. He appeared in the 1987 film G.I. Joe: The Movie but hasn't been seen since. He's not exactly Storm Shadow or Snake Eyes popularity-wise, but he's an expert at infiltration and other forms of spy craft, making him a perfect fit for the tone the film is presumably going for.
It will be good for Hasbro and Paramount to put under-appreciated characters in the spotlight, even if it's just for one movie. Marvel made a talking raccoon and a tree popular, so I'm ready to believe that, if done right, almost any character can work. So yeah, I'm excited to see Chuckles in action. Maybe the writers will realize his potential as a main character and put him front and center.
But what do you think? Are these spinoffs something you're interested in or are you passing on the franchise after the middling quality of the first two? Let us know in the comments below, and make sure you're aware of what's hitting theaters later this year!
Your Daily Blend of Entertainment News