Leonardo DiCaprio Wasn't Happy About Using A Flamethrower For Once Upon A Time In Hollywood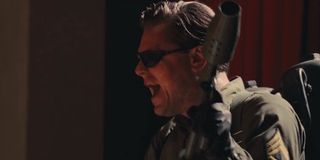 Warning: SPOILERS for Once Upon a Time in Hollywood are ahead!
Although he's arguably best known for leading the 1950s TV series Bounty Law, Leonardo DiCaprio's Once Upon a Time in Hollywood character Rick Dalton also has some notable movie credits on his resume, including The 14 Fists of McCluskey, where he played a eyepatch-wearing, flamethrower-wielding Nazi hunter. While Rick seemed perfectly comfortable using this fire-spewing weapon (more on that later), DiCaprio himself was anything but pleased with using it at first.
Shooting this particular Once Upon a Time in Hollywood scene required Leonardo DiCaprio to actually set his co-stars on fire, which the actor was understandably concerned about doing this. Co-stunt coordinator Robert Alonzo, who's been working in Hollywood for 26 years, tried to ease DiCaprio's concerns by having himself be set on fire first. Alonzo recalled:
Frankly, I'd be more concerned if an actor using a flamethrower wasn't concerned about permanently injuring people he'd never met. In any case, Leonardo DiCaprio fears were quelled after some "coaxing" by supervising stunt coordinator Zoë Bell. As laid out by Huff Post, after DiCaprio saw that Robert Alonzo was safe after the demonstration, he had everyone in the room applaud the stunt team.
But that wasn't the last time Leonardo DiCaprio had to use a flamethrower during the course of making Once Upon a Time in Hollywood. Towards the end of the movie, it was revealed that Rick Dalton kept the weapon after shooting The 14 Fists of McCluskey, and when he was surprised by a severely injured Sadie Atkins, one of the Manson Family members who broke into his home, he broke out the flamethrower and set her ablaze.
Presumably the second flamethrower scene was filmed later in Once Upon a Time in Hollywood's production, meaning Leonardo DiCaprio wouldn't have had any issues using it at that point… or at least, not as many issues. In any case, it just goes to show that while one should never be blasé about using a flamethrower in any situation, including making a movie, these stunt people have had years to perfect the process of simulating such a scene.
At least now Leonardo DiCaprio will be better prepared on the off chance another movie requires him to use a flamethrower. But that's just one of the ways that Once Upon a Time in Hollywood stands out among the other summer cinematic offerings. Quentin Tarantino's ninth movie has collected a lot of positive reviews and has so far made over $81 million worldwide.
Be sure to read CinemaBlend's review of Once Upon a Time in Hollywood if you haven't already. If you're curious about what other movies there are to look forward to for the rest of the year, scan through our 2019 release schedule for that information.
Connoisseur of Marvel, DC, Star Wars, John Wick, MonsterVerse and Doctor Who lore. He's aware he looks like Harry Potter and Clark Kent.
Your Daily Blend of Entertainment News
Thank you for signing up to CinemaBlend. You will receive a verification email shortly.
There was a problem. Please refresh the page and try again.