RoboCop Returns: 9 Directors Who Should Take Over For Neill Blomkamp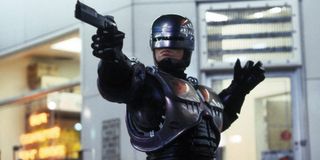 Just as Robocop Returns felt like a comfortable prospect, what with co-writer/director Neill Blomkamp on board for what seemed like a go picture, a wrench was thrown into the works. Blomkamp has now departed the project, as MGM wants to get the film underway in timely fashion and the District 9 creator is set on making a horror-thriller elsewhere.
So now there's a movie that needs to be made with a director's chair sitting vacant and waiting to be filled. If MGM wants to do things right and save RoboCop Returns, it needs a special breed of director to carry the torch of satirical sci-fi action into the 21st century.
That specific criteria could only be covered by a select group of directors, and nine names in particular come to mind. RoboCop Returns stands the best chance at being the long awaited sequel fans have always wanted, if it lands one of the following candidates we humbly submit to your attention.
The Wachowskis
If you were to just take The Matrix alone into consideration, The Wachowskis would have enough action and sci-fi credentials to land the gig of directing a RoboCop sequel with no problem. That said, limiting their filmography to that specific point would not only be unfair to them, but it'd also excise a very important piece of the puzzle.
With later films like Speed Racer, Cloud Atlas and even Jupiter Ascending, The Wachowskis engaged in more criticism towards the bureaucracy of the modern, corporate world. Combining their skill set from the entirety of their film canon, this famed pair of directors could make one hell of a comeback on the back of RoboCop Returns, especially since that big Matrix rumor turned out to be false.
Boots Riley
When you make a satire as sharply witted and visually stunning as Sorry To Bother You, it becomes a calling card for a film like RoboCop Returns. As this proposed sequel is supposed to act like a directly linked sequel to Paul Verhoven's original, it would really help if a director can put together a biting wit and some eye-popping effects work.
Director Boots Riley is just that sort of director, as his cinematic corporate takedown feels like a cousin to the sort of message the 1987 original was sending when it came to the activities of the corrupt OCP. Not to mention, if there's enough time for a bit of a rewrite before production, Riley could lend his darkly unique vision to ensure that RoboCop Returns hits harder than ever in a modern economy.
Mike Judge
RoboCop films definitely need a pedigree when it comes to action filmmaking, so in that respect, Mike Judge would have to bone up on how to make his potential vision of RoboCop as combat ready as Paul Verhoven's series originator. However, when it comes to potentially hiring the mind behind Beavis and Butthead and Idiocracy to direct RoboCop Returns, the world wouldn't have to worry about his satirical skills.
One could even argue that's the harder part of the RoboCop formula to master, as one can easily learn action, but satire isn't as readily taught. Thinking about the ways Judge used both of those landmark projects to say something about popular culture and political degeneration, the stage would be set for RoboCop Returns to bring the franchise back to its socially charged roots.
Lexi Alexander
Hollywood owes Lexi Alexander big time for making a movie as absolutely bonkers, and as joyously fun, as Punisher: War Zone. A film that wasn't afraid to get bloody or go over the top with its violence and humor, her work on that movie felt like a direct descendant of RoboCop's 1987 madness. As such, granting Alexander the director's duties for RoboCop Returns would be one hell of a payback.
Alexander's directing skills have only gotten sharper through working on such popular shows as Arrow, Supergirl and How To Get Away With Murder. But perhaps the greatest asset in her toolbox is the fact that Lexi Alexander has personal experience in martial arts and stunt work. So if you ever wanted to see what RoboCop Returns would look like if it was a stunt-filled masterpiece with high levels of cartoony snark, Ms. Alexander is the person you want to hire.
Edgar Wright
There has never been a genre that Edgar Wright couldn't make his own. From Shaun of The Dead to Baby Driver, with Hot Fuzz in-between, the man's hit a lot of spots on the map of moviemaking. Droll wit, slick action and well-tuned performances are all hallmarks of his work, so RoboCop Returns feels like a film that could not only sing in his hands, it would also be a payoff to most of the work he's already done in his career.
You can practically see Simon Frost as a slimy OCP executive, Nick Frost as a scientist who's keen on keeping Alex Murphy an autonomous hero for the people, and at least one shoot-out of insanely fantastic proportions. If RoboCop Returns goes to Edgar Wright, not only would we see things landing in the right hands, Wright just might be able to respectfully reinvent what being a RoboCop movie truly means.
Rachel Talalay
Rachel Talalay may not be the most readily apparent option for directing RoboCop Returns, but in a similar mode to that of Lexi Alexander, Talalay knows how to go out there with her work. Just look at her work on films like Freddy's Dead: The Final Nightmare and Tank Girl, and you'll see a special sort of filmmaker. Recently, her television work has been her claim to fame, as Talalay has directed episodes of shows like Supergirl, Riverdale and The Flash, but there's one show that qualifies her extensively to work on RoboCop Returns.
With three two-part season finales of Doctor Who under her belt, and two of those seasons involving work with the Cybermen, Talalay has work with robotic characters and sarcastic humanoids locked down. Throw that in with her previous experience in some very experimental films of the '90s, and this project starts to look like a fantastic fit.
Dan Trachtenberg
10 Cloverfield Lane was one hell of a debut for director Dan Trachtenberg to cut his cinematic teeth on. Jumping straight into an anthological entry in a pre-established franchise is daunting even if you're a practiced hand at filmmaking, but Trachtenberg did it in style and won a lot of fans in the process.
RoboCop Returns would be a fantastic fit for this auteur's genre-ready hand, but if you need some more selling, try this on for size. Without Dan Trachtenberg's skills, we may have never gotten Amazon's The Boys as a regular series, as he directed the pilot. Setting up a world of over-the-top action and darkly comic corporate malfeasance isn't for everyone, but Trachtenberg is clearly up to the task.
Kathryn Bigelow
Most folks know Kathryn Bigelow for her more serious films like The Hurt Locker and Detroit, both of which are socially relevant dramas that have a poignant message to deliver. So RoboCop Returns with her at the helm would definitely be able to play the notes of the story that see sympathy for the cyborg law enforcement agent at their most human.
However, in her earlier films Near Dark and Strange Days, there was a very horror/sci-fi slickness that gave us anti-heroes and sympathetic villains that knew how to smile when they were engaged in shady activities. It'd practically be like coming home for Bigelow to take over this new RoboCop sequel, and her prestige worthy skill set could be the sort of sheen the series could use in its latest iteration.
Paul Verhoven
Sometimes, if you want a job done right, you've got to do it yourself. If the folks at MGM really want to get things going with RoboCop Returns, while also ensuring this new film feels like a true successor to the RoboCop name, it's best if they bring back the man himself. Paul Verhoven should be brought back into the RoboCop series in order to directly connect his original film to the future.
As Verhoven is still an active film director, his satire muscles haven't had that much of a flexing since 1997's Starship Troopers. While that project may have felt like an oddity at its time of release, the level of dark humor it engaged in was way ahead of the curve. Ideally, if we want RoboCop Returns to be as effective as the first film in the series, you're going to want to bring the man who helped start it all on board to steer the ship right.
RoboCop Returns is in a crucial stage right now, as the right director means everything to how this production can and will move forward. Neill Blomkamp is a big act to follow, as the man's vision of science fiction seemed pretty spot on for the project. But as you can see, there's others that could make some pretty interesting fits in the RoboCop landscape. All that needs to happen is for the studio to make the right choice.
Senior Movies Contributor
CinemaBlend's James Bond (expert). Also versed in Large Scale Aggressors, time travel, and Guillermo del Toro. He fights for The User.
Your Daily Blend of Entertainment News
Thank you for signing up to CinemaBlend. You will receive a verification email shortly.
There was a problem. Please refresh the page and try again.