Bernie Taupin Talks One Rocketman Moment That Happened In Real Life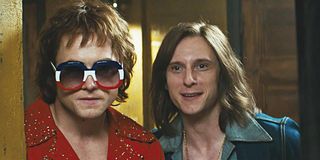 The Elton John biopic Rocketman used the tagline "based on a true fantasy." Even up front, the movie was making it clear that the story we'd be seeing wouldn't exactly be the "true story" of Elton John's rise to pop super stardom. Having said that, a lot of the events in the film are quite real, if embellished by musical numbers and special effects.
At the center of Rocketman, is the relationship between Elton John and his songwriting partner Bernie Taupin. The relationship is one of two men who become incredibly close through working together, though the film implies that in a drunken moment Elton John tried to make the relationship something more. It turns out, according to Bernie Taupin himself, that this scene actually happened.
It's a scene that certainly could have been created by a screenwriter, but Bernie Taupin told Yahoo that it really did happen. The only significant difference between the movie and the reality is that in the movie, Elton John tries to kiss Bernie, whereas in reality Elton put his hand on Bernie's leg.
It's an important scene in the movie because we see Bernie Taupin have a polite and measured response to the advance. It wouldn't have been shocking to see a straight man who receives an advance from a gay man to become offended in some way, especially in the 1960s, but Taupin simply makes it clear he's not interested, and then moves on. He does it in such a way that Elton doesn't feel too embarrassed about the whole thing.
The scene does say a lot about the relationship between these two men, which is the point of the scene, but the fact that it happened tells us the movie isn't changing the nature of that relationship for the sake of the movie.
Taupin does admit that Rocketman does make some changes to actual history. In the film, Taupin discovers that Elton John is gay earlier than it actually happened.
There are always going to be liberties taken with the truth in film. Often, reality doesn't happen in a way that makes for a good story. There's nothing inherently wrong when a biopic or other historical film does this, but it's nice to know when what you're seeing actually happened and when it didn't. It helps to give perspective.
Rocketman has a lot of fun with reality, the fact that the movie is an actual musical gives the film license to get away with things that most biopics couldn't, but clearly, there was an attempt to keep the core of the story based on reality, making the film a true story, that simply gets exaggerated with a style that you would tend to associate with Elton John anyway.
Rocketman is available now in Digital HD and will hit Blu-ray August 27.
Content Producer/Theme Park Beat
CinemaBlend's resident theme park junkie and amateur Disney historian. Armchair Imagineer. Epcot Stan. Future Club 33 Member.
Your Daily Blend of Entertainment News
Thank you for signing up to CinemaBlend. You will receive a verification email shortly.
There was a problem. Please refresh the page and try again.